Billy Graham Center

---

Archives
The Archives Bulletin Board
Every month, this Bulletin Board will highlight a new document or set of documents that are available in the Archives. These are intended solely for the edification of our viewers and cannot be copied or otherwise reused without permission.
To view items previously featured on the Bulletin Board, click
Now Showing
March 2012: "Leave a Lasting Impression": GI Gospel Hour at Work in the Philippines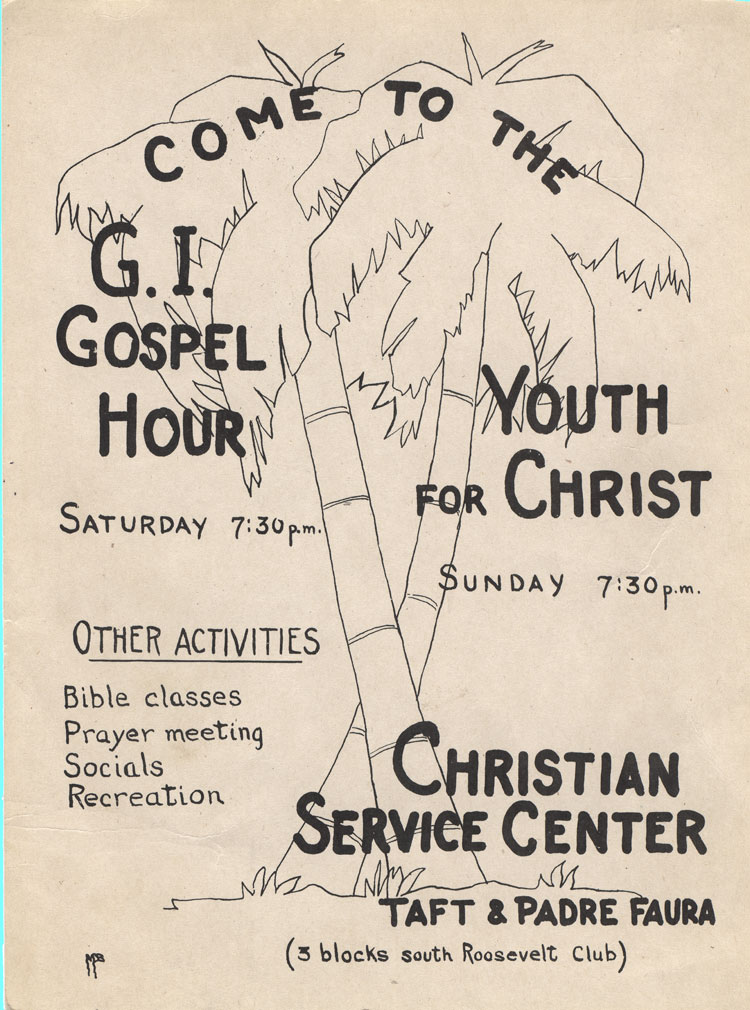 Poster announcing weekly fellowship, Bible study and prayer in Manila, ca. 1945
The tragedy of World War II in the Philippines officially ended on August 15, 1945. It was the attentiveness of young GIs who grouped themselves as the GI Gospel Hour and Youth for Christ in Manila that provided the fertile soil for ministry in the Philippines. Their activities included prayer, Bible study, fellowship and evangelism. Out of these groups emerged 1) the vision to start Far Eastern Bible Institute and Seminary (now FEBIAS College of Bible) in 1948, and 2) the impulse to combine with counterparts in Japan in 1947 to form Far Eastern Gospel Crusade (now called SEND International) based from the United States. Out of this tree also grew much more indigenous ministry, including Asian Theological Seminary that held its first evening classes in 1969.
The promotional items featured here are a glimpse into this fertile moment in evangelism and missions history - the poster above and the plan for FEBIAS. Collection 406 (records of SEND International) is the source for these materials; other GI Gospel Hour materials include audio recordings of broadcasts, numerous photographs and newsletters from the mid-to-late 1940s.

Photo detail (1945) of the entrance to Christian Service Center. Included in the group is Edwin "Jack" Frizen in the Navy uniform to the right (Wheaton College '49, had a role in laying the groundwork for the founding of FEBIAS, a member of Far Eastern Gospel Crusade and executive director of Interdenominational Foreign Mission Association). Rev. Edward Bomm at the far right was a missionary in the Philippines with his wife; the Bomms, interned by the Japanese during the war, provided a venue for prayer and Bible study that evolved into the Service Center ministry.

Booklet telling the story of GI Gospel Hour in description of activities and photographs, along with and the dream for FEBIAS in late-1945 or early-1946, still several years from realization.
---
Send us a message
Return to BGC Archives Home Page
Last Revised: 03/01/12
Expiration: indefinite

© Wheaton College 2017