Billy Graham Center

---

Archives
The Archives Bulletin Board
Every month, this Bulletin Board will highlight a new document or set of documents that are available in the Archives. Come on over and have a look!
To view items previously featured on the Bulletin Board, click
Now Showing
September 2009: "Something's Happening Inside "
Reports on a Revival in Los Angeles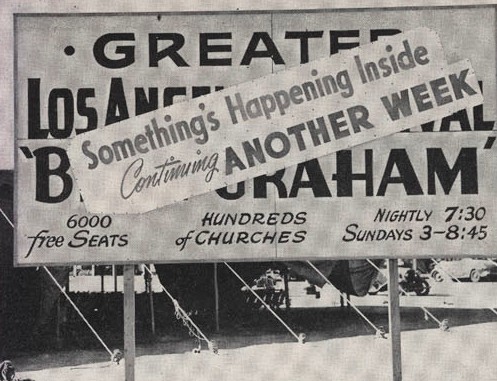 Sign at the corner of Washington and Hill, outside the canvas tent in which the meetings were held
At the beginning of 1949 Billy Graham was and had been for several years a well-known evangelist in the Protestant Fundamentalist community in the United States, but was practically unknown to the country at large. This changed when he (and his associates Cliff Barrows, George Beverly Shea, and Grady Wilson) came to Los Angeles in late September to lead a city-wide evangelistic campaign.

He was there at the invitation of a local Christian businessmen's association, Christ for Greater Los Angeles, Inc. A three-week campaign had been planned. But just at the three week point, the campaign was raised to a whole new level that not only caused the sponsors to extend it again and again, but also brought coverage in newspapers and national magazines across the country. Billy Graham and his ministry had begun to receive the national attention that he would continue to receive for the rest of the century.

Later this month, on September 25, the 60th anniversary of the start of the Los Angeles campaign, the BGC Archives will open a new online exhibit:

"Into the Big Tent": Billy Graham and the 1949 Christ for Greater Los Angeles Campaign.

The exhibit will feature audio recordings of Graham';s sermons, memories of people who participated, photos, newspaper reports from the Los Angeles and national press, and much more. For the first time in more than half a century, the general public will be able to hear again the sermons Graham preached that autumn.
As mentioned above, Graham was a well known figure among Fundamentalists and Evangelicals. Many of their leading publications in the United States and England also carried reports on the dramatic Los Angeles meetings.
The Bulletin Board this month features a selection of these.
Click here to read the late 1949 and early 1950 reports in Fundamentalist and Evangelical magazines.

Click here to go to the exhibit

---