Billy Graham Center

---

Archives
The Archives Bulletin Board
This service is intended for Wheaton College students, faculty and staff; people who live in convenient driving range to campus; or people who will be visiting Wheaton's campus. Every month, this Bulletin Board will highlight a new document or set of documents that are available in the Archives. Come on over and have a look!
To view items previously featured on the Bulletin Board, click
Now Showing
August 2009: The Southern Cross Crusades, 1959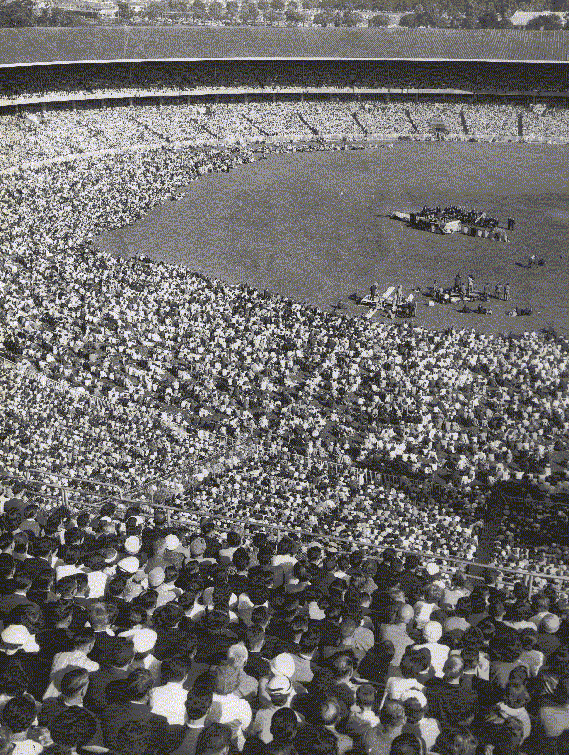 Crowd at the final meeting of the Melbourne Crusade, at the Cricket Grounds,
March 15.
2009 marks the 50th anniversary of one of the most significant of of the Billy Graham Evangelistic Association's many campaigns, the 1959 meetings in New Zealand and Australia. Graham and his associate evangelists (Leighton Ford, Grady Wilson, Joseph Blinco) held one day rallies in Canberra, Hobart, and Launceston and more lengthy campaigns in Auckland, Wellington, Sydney, Perth, Adelaide, and Brisbane.. The meetings got major media coverage in both countries and attendance in Australia was over three million, a significant portion of the total population. Rev. R. C. Kerle, the Anglican Bishop Coadjustor of Sydney, called it the "biggest thing that ever happened in the church history of Australia." Approximately half of the Australian nation saw Graham or one of his associates live or via land lines (cable).

This month, the Bulletin Board has links to audio recordings, photos and documents from these powerful meetings that occurred fifty years ago.

Click here to go to the 1959 Southern Cross Crusades page