Billy Graham Center

---

Archives
The Archives Bulletin Board
Every month, this Bulletin Board will highlight a new document or set of documents that are available in the Archives. These are intended solely for the edification of our viewers and cannot be copied or otherwise reused without permission.
To view items previously featured on the Bulletin Board, click
Now Showing
February 2007: Female Pilot Gets Missionary Aviation Off the Ground
Christian Airmen's Missionary Fellowship (later renamed Mission Aviation Fellowship or MAF) at the delivery of its first and newly purchased plane, a Waco bi-plane, on February 14, 1946. Included is Elizabeth Greene (also pictured below left), the mission's secretary-treasurer (also an ex-WASP pilot or Women's Airforce Service Pilot) and MAF's assistant secretary). Greene took the plane on its inaugural flight on February 23, transporting two Wycliffe Bible Translators workers to a remote jungle location in Mexico (shown below right before takeoff). Also pictured above are James Truxton (2nd from right, MAF's president) and J. Grady Parrott (right, MAF's vice president).
Greene's April 13th letter (front and 2nd pages below) from Mexico City to president Grady Parrott, that she states includes some "snaps" or photos of the Waco she flew down in February. She also inquires about "Nath" or Nate Saint (later known for his participation with Jim Elliot in attempting to reach the Huaorani tribe in Ecuador and being murdered by members of the tribe). The "Mr. Townsend" referred to was W. Cameron Townsend of Wycliffe Bible Translators. She also asked Parrott about the possibility of MAf purchasing another plane.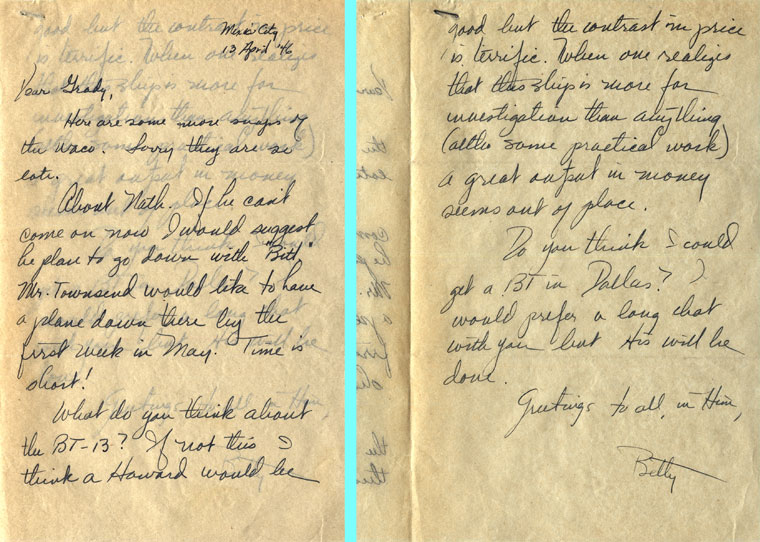 Although Betty Greene is not identified as the founder of MAF, she was a mission aviation pioneer and substantial contributor to the early development of missionary aviation as a specialized service, the mission's first full-time staff worker, and the first pilot to fly for the young mission. She joined the Women's Airforce Service Pilots or WASP during World War II to gain experience in preparation to serve on the mission field. It was in response to her article on the need for missionary aviation, written while still a military pilot during the war, that Jim Truxton invited her to join him and two other fellow pilots in forming the mission. During her career with MAF, Greene flew flights for the mission in Mexico (including the mission's first depicted above), Peru, Nigeria and other African countries, and Irian Jaya; she also contributed both to the mission's administrative operation. MAF records in Collection 136 include correspondence, reports and articles for Christian publications. A very helpful account of Greene's career and contribution to MAF is part of Ruth Tucker's (From Jerusalem to Irian Jaya: A Biographical History of Christian Missions Grand Rapids: Zondervan Publishing House, 1983, pp. 395-398).
Mission Aviation Fellowship was established as World War II was concluding. The initial wave of MAF's members was largely war pilots, no longer employed by the government. (A similar organization was launched in Great Britain at about the same time.) MAF positioned itself as a service agency to Evangelical Christian missions, both denominational and independent. With its fleet of ever-growing number of planes, MAF provided services primarily to mission agencies, but also accepted requests from government and non-mission organizations. Among its services were air travel for personnel, ambulance service, transporting supplies to remote areas, delivering medical and dental service to rural and frontier stations, and surveying possible sites of new mission endeavor. MAF also operated a radio communications network, maintained its airstrips, and lent personnel to sister MAF groups. For more information on MAF, see the online descriptive guide of the mission' records at the Archives in Collection 136. Also see MAF's web site.
Another source at the Archives on missions aviation is Collection 528, Ephemera of Mission Aviation History.
---
Send us a message
Return to BGC Archives Home Page
Last Revised: 2/01/07
Expiration: indefinite

© Wheaton College 2007