Billy Graham Center

---

Archives
The Archives Bulletin Board
Every month, this Bulletin Board will highlight a new document or set of documents that are available in the Archives. These are intended solely for the edification of our viewers and cannot be copied or otherwise reused without permission.
To view items previously featured on the Bulletin Board, click
Now Showing

June 2005: Around the World in 1905

When William Whiting Borden, the heir of a well-to-do Chicago family, graduated from secondary school at the age of 17, his parents thought he should see something of the world instead of immediately enrolling as a Yale student. So they sent him, with a suitable companion (Walter C. Erdman) around the world on a journey that lasted just about a year.

As he traveled, he sent back what the United States was still sometimes calling "private mailing cards" but what the rest of the world called "post cards," most of these cards going to his mother Mary or his sister Alice Joyce Borden. Borden followed what seemed to be the American postal custom or requirement of the time, which was to put the address on the back of the card and squeeze any message on the front with the picture. His cards also often had two or more postmarks, one from when it was sent, another from when it arrived.

Erdman also sent a few cards and these represented the cutting edge technology of the time - photographs he had taken himself and then had developed and printed onto a card, using equipment he took with him. (Like most cutting edge technology, a century later it looks rather faded.) Eventually Borden or his family put the cards into a special scrapbook for post cards.

Borden and Erdman set out from San Francisco in September 1904 and traveled leisurely through the Hawaiian Islands, the Pacific Ocean, Japan, costal China, Hong Kong, Siam (present day Thailand), Malaysia, and the Strait Settlements (present day Singapore) After landing at Calcutta they traveled up to the Nepalese border to see the Himalayas, then down to south India and Ceylon (present day Sri Lanka), back up to Calcutta and then through central and northern India before sailing from Bombay. Then it was on to Egypt, Palestine, Asia Minor (present day Turkey, then the heart of the Ottoman Empire), Greece, Italy, Switzerland, and finally a long stay in England. They returned to the United States in late July or August 1905. The Archives has, in collection 330, a scrapbook with 94 postcards from his trip up to Asia Minor.

Besides the two on this page, click here to see 11 other cards which give a tourist-eye view of the world in 1904-05.

While in England, Borden attended a meeting in the evangelistic campaign being led in London by American evangelist R. A. Torrey Sr. This meeting were part of a 1902-1905 world tour Torrey himself was on, holding evangelistic campaigns in many countries.(See the Bulletin Board from October 2002). At the meeting, Borden, who was already thinking of becoming a missionary, committed his life to Jesus Christ and Christian service. For the rest of the story of Borden's life and ministry, see the Bulletin Board for August 2003.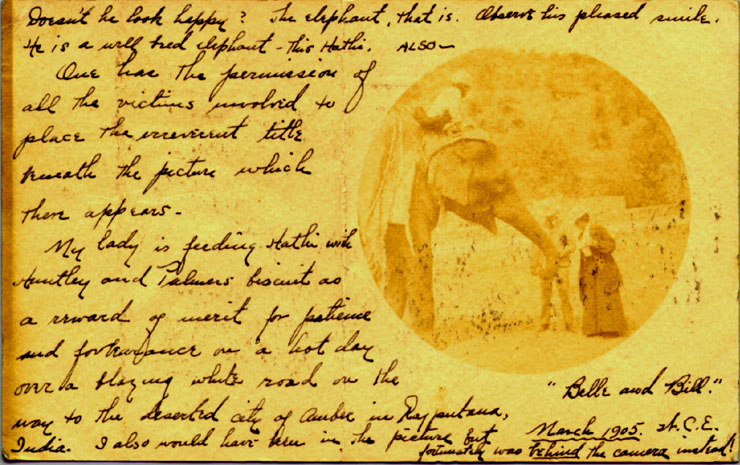 ---