Billy Graham Center

---

Archives
The Archives Bulletin Board
This service is intended for Wheaton College students, faculty and staff; people who live in convenient driving range to campus; or people who will be visiting Wheaton's campus. Every month, this Bulletin Board will highlight a new document or set of documents that are available in the Archives. Come on over and have a look!
To view items previously featured on the Bulletin Board, click
.


Now Showing
October 2003: "Little Latin America"
Rev. Billy Graham visits Jim Vaus' youth group in Hell's Kitchen during the Billy Graham Evangelistic Association's Spanish-America Crusade in New York in October 1960.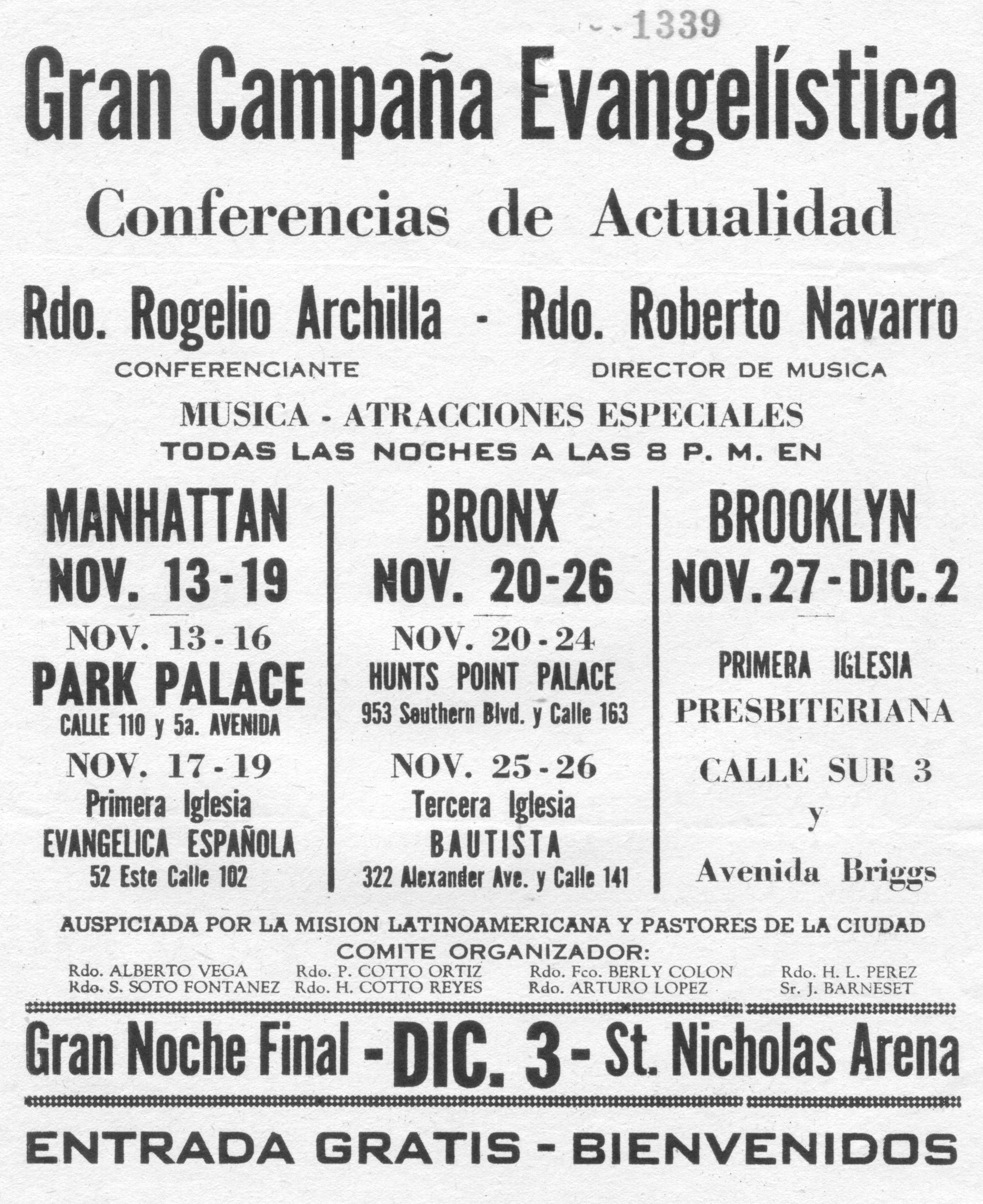 Poster advertizing a Hispanic evangelistic campaign, co-sponsored by Latin America Mission and the pastors of the city, in three of New York's five boroughs, November 13-December 3, 1950.
By 1950, the city of New York had half a million Spanish-speaking residents, mostly from Puerto Rico, but thousands from other parts of Latin America as well, earning it the nickname "little Latin America". Despite the presence of numerous Hispanic pastors and churches in New York, most Hispanics living within the city were not active worshippers in any church. Latin America Mission co-sponsored one of the first large campaigns to evangelize the city's Hispanic population in 1950. This campaign was supported by the American Tract Society with hundreds of thousands of Spanish-language tracts.

Following a special service for Spanish-speaking people at Madison Square Garden during Billy Graham's 1957 New York Crusade, the Billy Graham Evangelistic Association returned to New York for the Spanish-American Crusade, October 7-9, 160, which was focused entirely on the Hispanic population of the city. The Billy Graham Evangelistic Association continues to reach out to Hispanics throughout the world in many ways today, including in planning crusades and providing Spanish-language evangelistic materials.

Evangelistic efforts among Hispanics in New York were not just confined to large campaigns. Many Spanish-speaking pastors urged Latin America Mission to carry out mission activities in the city. Starting in 1956, Latin America Mission provided an evangelistic radio program and correspondence course. In following years under the local direction of Juan Isais, the mission agency also started a Spanish-language religious bookstore and the Spanish Bible Institute to assist local Hispanic churches in reaching their families, friends and neighbors with the gospel of Christ.

More information concerning Latin American Mission's evangelistic efforts in the city of New York and Latin America can be found in Collection 236 - Records of Latin America Mission. Other collections with materials concerning evangelistic work among Hispanics in the United States can be found by doing a search on the Archives online database, using the terms "Bgea: Spanish American Crusade; New York, NY; 1960" and "Hispanic Americans" (without quotation marks).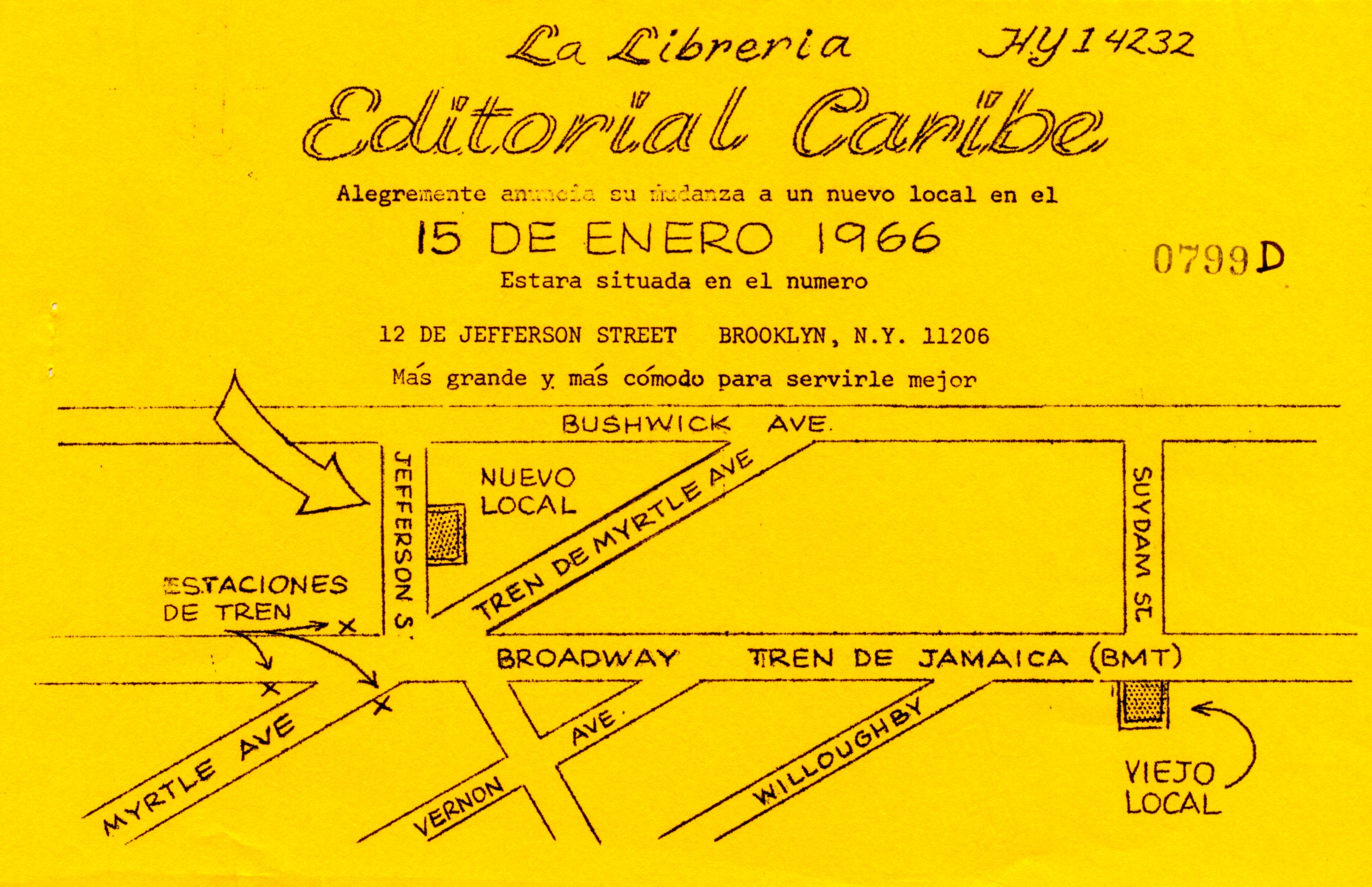 Leaflet announcing the move of Editorial Caribe, a Spanish-language religious bookstore run by Latin America Mission, into a larger facility in Brooklyn, January 1966.
---
Return to BGC Archives Home Page

Last Revised: 10/01/03
Expiration: indefinite

© Wheaton College 2005