Billy Graham Center

---

Archives
The documents and images featured here are for the personal use of students, scholars and the public. Any commercial use or publication of them is strictly prohibited.
The Archives Bulletin Board
This service is intended for Wheaton College students, faculty and staff; people who live in convenient driving range to campus; or people who will be visiting Wheaton's campus. Every month, this Bulletin Board will highlight a new document or set of documents that are available in the Archives. Come on over and have a look!
To view items previously featured on the Bulletin Board, click
.


Now Showing
February 2000: "I Object To Billy Graham"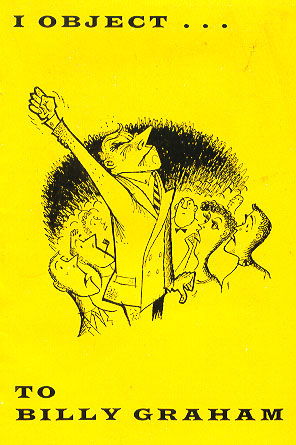 Click on the image above to go the next pages of the pamphlet.
Billy Graham has long been a popular and respected figure in public life, even with those who do not share his faith. It is a respect built largely on many decades of integrity in his ministry. But at the beginning of his evangelistic work in the early 1950s, Graham was often a figure of great controversy in the large metropolises where he came to hold city wide campaigns that lasted weeks or months at a time. The debate even and especially raged among the clergy of the different communities over his theology and his methods. (Click here to read more about some of steps Graham took in the early 1950s to learn from the mistakes of past evangelists and to ensure a clean reputation for his evangelistic campaigns.)

One of the most effective and wittiest defenses of Graham's work was created in Australia. He went there in 1959 by invitation to hold campaigns in Melbourne, Sydney and other cities. The committee of laypeople and clergy sponsoring the meetings in Sydney decided to meet head on the accusations others had made against Graham and evangelists in general. The pamphlet also dealt with a charge made against Graham when he left the United States - that he was exporting "Americanism". The pamphlet (illustrated by the political cartoonist Benier, written by the Howard Guinness, and printed by Ambassador Press in Sydney) is a document that illustrates the early debate over Graham and indicates why he was able to build public acceptance of his work.

A copy of the pamphlet can be found in the Archives' collection 19, box 5, folder 47. Files documenting the Billy Graham's Evangelistic campaigns of the 1950s can be found in these collections, among others: 1, 17, 245, and 360.
---
---
Last Revised: 12/31/99
Expiration: indefinite


© Wheaton College 2005