Billy Graham Center

---

Archives
The Archives Bulletin Board
This service is intended for Wheaton College students, faculty and staff; people who live in convenient driving range to campus; or people who will be visiting Wheaton's campus. Every month, this Bulletin Board will highlight a new document or set of documents that are available in the Archives. Come on over and have a look!
To view items previously featured on the Bulletin Board, click
.


Now Showing
April 2002: Out of the Crisis . . .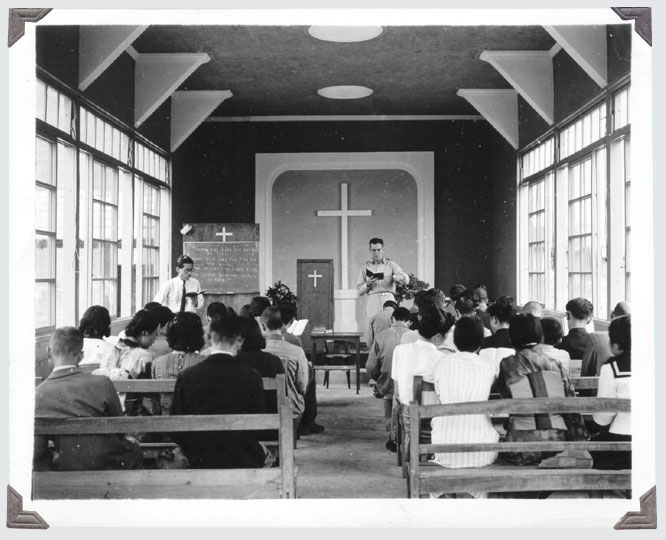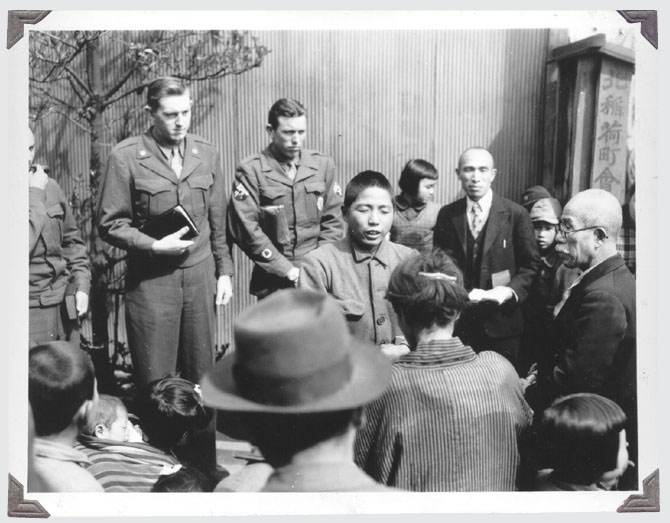 The above images include from top to bottom:

a church meeting in Nagoya where Lt. John Thomas and his Japanese counterpart led in a song service
an evangelistic street meeting in an unidentified Japanese city
the mortuary hall where the GI Gospel Hour held its evangelistic meetings on Saturday nights in 1945
Chaplain Laurence Miley speaking to GIs
World War II not only commanded the world's attention and shaped international politics but also proved to be a decisive for missions history. Young American men and women military personnel traveled the world, saw the war's devastation, and came face-to-face with spiritual needs of the local populations. Their war experiences then shaped the college educations they returned to the US to complete and the futures they stepped into. But the context they returned to was also evolving. American Evangelicals were emerging from their isolation following the Fundamentalist-Modernist Controversy to take a more active role in church, political, entertainment, education, and business spheres. The National Association of Evangelicals was formed, the roots of Billy Graham's ministry were already taking hold, Inter-Varsity Christian Fellowship, Navigators and Campus Crusade for Christ were established on college and university campuses, and Youth for Christ was on the move among American high school students.
Also out of this convergence of factors grew new mission agencies, including Far Eastern Gospel Crusade or FEGC (now called SEND International). The seeds of FEGC were planted near the close of the war in Japan and the Philippines in the formation of the GI Gospel Hour, which had close ties to Youth for Christ. By 1947, these two loosely associated movements had consolidated from the United States to form the mission agency. With humble beginnings meeting in a Manila mortuary, visiting the sick in Yokohama, assisting in church and street meetings, launching a Bible school, and more, the GI Gospel Hour seized the opportunities to spread the gospel.
Among the Archives collections from which these samples are taken are the records of SEND International (see Collection 406), including recordings, photographs and newsletters from the GI Gospel Hour period.
---
Return to BGC Archives Home Page

Last Revised: 4/01/02
Expiration: indefinite

© Wheaton College 2005