KUDOS


billy graham center archives
2008 annual report
---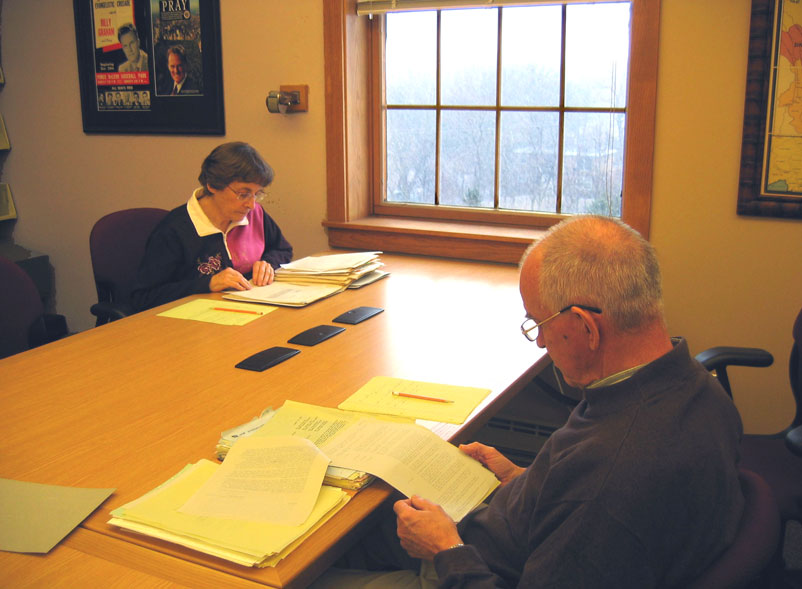 "Dear Mr. Weber, I have received the six e-mails with attachments, which were sent from the scanner today. Thanks very much for all your help and bother to check that it all scanned and sent properly. Many thanks. We really appreciated the cordial, helpful spirit of the Archives Dept. ...Makes one want to come again sometime!!"
Message from AIM missionaries Dottie and Jonathan Hildebrandt (above), who were researching her grandfather, Lee Downing, and father, Kenneth Downing, missionaries with Africa Inland Mission. Weber helped the Hildebrandts scan a few documents on the Reading Room photocopier and e-mail them directly to themselves. Also read her
report on her research and experience at the Archives
.
| | |
| --- | --- |
| "Paul, I want to thank you for spending valuable time out of your busy schedule with Dr. [Wil] Norton the other day. He made it a point to tell me how much that meant to him. Thank you for all the good work you do here at the BGC." Message from the Regional Director of Development, Wheaton College. | |
"Just a huge thanks to each of you for all your help over the past two days. I actually enjoyed it and think that going back through all the material isn't even going to be all that bad. ...This is a pretty nifty place and I sort of hope I didn't find everything we were looking for, in hopes of being able to come back!" From Carol Guenter of the Cape Town 2010 staff regarding two days she spent going through the files of Collection 46 to help prepare for the next Lausanne Congress Cape Town in 2010.
| | |
| --- | --- |
| | "As a missionary to Africa for the past 18 years, I deeply appreciate these MP3 files. GBIM had its roots with AIM in Kenya in the early 1900s. Many thanks." From the director of operations of Grace Brethren International Missions. He is referring to the audio files from Africa Inland Mission history at: http://www2.wheaton.edu/bgc/archives/docs/aim58.htm |
| | |
| --- | --- |
| "We send our love and prayers to you all. We wish to thank you very much for the wonderful documents on Rev. Mordecai Ham's life and times. We made copies for our pastor who was led in the ministry by his minister who knew Rev. Ham." Letter from a researcher who asked for information on Rev. Ham's life. Wayne sent him biographical information on Ham from the Archives Web site and other Internet sites. | |
| | | |
| --- | --- | --- |
| | | "Much, much thanks for taking time to respond to my requests. I can't speak highly enough of you and your staff. You make researchers feel so welcomed. May the blessings of the Lord continue to be poured out on the ministry of BGC." Note from a researcher who was working on her PhD dissertation. |
| | | |
| --- | --- | --- |
| | "Last week I asked about getting a copy of the Billy Graham Song Book 1955 (Wembley Stadium). Many thanks - I have bought one off Ebay after the info you gave me. It was sixpence in 1955, I paid a little more for it. Worth every penny though." E-mail from a patron in England. | |
| | | |
| --- | --- | --- |
| | | "Thanks so much for these glimpses of the past. Thanks to, and for, your faithful, superior Archivist. Enjoyed seeing all the posters---- especially one of I.V.C.F. International Student Convention in Toronto and the picture of the Christian & Missionary Alliance Convention in Toronto of which I looked at nearly every face searching for my Dad...Am so pleased such items are valued and preserved in a safe and friendly environment at Wheaton College." E-mail from a Web site visitor. |
| | | |
| --- | --- | --- |
| | "Dear Paul and Wayne, The heartiest of thanks for the rich support you have given our Cross-Cultural Research students this semester! We're in your debt. With Appreciations, Evvy [Campbell]" | |
| | | |
| --- | --- | --- |
| | "Thank you very much for all the information about Jim Elliot's life. I have found it very encouraging and helpful. I have recently purchased the Journals of Jim Elliot and can't wait to start reading it. I'm in my second year at the Baptist Bible college in Northern Ireland, and God willing we hope, my husband and I, to go to Peru to serve the Lord as missionaries. We hope to be working with SIM, in the south of the country. Thanks again and God Bless." Message from a Web site visitor about the materials from Collection 277. | |
| | | |
| --- | --- | --- |
| | | " Just a week ago I made a very short visit to the archives. I think it was just an hour. Yet with your help I managed to collect some very important documents for my research. I'm still amazed by the quality of service you gave me, albeit me crashing in from nowhere and am truly grateful. Hope to have another chance to use your excellent services in the future." E-mail from patron from Israel. |
"Thank you so very much. Not only is it the Birth Of Jesus but you renewed my belief again in Santa. It's a miracle. I've had this song on my heart, now I can sing it at church & in my heart. I was about to give up. The beautiful part: Tennessee Ernie [ Ford], the Pea Picker was singing the vocals. I forget the musician at this moment but will look at scratchy 45 to view. You are truly a friend. PS I hiked the Appalachian Trail in my seventies, Georgia to Maine & last fall did a 50 mile Backpack in the Shenandoah Valley. Always sing "How Great Thou Art" on top of those Mts. Amen." E-mail from someone who had asked near Christmas for the lyrics to the song "His Hands" by Stuart Hamblen. The staff was able to e-mail him back with the words as well as the address of a Web site where he could listen to Tennessee Ernie Ford singing the song.