INTRODUCTION

billy graham center archives
2004 annual report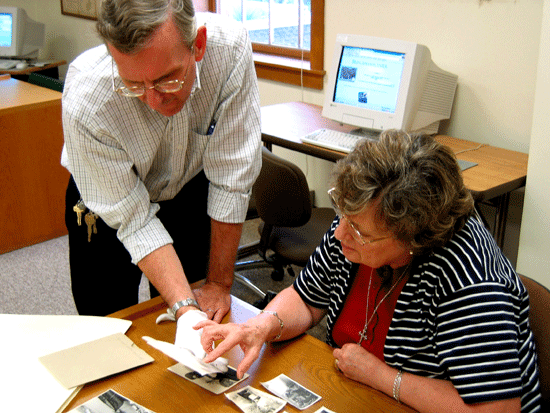 Wayne assists researcher Peggy Deans Williams as she looks through the papers of her father and missionary to the Belgian Congo, William Deans, Collection 586. Wayne processed the collection during 2004 and Williams was exploring the collection with her sister and assisting Wayne in identifying the photographs.
---
Then those who feared the Lord spoke with each other, and the Lord listened to what they said. In his presence, a scroll of remembrance was written to record the names of those who feared him and loved to think about him. "They will be my people," says the Lord Almighty.
Malachi 3:16-17 (NLT)
We spend a part of most days in the Archives talking to each other -- thinking out loud about how to better serve our researchers, suggesting new ways to stimulate use through our Web site, planning our next program to bring new users to the Reading Room, solving a processing conundrum, or compiling information for a response to a reference question. But as Malachi reminds us, what we say is within earshot of God's watchful care, and, we pray, fueled by his guidance and blessing. Our desire is that this gathering of papers and films and photos and more will help the Church remember "those who feared him and loved to think about him," learn from them and follow in their steps, and be a faithful part of that "scroll of remembrance" that Malachi alludes to. This report is our scroll of remembrance, presenting the record of our stewardship in 2004. Here's a summary of what happened during the past year.
We continued to expand our Web site to highlight new collections, feature new sample documents, and make more widely available new presentations, all to serve the more than 313,000 visitors (49% jump from the 2003 level) who made over half a million visits to the Web site. Two memorial pages were added to remember John A. Huffman, Sr., and Stephen Olford.

We provided information in response to 1,032 requests for assistance outside the Reading Room. Over seventy percent of these came via e-mail (now more accessible through a Web site form), and many were from organizations including those that donated records to the Archives. Also among these were presentations to 7 groups outside the Reading Room.

We welcomed over four hundred researchers who came to the Archives Reading Room to use our collections, more than half of them from outside the Wheaton College community. (The staff also held sessions for 14 classes in the Reading Room, providing students with firsthand experience with original documents, and exercises to guide them in understanding how to interpret them.)

We arranged and described twenty-four collections, some new and others expanded to include new material. Among these were the papers of evangelist and pastor Torrey M. Johnson, Sr., BGEA films and videos and BGEA oral history transcripts and tapes, OC International records, and the papers of Lillian Dickson (founder of Mustard Seed Mission in Taiwan). We also transcribed and made available on the Web fourteen hours of interviews with ten missionaries, evangelists and other Christian workers. Jan Nasgowitz, our newest volunteer and retired Archives' reference archivist, pitched in again by transcribing an audio tape of an oral history interview.

Bob addressed Wheaton alumni during commencement weekend with a presentation on the growth, vitality and contribution of the church in the developing world. Wayne passed along to several local genealogical groups his expertise in genealogy through presentations on "Genealogical Resources in the Archives of the Billy Graham Center."

The Archives was once again a source for numerous projects and publications that became available to the public through previous researchers, including an article on evangelist Bob Harrison, a journal article on "The Role of Photography in Telling the Story of American Evangelical Missions," a book on Billy Graham, and a dramatic monologue on the life of Corrie ten Boom.

We acquired 179 cubic feet of material, including papers of T.W. Wilson and George Wilson (both BGEA executives and long-time friends of Billy Graham), A.J. Dain, an oral history with Dan Crawford (son of evangelist Percy Crawford), and records of the Billy Graham Evangelistic Association and Africa Inland Mission.

Digitized for online access Billy Graham's address at the September 1980 dedication of the Billy Graham Center.


Microfilmed an additional portion of the Africa Inland Mission records, preserving the original documents and making the filmed files available for wider use through inter-library loan.

With help from Bob, Paul developed a Power Point presentation with the Center director for the Wheaton College president that included audio and video excerpts from the Archives collections.

Bob and Paul met with Latin American theologian and missiologist Samuel Escobar to harvest suggestions about ways to make the Archives more accessible to him and his students, possible collections including his own papers to add to the Archives, and how to serve young or yet-to-emerge archives in Latin America.

We said farewell to Ferne Weimer, longtime director of the Center Library. Jim Stambaugh, director of the Center Museum also left the staff in 2004.

Paul became Director of Resources with responsibility for both the Center Archives and Museum.
The following pages provide further descriptions, pictures and statistics of what we've done in the past year.
---