Billy Graham Center

---

Archives
Witness... newsletter, September 1997
Click here to see the newsletter as it appears in its printed format.

Below, very slightly edited because of the different context, are the text and photographs from the most recent issue of Witness....




Note
Guides that describe in detail the collections mentioned in this newsletter can accessed through the Archives web site at the New Collections page
---


.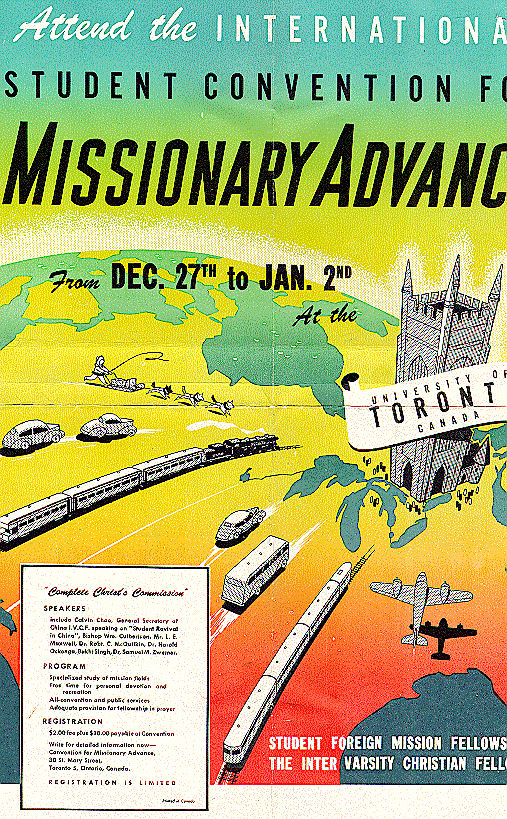 This summer the Archives staff opened Collection 300, the records of the Inter-Varsity Christian Fellowship (IVCF) of the United States and thus provided researchers with access to the files of one of the most enduring and influential of American evangelical parachurch institutions.
When the United States Inter-Varsity was started in 1940, based on the model of IV movements in Great Britain and Canada, its purpose was to present the gospel on college and university campuses and to provide students with a means for Christian fellowship and nurture. Inter-Varsity since then has had a significant impact on the development of Christianity in America in a number of ways: it's ministry to the academic world (students and faculty); the books produced by its publishing division, Inter-Varsity Press; its training of student leaders who go on to a variety of academic and/or ministry careers; and especially its triennial Missionary Conventions, which have over the last half-century been a platform from which to capture the imaginations of American college students and motivate them to devote their energies to world missions. Above is a poster from the first convention, held in Toronto in 1946. All since then have been in Urbana, Illinois.
The records of the movement cover the period from 1940 to 1991 and fill over four hundred storage boxes. Piled on top of each other they would be equal in height to a thirty-five story building. IVCF's records (largely correspondence, reports, publications, promotional materials) describe its organizational development to address the diverse needs of the university world. Among the records are: materials of individual leaders, such as the files of each of IVCF's presidents from 1940 to 1984 (C. Stacey Woods, Charles Hummel, Charles Troutman, John Alexander, James McLeish) and the files of evangelist Paul Little, who also worked with international students. There are also departmental records, such as materials on grass-roots level ministry on individual campuses; documents of regional offices, the Missions Department, and the Nurses Christian Fellowship; administrative records about planning and financial operations, and the research data compiled for the 1991 official history, For Christ and the University. The files also include material on the part the Canadian branch played in starting the work in the United States.
Archivist Paul Ericksen, who processed the collection, commented, It's difficult to begin to identify the highlights in a collection of this breadth, since even one division's records could easily stand alone as a collection worth mining. There is so much here for many different types of users: Inter-Varsity alumni, people interested in IVCF's emphasis on thoughtful evangelism, and researchers who want to understand the role students have played in missions or learn more about the part Inter-Varsity has played in shaping American evangelicalism. Back to Table of Contents


---
I still haven't found an adequate way of explaining the term accept Christ.' I have read a fair amount of Christian philosophy but I have not found a clear succinct explanation. In a sense, it is like trying to describe powerful emotions like love. While volumes have been written about love, it's not reducible to a mathematical formula or to carefully conceived rationales of logic. I can only say in my life it was, as I believe it was in many other lives, an experience as real as anything we see, feel, or hear with our physical senses.
Thus wrote Charles Colson in 1974, less than a year after he was "born again," in a letter to a Federal court official, a letter contained in the recently open Colson papers (Collection 275). Colson first became known to the general public as counsel, political trouble shooter and advisor to President Richard Nixon, then as one of the subjects of criminal and Congressional investigation during the Watergate scandal. Then his new faith and the part it played in leading him to plead guilty to a charge of obstruction of justice again made front page news. After serving his prison sentence, he went on to found Prison Fellowship, which quickly became one of the most influential prison ministries in the country. He also became a well-known writer, speaker and columnist on themes relating to the place of Christian faith in a secular society and the relationship between belief and citizenship.


Begining of Colson's first outline for his autobiography, eventually called Born Again
Mr. Colson gave his papers to the Archives in 1984, with several additional accessions since. The collection is now processed and available for use. Although there are a few items from his early years, most of the documents in the collection deal with his time as Special Counsel to the President, the Watergate investigations, his prison term and his ministry since. The 143 boxes of documents, almost all of which are open to researchers, contain correspondence, memos, transcripts of court and congressional testimony, multiple drafts of books written by Colson, newspaper and magazine clippings, audio tapes, photographs, and much more. The collection is a resource not only for studying one man's life, but also America's political history and spiritual condition in the late twentieth century. Back to Table of Contents

---
Paul Ericksen (center) with the students. From l to r: Elizabeth Tebbe, Scott Reist, Laurie Huber, and Lori Ellison
The stereotyped images of archives as attics or dusty, ancient, temples for relics carry with them impressions of immobility, decay, or reverent distance. Impressions can be misleading, however, and archivists energetically work to overcome these misconceptions by aggressively encouraging new groups to dig into their collections and discover the rewards and excitements of research through hands-on use of documents. Surprisingly to some, an archives can be fertile ground for for innovation and change. The recent collaboration of the Archives staff and a Wheaton College Graduate School professor illustrates both the creative environment that archives can be and the benefits of the process.
During our twenty-two year history, the staff's typical contribution to College classes is an orientation on the parts of the Archives' collection relevant to them. During the Spring 1997 semester, however, the Archives worked with Dr Alan Seaman to develop a project for his Cross Cultural Research course that would involve students becoming not researchers, but archival processors. The collaboration between the departments began from two divergent needs: Seaman wanted to expose his students (many of them missionaries with years of field experience) to the use and benefits of historical materials, while the Archives wanted to chip away at its backlog of unprocessed collections in order to get them more quickly into the hands of researchers. They also wanted to take advantage of the insights missionaries could bring to processing the papers of missionaries. The shape this blending of needs took brought four students into the Archives, three to arrange and describe four small collections, while the fourth described an already processed collection in greater detail. After processing these collections during the first half of the semester, the students went on during the second half to write research papers based in part on the documents they had worked with.
Five collections (one of which is described in the Lori Ellison article on this page) were processed in whole or in part and some of them are now available for use in the Archives Reading Room. It was a stimulating learning experience for all concerned.
Laurie Huber, one of the students, commented, I would not trade this experience for any other project. Working on Collection 534 in the Archives was an invaluable learning experience as it provided an opportunity to work on a collection that has become close to my heart. I have a new appreciation for archivists and what they do to make collections available to people like me.
Associate Director Ericksen said of the project: We very much appreciate the work that the students accomplished; new collections are now open. But the benefit extends beyond what was done and produced. The collaboration helped us look at how to meet our goals from a different perspective. The process of stepping out, trying a new path, and learning from our experience and the students' evaluations will, hopefully, make us better archivists.Back to Table of Contents
---


By Lori Ellison



Miss Sarah Alice Troyer celebrated her twenty-fifth birthday in 1896, shortly after arriving in China to work as a missionary with China Inland Mission (CIM). Before leaving America she wrote her sister, If the Lord sees fit to take me home it will only be going to rest and my reward ..." Sarah worked for three years with co-worker Carrie Gates in the city of Lugan Fu in China's Shansi Province.

She enjoyed life in China and physically blended in with the Chinese: They like me because I look so much like their own people. They do not like light hair and eyes. I used to wish for a light complexion, curling hair and blue eyes but now I am so glad the Lord gave me just what he did. Her letters and diary fragments, given to the Archives by Young's grand niece, Carol Whiting, make up Collection 542 and are now available to researchers. They recount her adventures as an itinerant evangelist on horseback and give a fresh glimpse into the lives of Chinese Christians in the last century.

In the spring of 1899, Sarah married fellow missionary John Young and moved to Kih-Cheo. Though Sarah never spoke of them in her letters, there were many uncertainties for foreigners in China at this time. One letter simply states, God holds the key of all unknown and am glad. In the following months missionaries across Shansi Province would lay down their lives for the sake of Christ's name during what came to be known as the Boxer Uprising. Mr. and Mrs. John Young were among the first to be murdered, and on July 16, 1900, went to their "rest and reward."
Back to Table of Contents
Guide for the Sarah Alice (Troyer) Young Papers.
---


This past April saw the publication of Just As I Am: The Autobiography of Billy Graham. In it, the evangelist talked about his life, faith, ministry, and family. In connection with the release of the book, a number of television talk and news shows planned stories about Graham, stories that brought them to the Archives.




Lumiere Productions went through many films and videos of Graham's past crusades. The British Broadcasting Corporation (BBC) planned an hour long special on Graham's life. Researcher Gary Lamb (in photo above) gathered a rich selection of photos and video clips for them. Fox News copied materials to be used in a Catherine Crier interview of Graham. The 20/20 news magazine on ABC also did a segment on Graham that drew on materials from the Archives. Among the collections used were: Mordecai Ham, the evangelist whose preaching led a teenage Graham to Christ; Youth for Christ International, an organiztion that Graham helped organize in the mid 1940s and which sent him on his first preaching tour of western Europe; and fifty years of photos, clippings, audio tapes and films of Graham's evangelistic ministry which are contained in files of the Billy Graham Evangelistic Association. Back to Table of Contents
---
Pictured abouve is Elizabeth Johnson of Seward, Nebraska, winner of the Archives' 1996-1997 Home School Essay Conest. Her entry was on missionaries Jonathan and Rosalind Goforth. Second prize went to Lisa Olsen of Glen Ellyn, Illinois. Back to Table of Contents
---
In the May 1997 issue, the photograph on page 4 was identified as Mildred Morehouse. It was in fact a picture of Judith MacLeod, a researcher in the Archives. We regret this error. The picture of Ms. Morehouse can be seen on the Web version of Witness.... Back to Table of Contents
Witness...
Volume 6, Number 3
September 1967
The Archives of the Billy Graham Center is a division of Wheaton College which is charged with gathering, preserving, and making available for use unpublished documents and other source materials which relate to the history of Christian missions and evangelism.
Robert D. Shuster, Director
Paul A. Ericksen, Associate Director
Janyce H. Nasgowitz, Reference Archivist and Newsletter Editor
Wayne D. Weber, Archival Coordinator
For further information or to subscribe to this newsletter free of charge, please contact us by mail, phone, or e-mail.
---
Return to BGC Archives Home Page

---

Last Revised: 7/12/97
Expiration: indefinite

© Wheaton College 2005