Billy Graham Center

---

Archives
Click here to see the newsletter as it appears in its printed format.


Billy Graham - Before Los Angeles
In the fall of 1949, Billy Graham and his associates were invited to lead a three week citywide evangelistic campaign in Los Angeles. Enthusiastic crowds and celebrity conversions caused Graham to get nationwide newspaper and magazine publicity in the secular press for the first time. From that time on, he was a known figure on the national stage.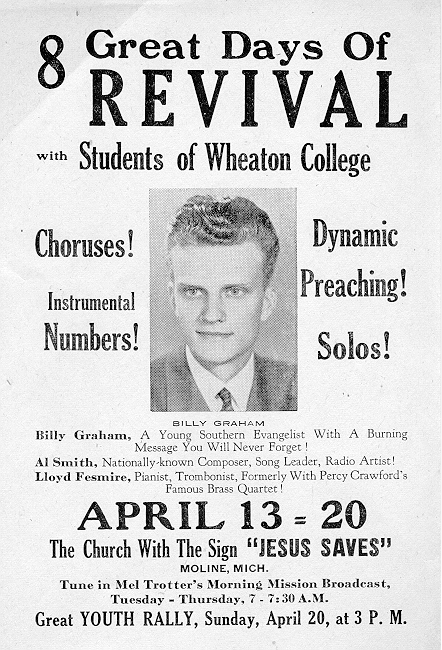 Handbill advertising revival meetings scheduled to take place April 13-20, 1941, in Moline, Michigan, featuring Wheaton College students, including Billy Graham.


But Graham had been learning his skills and growing in reputation among the Evangelical/Fundamentalist community for a decade before Los Angeles and the Archives contains a variety of materials that document these early years. Collection SC19 has notes from the Bible and theology classes he attended as a student at Florida Bible Institute in the late 1930s. Collection 17 consists of a scrapbook he kept about his early preaching engagements from 1938 through 1943, including his first evangelistic campaigns in small churches in Florida and Georgia.
After graduating from Wheaton College in 1943, Graham was a pastor of a church in Western Springs, Illinois, for about a year and then became a traveling evangelist for the newly-formed Youth for Christ organization. Collection 48 contains reports, photos, and documents from the days when he was traveling to youth rallies around the country and meeting people like Cliff Barrows, who would be associated with him throughout the rest of his ministry. Scrapbooks in Collection 360 also document some of these YFC activities. In 1946, Graham was part of a team of four that went to Europe to start YFC clubs in England and on the continent. Several collections in the Archives, such as the papers of John Stratton Shufelt in Collection 224, include letters written during the tour that describe the group's adventures in England, Scotland, Ireland, Sweden, Denmark, Holland, and France.
The next year saw a week-long series of evangelistic meetings in Charlotte, North Carolina, that were models in many ways for the crusades organized by the Billy Graham Evangelistic Association (incorporated in 1950). Collection 295 contains many documents on the 1947 campaign, including clippings. Dr. Lois Ferm has for decades been interviewing people who were involved in the work of Billy Graham and the BGEA. The hundreds of interviews (Collection 141) include some about the Charlotte meetings and other early campaigns. For the 1949 Los Angeles meetings, besides many paper records, there is a contemporary film in Collection 74 and recordings of more than fifty of Graham's sermons in Collection 26. Taken together, these documents from many collections tell of the origins and development of a ministry soon to have a worldwide impact.
Wheaton Revival Collection Opened
In a previous issue of the newsletter (September 1995), we described efforts of the Archives' staff to document the revival that occurred on Wheaton's campus in March of that year. The interviews and other materials have been processed and described and are now available for use. The documents present a serious, if incomplete, documentation of the revival and its immediate impact and they also present an unforgettable picture of people grappling with the meaning of an unexpected communal spiritual event for their own lives.
Included in the collection (514) are interviews with and/or questionnaires from some participants in earlier Wheaton revivals; newspaper and magazine reports about the 1995 event; and written accounts by students. The bulk of the collection consists of interviews about the 1995 meetings done by the Archives' staff and Wheaton College students.
Altogether, the collection contains about thirty-four hours of interviews with thirty-seven individuals involved in the revival, ranging from those who attended once or twice to people who served as leaders throughout all the meetings. Twenty-one Wheaton students were interviewed, including four freshman, five sophomores, four juniors, five seniors and six graduate students.
Also interviewed were the current and a former president of Wheaton College, the president of Multnomah School of the Bible, another Multnomah administrator, the chaplains from Wheaton and three other colleges, three Wheaton College faculty members, four Wheaton staff persons, a Wheaton College librarian, a local pastor, and a student from another college. (Four of these interviews are in other collections.) Of the total interviews, eleven were women and thirty-seven were men.
There were also thirteen interviews which include reports on visits to other campuses, many of which experienced revivals of their own. The guide to the collection can be accessed on the World Wide Web at this address: http://www2.wheaton.edu/bgc/archives/guides/514.htm
Unexpected
Missionary experience shares the unpredictability and the need for creativity of any other way of life. Two new collections document the experiences of missionaries Karl and Debbie Dortzbach (Collections 401 and 402). Together their oral history interviews and documents tell the story of both an unpredictable calamity which shaped lives and the opportunities for creativity which they encountered and responded to.
The Dortzbachs accepted a short-term missionary assignment to serve in Ethiopia in 1973. A most unexpected part of their Ethiopian experience was Debbie's kidnapping by the Eritrean Liberation Front while she was pregnant with their first son. After Debbie's fellow kidnap victim was killed, Karl then had to negotiate for his wife's return while following mission policy not to give in to the ransom demands and twenty-six days passed. Negotiations failed to secure her release. Then he received a chilling letter, one of two letters in the collection from the the Eritrean Liberation Front (see photo): "We understand from your letter that you did not belive [sic] or apply our instructions from our letter 14.6.74 which the main point or idea was our last demand'. Therefore for the reason you refuse to give your real or wanted reply the mission is going to be asked by [to assume?] responsibility for this new error." In spite of the apparent failure to secure her freedom, Debbie was given a note in late June announcing her release. "The Eritrean Liberation Front Revolutionary Council decide [sic] to release you without any demand. Therefore from the date we wrote this letter onwards you are no more ELF prisoner. And you should have to be ready for leaving."


As unexpected as the kidnapping was, so was the hoped-for conclusion. Along with the interview with her and the two letters, Collection 402 includes a small notebook in which she wrote during her captivity. It consists of Scripture, hymn titles and lyrics, prayers and poems, small sketches, and notes on activities and observations.
Debbie's release was shortly followed by a period of public speaking, along with Karl, about the kidnapping ordeal and writing the book Kidnapped, before they returned to Africa as full-time missionaries in Kenya in 1981.
In 1984 Karl was asked to plant a church in the city of Nairobi, a situation which called for wisdom and creativity, particularly as expatriate missionaries and the national Christians learned to share responsibility. Collection 401, which consists of the oral history with Karl, includes the following excerpt, in which he described his response to the request to plant the church and the outcome:

"But, I said, "there's only one thing I'm going to ask and that is that you give me a young man who is in process of ordination to work with as . . . a co-pastor." And they did that. And that's a fulfillment of my own sense of purpose and . . . philosophy. I don't want to work as a solo missionary pastor. So we worked in . . . tandem, really, as a . . . pastoral team. Now the common thing that most churches here [in the US], as well as most churches in Kenya would expect is that I was older, I was better trained, and I was white, so therefore I was lead pastor. And we did our best to confuse everybody in that particular perspective, because I didn't want to be the lead pastor. I wanted to be a pastor that used my gifts in a particular way. And so we sort of worked out . . . an agreement with each other. The fellow I was working with, his name was Paul. He made the decisions after he answered my questions. I asked the questions and he made the choices. And he didn't always make choices that I liked, and I didn't always ask questions that he liked [laughed], but I think in the end, you know, he had a great sense of ownership of that congregation, and I was able to grow, and I think he was able to grow. I was able to help him deepen in some of his theology, some of his practical ministry skills, and he helped me understand more cultural issues than I could have ever learned trying to work as a solo missionary.
The 1997 Church Archives Workshop
Once a year, the Archives of the Billy Graham Center offers a workshop for churches in the Chicago area on how to start and maintain a church archives. During the program, emphasis is particularly placed on how to make the church archives a part of the ongoing life of the congregation.
Topics discussed include: Important Principles, Building Support for An Archives, The Archives Charter, What to Collect and Where to Keep It, The Process of Collecting, Doing Oral History, Making the Archives Part of the Life of the Congregation, Maintaining the Archives, Benefits of a Church Archives, and so on.
The third annual workshop will be held on Saturday, May 17, 1997, from 9:30 am to 4:00 pm. It will be held in the Wilson Suite on the fourth floor of the Billy Graham Center at Wheaton College.
There is a registration fee of $15.00. If you would like to receive a flyer about the 1997 workshop, please send us an e-mail message at , write to us at the address on the last page, or phone us at 630-752-5910. We look forward to helping you begin an archives or organize one you already have.
For a list of resources and comments from people who have taken the workshop, visit our home page at: http://www2.wheaton.edu/bgc/archives/caw.html
Research in the Archives: Delving into Fifty Years of Missionary Work
(Note for the Web site version: The person in the photograph in the printed version of the newsletter identified as Mildred Morehouse is actually Judith McLeod, a researcher who was working on the Women's Union Missionary Society. Our sincere apologies for the error. Above is a picture of Ms. Morehouse from a prayer card, ca. 1980s, sent out by SEND to her supporters. [The editor.])


SEND International is a nondenominational mission organization that works primarily in the Philippines, Japan, and Alaska, with some work being done in Hong Kong and Spain. They have recently assigned one of their retired missionaries, Mildred Morehouse, to write a comprehensive history of the first fifty years of their work, starting from the days right after World War II when they were the G.I. Gospel Hour. Morehouse has been coming to the Archives from time to time to spend a few days working her way through boxes of office documents and correspondence from the early days of what was then known as the Far Eastern Gospel Crusade. She then returns home to organize what she has found. As she works, she exclaims over items of particular interest.

Morehouse is co-author of a book titled A Branch Made Strong: A Short History of FEGC/SEND Japan: 1945-1985. She was herself a missionary in Japan for forty years and has known many of the people and events personally.

The organization began with servicemen stationed in the Far East who became involved in the spread of the Gospel. The G.I. Gospel Hour was absorbed into the Far Eastern Gospel Crusade, and the work included radio broadcasts, monthly publications, the founding of the Far Eastern Bible Institute and Seminary and later the Asian Theological Seminary,cooperation with other organizations to found a school for missionary children, starting a clinic and a bookstore, working with students, and other types of missionary endeavors. In 1981 the name was changed to SEND International. Morehouse said, "I appreciate the way these materials have been made available to me. The guide makes things easy to find." She added, "My only problem is that I spend time reading materials that are not directly related to my project."



*************************************



Witness...
Volume 6, Number 2....................................................May 1997

The Archives of the Billy Graham Center is a division of Wheaton College which is charged with making available for use unpublished documents and other source materials which relate to the story of Christian missions and evangelism.

Robert D. Shuster, Director
Paul A. Ericksen, Associate Director and Disaster Officer
Janyce Nasgowitz, Reference Archivist and Newsletter Editor
Wayne D. Weber, Archival Coordinator

For further information or to subscribe to this newsletter free of charge, send your name and address to:

Archives of the Billy Graham Center
Wheaton College
Wheaton, IL 60187
or call: 630-752-5910
e-mail:
http://www2.wheaton.edu/bgc/archives/archhp1.html