Billy Graham Center

---

Archives
Witness... newsletter, January 1997
Click here to see the newsletter as it appears in its published form.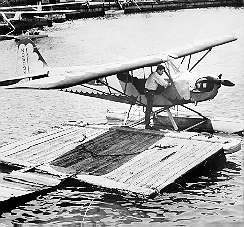 A 1955 photo of a Moody Bible Institute missionary training plane on the shore of Lake Michigan in Chicago.

Missionaries with Wings
Airplanes, since their early history, attracted mission organizations and individual missionaries to the possibilities in these machines to further the cause of Christ. Researchers can discover this history by means of a new collection now available in the Archives. Collection 528 contains materials, compiled by John R. Wells, a Wheaton College employee, that document the use of the airplane to open new missionary endeavors since the 1920s. Pilots have flown into areas that were formerly accessible only by long hikes into the wilderness. Missionaries in remote villages can now get rapid medical attention, supplies, and other help from these daring men and women in their flying machines. The collection contains seven boxes of correspondence, brochures, booklets, newspaper and magazine clippings, missionary prayer and newsletters, and maps, as well as audio tapes and hundreds of photographs and slides. These materials date from 1924 to 1983.
Organizations that Wells collected information about include Africa Inland Mission, the Assemblies of God; the Royal Flying Doctor Service of the Australian Inland Mission; Catholic missions in Alaska, Bolivia, Laos, New Guinea, the Philippines, and other countries; Christian and Missionary Alliance; Jungle Aviation and Radio Service (JAARS); Mission Aviation Fellowship; Moody Bible Institute; the Salvation Army; South American Mission, and many others. People whose flying careers are documented include Paul Carlson, Pentecostal evangelist Mrs. Mattie Crawford, George E. Fisk, Kenneth J.H. Hearn, Walter J. Heron, and Rex Humbard, among others.
Wells, himself a former pilot, wrote several articles about missionary aviation history using these materials and there are manuscripts in the collection. The hundreds of photographs and slides depict pilots, missionaries airplanes, accidents, and missionary activities that show the growth of the use of the airplane for missionary endeavor. Verbal letters and interviews on audio tape describe the personal experiences of several missionary pilots. There are no restrictions on the use of this collection and everyone is welcome in the Archival Reading Room of the Billy Graham Center.


Announcing the 1997 Home School Essay Contest
The second annual Home School Essay Contest is underway. Essays of no more than 1250 words on a theme related to the history of North American Protestant evangelism and missions from 1800 to the present may be submitted. For complete rules and deadlines, send a 9" x 12" self-addressed envelope with $1.01 in postage on it to the address on the bottom of this newsletter. There are two groups: students 12 to 15 and students 16 to 18. A prize of $100 for first place and of $50 for second place will be awarded in each group. Get your forms and get started now! See our home page at http://www2.wheaton.edu/bgc/archives/archhp1.html.


All You Need Is to Give a Blind Man Vision One Time . . .
Burt and Ruth Long spent thirty-four years in Africa as workers for the Sudan Interior Mission, twenty-five of them at the hospital in Galmi, Niger, where for many years Burt was the only doctor. Collections 347 (Ruth) and 351 (Burt) consist of oral history interviews with them about their experiences, recorded in 1986. These collections have been processed and are available for use. The following is an excerpt from Collection 351:

But the ones who came would be those with the most grievous diseases, that had not any help from the religious, from the witch doctor, from the pharmacists or the guys that are called medicine men.... But we did some miracles among them and they found relief and I am telling you all you need to do is give a blind man vision one time and the word spreads all over the country. It wasn't five years before we were known from one corner of the country to the other.... And so even though they wouldn't accept Christianity, they trusted it.... So this is how the medical work became an evangelistic work.
And, of course, we would train our converts right away to do evangelism.... As soon as we had a convert, we would give him Bible study, even one-on-one.... And then we would go out and preach and they'd be with us. And it's amazing. You can hardly believe how fast a man who has become a Christian can learn to preach. They'll just give a testimony and tell what they know about it, which is enough. And you have to keep it very simple for the people who are hearing it for the first time anyway. And that's all he knows. So they become preachers. They're natural, fortunately for us, because they're Hausa and their native language [skills] are perfect. Ours aren't. And they can preach it right, whereas we might make a mistake by choosing wrong words.


Clearing Obstacles from an Overcrowded Path
To encourage use of the documents we gather, we hunt for new ways to bring our collections to the attention and into the hands of new groups of users. Sometimes potential researchers have no idea what an archives is, or they're intimidated by using an archives, or they have an inflated (or deflated) idea of what history is all about. The Archives wants to eliminate some of these barriers which prevent people from benefiting from our resources.
The staff recently completed their first three-week Historical Research Workshop (photo shows some members of the class with Associate Director Paul Ericksen), an experiment with fifteen local home-school students ages thirteen to sixteen. Designed to prepare students to work in the Archives with a view to producing a short research paper, the workshop merged short lectures with hands-on exercises, and included case studies from real-life searching done by several staff members. Beginning with what an archives is and how it arranges what it collects, the students learned the basic elements of a collection guide, and then looked for answers to questions which required them to search our finding aids. Week two took students through a discussion of the historical method and how to interpret documents, which then led to the task of narrowing a general topic of interest to answerable questions and then to iden-tifying Archives' files which might contain relevant material. The final session gave students time to dig into files they had ordered the previous week. Out-of-class assignments were also a component of the program.
Sophomore student Timothy Stone-hocker came with an interest in studying missionary Jim Elliot, who was murdered in 1956 by an Ecuadorean Indian tribe. One of Stonehocker's questions was to determine when Elliot first began thinking about going to Ecuador. Despite the illegibility of some of Elliot's hand-written journals, he came upon a quotation which provided a concrete answer to help him narrow his search. "What I will be doing 1 yr. from this day is a complete mystery. Thus far, I have told Thee Lord, that I am willing (hardly "ready") to go to any of the following: 1) Peru... 2) India... 3) Europe... 4) back at Wheaton working on an M.A... 5) prison or C.O. camp following the simple pilgrim's path of meekness and non-resistance."
In spite of the hurried pace of this three-week immersion into the world of primary sources, Stonehocker said, "It was enough of an experience to under-stand the basics of what to do, and if I don't know, I now know who to ask." Reactions like this and the students' enthusiasm suggest that the Archives can have a hand in removing some of the obstacles which easily prevent students young and old from using the Archives. Local readers of Witness should contact the Archives' office for further information about plans being made to offer the workshop again sometime in the Spring of this year, or access our home page.


Now on Line: The Archives' Home Page
(http://www2.wheaton.edu/bgc/archives/archhp1.html)
A Visit from Jimmy McDonald
Last October, two couples visited the Archives Reading Room to view video tapes and photographs of healing evangelist Kathryn Kuhlman. One of the couples, James and Michelle Horvath, a pastor and his wife from Rochelle, Illinois (pictured on the left), brought with them to the Archives singer Jimmy McDonald and his wife Marlene. McDonald not only appeared as guest musician with Kuhlman, but also with other evangelists, including Billy Graham in his crusades.
They all were delighted when we were able to also show them a video of a 1966 Graham crusade that took place in Earl's Court in London in which McDonald appeared. Among the photographs of Kuhlman that are available for purchase, they found one of Kuhlman in which McDonald also appeared. The McDonalds and Horvaths expressed their appreciation before they left and said that they hoped they would be able to come back again soon.
Witness... Volume 6, Number 1 January 1997
The Archives of the Billy Graham Center is a division of Wheaton College which is charged with making available for use unpubished documents and other source materials which relate to the history of Christian missions and evangelism.
Robert D. Shuster, Director
Paul A. Ericksen, Associate Director and Disaster Officer
Janyce Nasgowitz, Reference Archivist and Newsletter Editor
Wayne Weber, Archival Coordinator

For further information or to subscribe to this newsletter free of charge, send your name and address to:
Archives of the Billy Graham Center
Wheaton College
Wheaton, IL 60187
>

---
---
---
---
Last Revised: 1/7/97
Expiration: indefinite


© Wheaton College 2005