Billy Graham Center

---

Archives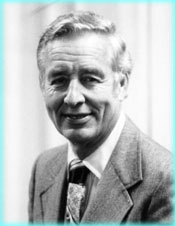 Listen to a recording of Van Der Puy's prayer which opened the NRB's 37th Annual Convention on January 20, 1980, in Washington, DC. Van Der Puy was introduced by an unidentified speaker. (3 minutes)
The text below, transcribed by the Archives staff, is from Collection 309 audio tape T027.
INTRODUCTION: As brothers and sisters in Christ we would not presume to gather together except that we invoke the presence of the Holy Spirit. We've asked tonight that our immediate past president Dr. Abe Van Der Puy, who is also the president of the ministry of World Radio Missionary Fellowship, better known as HCJB -- the Voice of the Andes, and also to many of us more recently has become one of the speakers on the Back to the Bible broadcast, the new Voice of Missions, Abe Van Der Puy.
VAN DER PUY: Let's pray together. Loving heavenly Father, it's with joy and thanksgiving that we come into your presence, and we do it in the wonderful name of the Lord Jesus. We thank you with all of our hearts for the privilege of showing forth his salvation. And we pray earnestly that this convention shall contribute to that end. Lord, we take every part of it from the beginning to the end and we place it in your hands and at your orders. And we want you to receive the glory and the honor. Bless all those who come to join us. May this be a powerful and precious fellowship. And Lord, we particularly ask for the program tonight, in the music, in the awards, in the message that shall come to us, O God, have your way and glorify yourself. We pray too as we leave this meeting tonight it shall be having been blessed so greatly that we are inspired and strengthened and helped to serve the Lord Jesus in a better way. We pray for the ministry and service of National Religious Broadcasters. And we pray too for every member represented in this organization and the various ministries that go out through each member. O God, we ask for your hand of blessing and power upon each effort that is designed to show forth his salvation and tell the story of Christ and his love. We ask it in Jesus' wonderful name. Amen.
Return to BGC Archives Home Page

Last Revised: 4/11/03
Last Revised: 1/5/05
Expiration: indefinite

© Wheaton College 2005