Billy Graham Center

---

Archives
Melvin Elling Lorentzen, 1925-2005
Memorial Page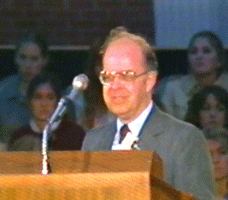 Dr. Lorentzen speaking at the dedication of the Billy Graham Center on September 20, 1980.
Melvin E. Lorentzen was a man of many parts. For decades he taught literature, writing and communications at Wheaton College and creative writing seminars at Green lake Wisconsin. From 1979-1990 he was associate director of the College's Billy Graham Center. As an ordained minister he preached frequently around the country and pastored churches in Chicago and Park Ridge, Illinois. He was a spiritual counselor to many artists around the United States and was committed to showing Christians how to express their faith through the arts.

His students, friends, and colleagues knew him as a man who combined laughter with dignity, profundity with simplicity. The talents God graced him with he used to lead others to Christ Jesus and encourage them in their Christian walk. He was a constant reminders of Ephesians 2: "For we are God's workmanship, prepared in Christ Jesus for a life of good deeds, which God has prepared in advance for us to do."

Click
for a brief chronology of Mel Lorentzen's life.

Click
to see a video of Mel Lorentzen giving a devotion on prayer during a 1985 conference at the Billy Graham Center.

Click
to see photographs (All photographs are courtesy of Wheaton College Archives).

Click
to read Mel's 1988 article, "Evangelism Takes on the Future".
---
Return to BGC Archives Home Page

Last Revised: 1/19/05
Last Revised: 1/5/05
Expiration: indefinite

© Wheaton College 2005