Billy Graham Center

---
Archives

2011 BGC Archives Lecture and Reception
Thursday, September 29, 7pm
Televising Testimony: Kathryn Kuhlman and Your Faith and Mine
Dr. Amy Artman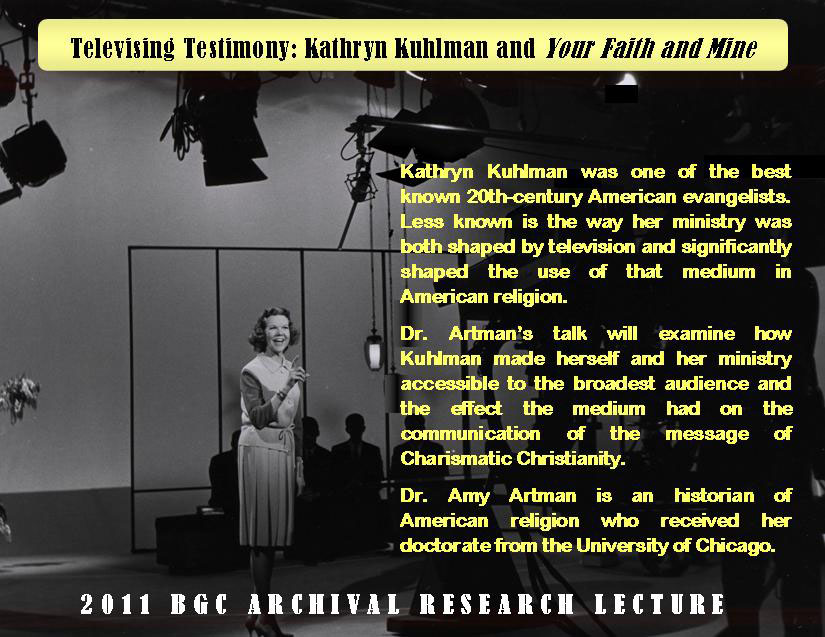 The annual Archival Research Lecture, sponsored by the BGC Archives of Wheaton College, will be given this year by Dr. Amy Artman . Se will be speaking on "Televising Testimony: Kathryn Kuhlman and Your Faith and Mine.

The lecture will be on Thursday, September 29, at 7pm in the Wilson Suite on the 4th floor of the Billy Graham Center, 500 E. College Avenue at Wheaton College in Wheaton, Illinois, USA.
How do you do historical research in an archives? What is it like to work with actual fragments from the past, to reconstruct a picture of past from documents such as newspaper clippings, letters, diaries, photos, film? These are some of the general themes of the Archival Research Lectures. Every year a scholar who has worked in the BGC Archives talks about his/her own experiences doing research (at the BGC Archives and other places) and describes some of the fruits of that research.
This year's presentation will focus on Kathryn Kuhlman, who during much of her ministry was one of the best known evangelists in the United States. However few people know about the early career of this healing charismatic evangelist, or how her later style was established in the television studios of the 1950s, long before her show I Believe in Miracles went into syndication. Dr. Artman will describe her close study of Kuhlman's first syndicated television show, Your Faith and Mine, and what her research revealed about Kuhlman herself, about the style of televised testimony she developed. The talk will also examine questions such as, "How does one televise a miracle?" "How does Kuhlman present herself and the miracles of her ministry in a way that is accessible to the broadest audience?" and "What effect does the use of media have on the communication of Charismatic Christianity?"
There will be a discussion period after the talk, followed by a reception with food and beverage (courtesy of the Institute for the Study of American Evangelicals). The lecture is open to the public and admission is free.
There will also be an exhibit of scrapbooks, photos and films, and other documents from the BGC Archives illustrate Kuhlman's ministry.

Dr. Amy Collier Artman is an historian of American religion with an emphasis in modern American Pentecostal and Charismatic Christianity. Dr. Artman's dissertation focused on the healing evangelist Kathryn Kuhlman and her role in what Artman calls the "gentrification" of Charismatic Christianity in America in the Twentieth Century. Artman received her PhD from the University of Chicago, and is an independent scholar residing in the beautiful Ozark mountains of Arkansas with her husband David and her dog Blue. Dr. Artman is currently preparing her dissertation for publication, writing book reviews, and has recently begun to prepare to teach online History of Christianity courses for Lexington Theological Seminary in Lexington, KY, a seminary of the Christian Church (Disciples of Christ). Artman is an ordained minister in the Christian Church (Disciples of Christ).