Billy Graham Center

---
Archives

2010 BGC Archives Lecture and Reception
September 30, 7pm
Dr. Alan Bearman: "The Atomic Godspeller Goes Global: Billy Graham and the 1954 Greater London Crusade"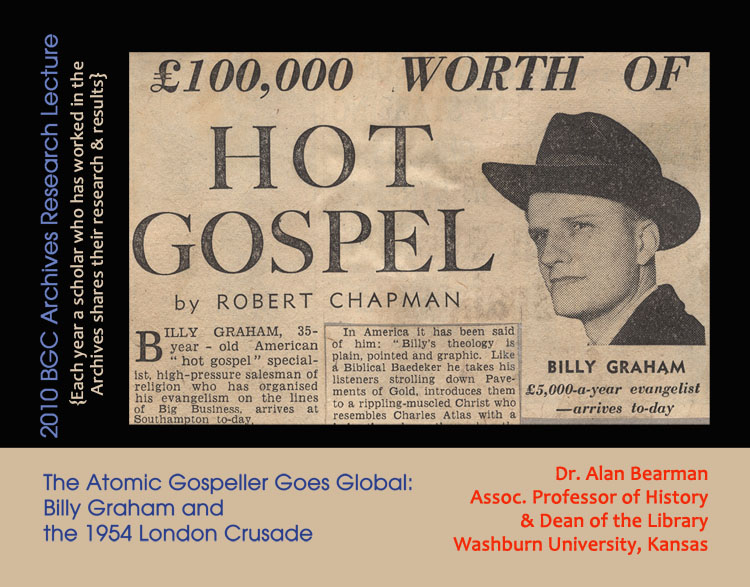 The annual Archival Research Lecture, sponsored by the BGC Archives of Wheaton College, will be given this year by Dr. Alan Bearman, Associate Professor of History at Washburn College in Topeka, Kansas. He will be speaking on "The Atomic Godspeller Goes Global: Billy Graham and the 1954 Greater London Crusade".

The lecture will be on Thursday, September 30, at 7pm in the Wilson Suite on the 4th floor of the Billy Graham Center, 500 E. College Avenue at Wheaton College in Wheaton, Illinois, USA.
How do you do historical research in an archives? What is it like to reconstruct a picture of past from fragments such as newspaper clippings, letters, diaries, photos? These are some of the general themes of the Archival Research Lectures. Every year a scholar who has worked in the BGC Archives talks about his/her own experiences doing research (at the BGC Archives and other places) and describes some of the fruits of that research.
This year's presentation will focus on Billy Graham's 1954 Greater London Crusade, a 12-week phenomena that propelled him to the attention of an international audience. It was an event fraught with political controversy and one that from a distance did not seem destined to succeed because of the hostility towards Graham within large sectors of the tabloid newspapers. But succeed it did because of Graham's commitment to his mission and his ability to win over the press. The 1954 Greater London Crusade was both a religious and political event unlike anything post-War Britain had experienced. Dr. Bearman's interpretation of it illuminates some of the reasons for the global impact of Graham and offers a window into the history of modern British Christianity.
There will be a discussion period after the talk, followed by a reception with food and beverage (courtesy of the Institute for the Study of American Evangelicals). The lecture is open to the public and admission is free.
There will also be an exhibit of scrapbooks, documents, photos and films, and other documents from the BGC Archives illustrating the 1954 London meetings.
Dr. Bearman is Associate Professor of History and Interim Dean of Libraries at Washburn University in Topeka, Kansas. He was born in England and moved to the United States as a teenager. He received his doctorate from Kansas State University. Recent publications include A North Atlantic Puritan: John Owen (1616-1683) and the North Atlantic Puritan World (Lambert Academic Press, 2010) and (with Jennifer L. Mills) "Charles Sheldon and Charles F. Parham—Adapting Christianity to the Challenges of the West: Topeka, Kansas as the Birthplace of Modern American Religion." in the Summer 2009 issue of Kansas History.