This page begins the first series, most of which were taken in Kenya, featuring the first three of twenty-four images along with accompanying descriptions; there is also an image from the Belgian Congo and another from Uganda in the set. The series of images documenting the Presbyterian work in Cameroon are represented by nine additional images. Click here to go directly to those. The accompanying captions, all very short, are Laura's own. Any text provided by the Archives is enclosed within brackets; the image number begins each bracketed comment.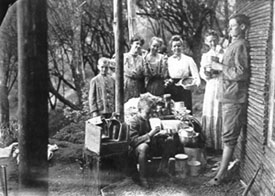 Opening the Christmas box
[I.6. The Christmas box was a package of necessities and small luxuries sent to missionaries by their supporters in the United States. The woman second from the left, standing right behind the post, is Collins.]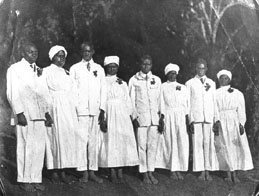 A wedding group
[I.22. It was not uncommon for missionaries to marry several Christian couples at one time.]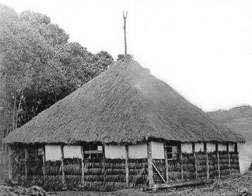 Temporary chapel at Kinyona.
[I.8. Part of the permanent brick chapel which was built a little later may possibly be the one shown in photo I.19. The temporary chapel fell down soon after it was built, and because the mission had no money for a replacement, the missionaries at Kinyona paid for the brick chapel out of their own funds.]





Click here to continue your journey
Click here to return to the beginning of the exhibit
Click to go to a complete series of miniatures of all the images
---
---
---
Last Revised: 06/21/01
Expiration: indefinite


© Wheaton College 2005