Archivists Bob Shuster and Paul Ericksen with two key sources for the exhibit -- the wire recordings and the scrapbook.
Although the Archives collects materials on the history of Billy Graham and the Billy Graham Evangelistic Association, we have relatively few documents from one of the key events in that story, the 1949 Christ for Greater Los Angeles campaign. Almost everything in the Archives from that campaign is in this exhibit.
Most of the material on display comes from three main sources:
Collection 26 includes several dozen wire recordings of Graham's sermons, recorded live. The wire spools could not record much longer than sixty minutes at a time, so for most evenings we only have Graham's sermon and a small portion of the rest of the service.


Collection 141 contains oral history interviews recorded with people who were involved in one way or another with the meetings. Dr. Lois Ferm of the BGEA staff spent over thirty years taping interviews with over 1,500 people. One of the very first interviews was with Pearl Goode in 1970, in which she talked about the prayer support of the 1949 campaign. One of the last interviews was with Bill and Vonette Bright where they started off by remembering their first contacts with Billy Graham in Los Angeles in the late 1940s.


Collection 360 provides Billy Graham's scrapbook (shown above) of clippings, letters, telegrams, a poster and other material from the campaign. (Notice the inside cover of the scrapbook above with a stamp of Graham's signature, also shown as a detail below.) At the time of the Los Angeles meetings, Graham was president of Northwestern Schools in Minneapolis, Minnesota. Someone on the staff of the schools put together this invaluable scrapbook as a souvenir for Graham of the campaign. Many items in it have a particular Minneapolis connection.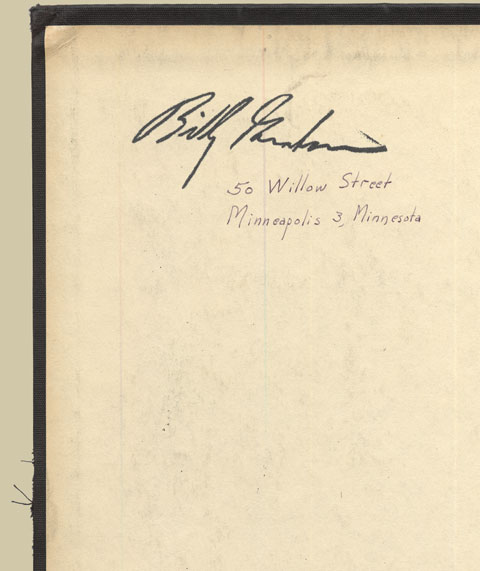 Other collections in the Archives that provided material for this exhibit include:
No item from this exhibit may be reproduced in any form without permission from the rights holder (usually the Billy Graham Evangelistic Association). Information on the copyright holder for a particular item can be provided by the Billy Graham Center Archives at...
BGC Archives
Wheaton College
Wheaton, Illinois 60187 USA
phone: 630-752-5910
e-mail: bgc.archives@wheaton.edu
or Mail Form