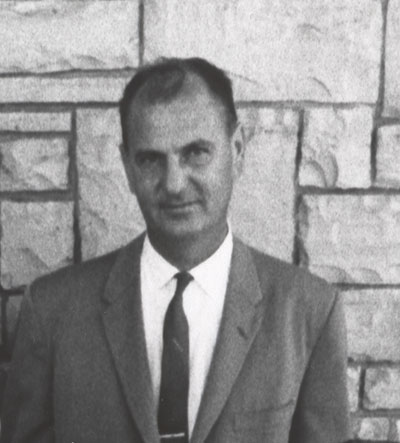 FERM: Now, my interest in interviewing Mr. Shepersky is simply the fact that he is arrangements chairman for this crusade and was also doing that same task back in 1964. And, of course, this provides a sweep of history that is very good for us, for us to understand what has gone on in the years between that time and now. But, I think, as we were chatting before the interview, some of the other details of what has happened to you are very interesting. And you...you were telling me that your mother was in the 1949 Billy Graham crusade on Washington and Hill Street in Los Angeles.
SHEPERSKY: That's right. That was the one where they had the big tent, and I believe it was the...his first large campaign. And she acted as a counselor. And I remember the specific thing that interested me was that she was so very exercised about her responsibilities. Although she hadn't found the Lord there, of course. She was a counselor, she'd known him before. But she had ten people that were given to her for follow-up counseling, and I don't think their follow-up was as extensive as it is now, but it was done on sort of a personal basis. And I remember that I was younger and I was not involved directly in the campaign, but I did go and...and was interested in her activities and found that she continued over the years. And eight years later, when she died, she was still following up each one of those that she could. And eight of them were still within her calling distance. And two of them were pastors, and two of them were deacons in churches, and the rest of them were working in Christian work. And two of them she had...one she couldn't find and one was not interested anymore. But I think that's an excellent record.
FERM: That's a pretty high batting average.
SHEPERSKY: I think so.
FERM: Now these folks who were pastors and deacons, had they become that after the crusade?
SHEPERSKY: Yes, that's right.
FERM: As a result of that?
SHEPERSKY: As a result of the campaign, yes.
FERM: You don't know who they are, do you?
SHEPERSKY: No, I have no idea. Sorry.
FERM: It would be so interesting to...
SHEPERSKY: It would be interesting.
FERM: ...to find what they are doing now, yes.
SHEPERSKY: I have no idea, and she's gone so I don'to....
FERM: But that's a wonderful...that's a wonderful record.
SHEPERSKY: Yes.
FERM: I'm glad to hear that. If all of our sponsors did that in our crusades we'd have no trouble with...
SHEPERSKY: That's true.
FERM: ...with decisions that were made, would we?