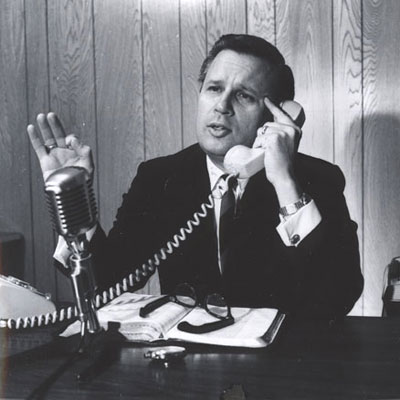 FINKENBINDER: ...got...how I got there I don't remember but I sat in the...down on the ground. There were bleachers all around, full of people, and heard this incredible man of God.
FERM: Well, and...and really, he was a very, very young man at that time and he had not had...he had not had the exposure. That was the time when he began to get the exposure to the...to this...to the media....
FINKENBINDER: But, you know, from the very beginning he had...he had a drive that was incredible, and...and without doubt the confirmation of God's Holy Spirit on his life. Without doubt.
FERM: How would...but how would...you've heard lots of...lots of revivals and evangelists in your life. What do you mean "a drive"? Was it a way of speaking or was it a...?
FINKENBINDER: That's a good question. [pauses] Well, you could sense...you could sense that he spoke out of his heart. Deep conviction, deep conviction. And he spoke with a...with a drive and a thrust that...that...that spoke more than you simply...he wasn't...he wasn't giving us a performance.
FERM: Okay. It was authentic.
FINKENBINDER: It was authentic.
FERM: Yes.
FINKENBINDER: It is the difference between a child reciting whatever in...in a classroom and falling down and saying, "Mommy, I hurt, I hurt, I hurt!"