Billy Graham Center

---

Archives
Notebook with Amelia Taylor's Recollections, 1853
The following is the text of a notebook in Box 13, Folder 14 (with the user copy in folder 14) of Collection 215. The notebook appears to be from the 1850s and was either written by Amelia Taylor, mother of missionary statesman J. Hudson Taylor, or was a record made by some other, unnamed person, of her memories of her son's first departure for China on September 19, 1853. Puncuation, capitalization, and underlining in the transcript follows that of the original manuscript. Information in brackets [] was added by the transcriber. Click on the image below to see digital images of the actual handwritten notebook.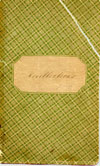 1853
Parting Recollections
On Sunday, Sep. 18, Hudson was much blest and strengthened by the religious services of the day. His soul was filled with the love of God, and in the evening he wrote a few parting lines to several of his relations and friends, full of affection to them, and bearing such a testimony to the sustaining power of grace, as made it apparent he could freely and cheerfully leave all, to carry the light of the knowledge of God to those regions of spiritual darkness, which had so long been the object of his desire, and for which he had read, studied, laboured, prayed. Seeing me in tears, he said, "O Mother, do not grieve, I am so happy I cannot; my only sorrow is to see your sorrow. I'll tell you what I think is the difference between you and me; you look at the parting, I look at the meeting," alluding to our re-union in the better land. Before retiring for the night, he read to us part of the 14th chap. Of St. John's Gospel, "Let not your heart be troubled etc.," and then engaged in prayer. The throne of grace was easy of access; and while offering thanks for mercies receive, and imploring continued blessings for himself, --for us whom he was leaving, --for the church, --and for the world yet lying in the arms of the wicked one, it was evident that it was no strange work with him.

The next morning he went to breakfast at the house of Mr. Cropper, with Mr. Arthur Taylor who was waiting to embark for Hong Kong, -- a fellow missionary sent out also by the Chinese Evangelization Society. About 10 o'clock we met in the Cabin of the "Dunfries", and were shortly afterwards joined by Mr. Plunkett, an aged minister with whom we had become acquainted during our stay in L'pool [Liverpool]. After a little conversation, singing and prayer were proposed, and dear Hudson gave out in a firm clear voice the beautiful hymn



"How sweet the name of Jesus sounds
In a believer's ear!
It soothes his sorrows, heals his wounds,
And drives away his fear.

"It makes the wounded spirit whole,
It calms the troubled breast;
Tis manna to the hungry soul,
And to the weary rest.

"Dear Name! The Rock on which we build,
Our Shield and Hiding-place;
Our never-failing Treas'ry, fill'd
With boundless stores of grace.

"Jesus, our Savior, Shepherd, Friend,
Our Prophet, Priest, and King;
Our Lord, our Life, our Way, our End,
Accept the praise we bring.

"Weak is the effort of our heart,
And cold our warmest thought;
But when we see thee as thou art,
We'll praise thee as we ought."



The good old tune "Devizes" [tune written in 1800 by Issac Tucker, sometimes sung with the lyric "Jesus hath died that I may live" by Charles Wesley] was struck up, and he sang with the utmost composure through the whole hymn. Mr. Plunkett prayed delightfully for us all as believers in our common Savior, and for his two young brethren in particular, just going as Ambassadors of the Prince of Peace. Dear Hudson then engaged in prayer, and a stranger would little have thought that the firm tone, composed manner, and joyous expressions, were those of a youth, who was in a few minutes to bid adieu to parents, sisters, friends, home, country. But his heart was strong in the mighty God of Jacob, therefore his spirit quailed not. Once only was there a slight falter, while commanding the objects of his love to the care of His Heavenly Father; -- a momentary struggle and all was again calm. Yet he did not forget that he was entering upon a course of trial, difficulty, and danger; but looking forward to them all he exclaimed; None of these things move me, neither count I my life dear unto myself, so that I may finish my course with joy, and the ministry which I have received of the Lord Jesus, to testify among the Gentiles the gospel of the grace of God." It was a time ever to be remembered. After Mr. A. Taylor had offered prayer, we rose from our knees and Hudson read the 23rd Psalm; Mr. A. Taylor also read a Psalm, and soon after we went on deck, intending to go on shore, when to our surprise we found that while we had been worshipping, the vessel had loosed from her moorings, and we were nearly out of Dock. We had to big a hasty adieu. On taking leave of his Aunt he said, "Farewell Aunt; God bless you; promise to meet me in heaven, will you?" Then came my moment of trial, the farewell blessing, the parting embrace. A kind hand was extended from the Pier, I stepped off the vessel, scarcely knowing what I did, and was seated on a piece of timber which lay close by. A chill came over me, and I trembled from head to foot; but a warm arm was quickly round my neck, and I was pressed once more to his loving breast. Seeing my distress he had leaped ashore, to breathe words of consolations. "Dear Mother," he said, "do not weep, -- it is but for a little while, and we shall meet again. Think of the glorious object I have in leaving you; --it is not for wealth, or fame, but to try to bring the poor Chinese to the knowledge of Jesus." As the vessel was receding, he was obliged to return, and we lost sight of him for a minute; he had run into his cabin, and hastily writing in pencil in the blank leaf of a pocket Bible, "The love of God which passeth knowledge, J.H.T." returned to the deck, and threw it to one on the pier. By and bye the vessel neared again to receive the Mate, who shook us heartily by the hand, told me to "Keep a good heart, and he would bring good news back." Once more our dear one reached out his hand, which was eagerly grasped. Another "Farewell, God bless you" was reciprocated, and the deep waters of the Mersey [the river which flows through Liverpool and into the Atlantic Ocean] became an impassable gulf between us. While we stood waving out handkerchiefs, and watching the departing ship, he took his stand at the head, and afterwards got into the rigging, waving his had in token of farewell, looking more like a victorious hero, than a stripling just entering the battle-field. His figure became less and less distinct, and in a few minutes, passenger and ship were lost in the distance.

It is a pleasing coincidence that on this very day, Sep 19th, the Committee of the British and Foreign Bible Society passed the following resolution; "The Committee, relying on the sympathy of the British public in this desirable object, are prepared to take upon themselves all the measures necessary for printing, with the least practicable delay, One Million copies of the Chinese New Testament.

James Hudson Taylor was born in Barnsley, Yorkshire, on Monday, May 21st, 1832, and embarked in the ship "Dunfries" at Liverpool for Shanghai, China, on Sep 19/53, as a Missionary in connection with the Chinese Evangelical Society.


---
Return to BGC Archives Home Page

Last Revised: 4/19/00
Expiration: indefinite

© Wheaton College 2005