Billy Graham Center

---

Archives
Chinese Village Evangelism Posters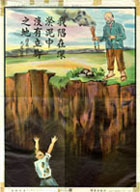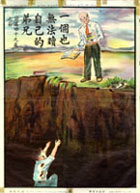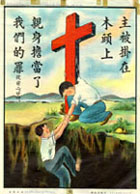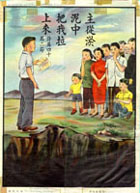 (click on each poster to link to an enlargement)

The four posters above (from Collection 231, folder OS 60) comprise a series used by missionaries to tell the Gospel in China during the first half of the 1900s. They are titled, left to right:
The Fall of Man & the Failure of Religion
The Fall of Man & the Failure of Education
Salvation Through the Cross
The Assurance and Testimony Meeting
They depict the failure of human effort and thought to achieve salvation, and contrast these with the effectiveness of the death of Jesus Christ to forgive sin and offer rescue. The series concludes with the new believer joining the family of Christians in fellowship and growth. Notice that there are no Western figures in the posters. With this simple format, Western missionaries brought the gospel to listeners in an indigenous form which emphasized the Chinese face of the Christian faith. Perhaps in these images you can see the Good News too.

Each poster (measuring 15" x 18-1/4" or 39.2 cm x 53.4 cm) consists of the visual image accompanied by a Bible verse in Chinese (translated above the image), and the title of the poster (translated beneath the image). The posters were received with a thin metal fastener across the top holding them together. Each of the posters had been mended with transparent tape and in some cases patches of paper. Because the reproductions here were scanned in sections due to their size, some differentiation can be seen along the seams between the panel. The posters were, however, received folded and the creases (running horizontally and vertically) remain visible. The Chinese characters run from top to bottom and right to left. English translations, written in pen by the missionaries, appear in the top and bottom margins; transcriptions of these appear beneath each poster on the next page.
---