Billy Graham Center

---

Archives
10/22/58 - "Answered Prayer"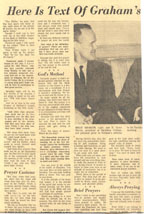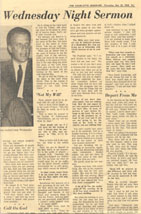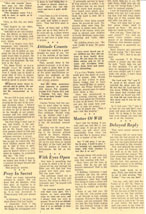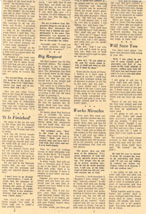 Republished with permission from The Charlotte Observer. Copyright owned by The Charlotte Observer.
What follows is a transcript of the newspaper page above, which appeared on page 9-C of the October 23, 1958 issue of The Charlotte Observer (Thursday). It is a transcript of the sermon which Rev. Billy Graham had preached at the Charlotte Crusade the day before, the twenty-sixth sermon of the crusade. Attendance on October 22 was 12,500 and there were 688 inquirers. To read the actual newspaper page, click on any of the four quarters of the page above.

In the transcript that follows, any comments by the transcriber are in brackets []. Any asides by Rev. Graham are in parentheses (). The sermon title did not appear in the paper but is from material supplied by the BGEA. Only the actual sermon is transcribed below. Any introductory or concluding material included in the newspaper text is omitted.
Answered Prayer
Now let us turn in the 6th chapter of Matthew's gospel, beginning at the 5th verse: "And when thou prayest, thou shalt not be as the hypocrites are: for they love to pray standing in the synagogues and in the . . . streets, that they may [have glory] of men. Verily I say unto you, They have their reward."
"But when thou doest alms, let not thy left hand know what thy right hand doeth: that thine alms may be in secret: and thy Father which seeth in secret himself shall reward thee openly. And when thou prayest, thou shalt not be as the hypocrites are: for they love to pray standing in the synagogues and in the corners of the streets, that they may be seen of men. Verily I say unto you, They have their reward. But thou, when thou prayest, enter into thy closet, and when thou hast shut thy door, pray to thy Father, which is in secret; and thy Father which seeth in secret shall reward thee openly. But when ye pray, use not vain repetitions, as the heathen do: for they think that they shall be heard for their much speaking. Be not ye therefore like unto them: for your Father knoweth what things ye have need of, before ye ask him.
"After this manner therefore pray ye: Our Father which art in heaven, Hallowed be thy name. Thy kingdom come. Thy will be done in earth, as it is in heaven. Give us this day our daily bread. And forgive us our debts, as we forgive our debtors. And lead us not into temptation, but deliver us from evil: For thine is the kingdom, and the power, and the glory, forever. Amen. For if ye forgive men their trespasses, your heavenly Father will also forgive you." [Matthew 6:3-14.]
I want you to notice as you study the life of Christ that He spent much time in prayer. He was the Son of the living God; He was God incarnate; He was God in the flesh. Yet Jesus Christ, as man, thought that He needed to spend much time in prayer. Now if Christ had to spend a great deal of time in prayer, how much more then do we need to spend in prayer today? He prayed many times in private and in public.
He not only taught us how to pray, but He commanded us to pray. We are told to pray, and yet I dare say that there is little praying on the part of the average Christian today. I believe the first thing that will amaze us when we get to heaven will be the thought of our prayerlessness and how much could have been accomplished had we spent time in prayer.
The first thing I want you to see just briefly is the antiquity of prayer. Prayer is as old as the human race. Our first parents talked to God, and the oldest and most universal of religious exercises is prayer. Man prays by instinct. If he has no god, he makes one. The most godless person will cry out to God in times of peril. When Mr. Khrushchev, who says he doesn't believe in God, came to London he exclaimed one day, "My God!" That was a form of prayer, no matter how crude it was. In a moment he forgot himself and called on God. Man prays by instinct.
There are many interesting customs in prayer. Did you know that the Quakers, when they pray, sit together in silence? When the Chinese pray, they always take off their glasses. It is very irreverent in China to pray with your glasses on. In Germany if you pray, you must always fold your hands.
I remember when I was speaking in Berlin that one of the things the newspapers criticized me for was my irreverence, and I wondered why. I had always stood with bowed head and closed eyes. They did not mind if your eyes were closed, but your hands had to be folded. So there are different customs in prayer all over the world.
Now what is the definition of prayer? There are many definitions that one can give, but I have never seen one that was really accurate. Someone has said that prayer is asking, but it is more than that. The old rabbis used to say that prayer is the activity of the soul for God. Certainly, prayer is God's ordained method whereby we approach Him. And the Bible teaches us that prayer is a dialogue, not a monologue. It is a conversation with God.
Prayer is heaven's telephone. We listen to God, and He listens to us. So many people do all the talking; they don't have time to listen to God. But prayer is a two-way conversation, and prayer is the highest expression of our allegiance to God. Hence, it is a tremendous privilege and a binding duty. Someone has said that daily prayer is the gymnasium of the soul. That is where we exercise the soul, and the soul grows and gets strong in prayer.
First, the place of prayer. Where do you pray? The Samaritan woman was concerned about the place of worship, for to the Jew the temple meant the localization of God's presence. Christ, however, gave utterance to a new revelation concerning prayer when He said, "God is a Spirit: and they [who] worship him must worship him in spirit and . . . truth" [John 4:24].
You can pray in the middle of the traffic in Charlotte. You can pray down at your place of business. You can pray walking down a street. You can pray in your home. It is the attitude of the heart that counts. It is the attitude of the spirit that counts in successful praying, not the place. You look at the Bible, and you will find that people prayed in all kinds of conditions.
David was hiding in a cave when he offered one of his prayers. The thief on the cross prayed while he was dying on the cross [see Luke 23:42]. But Christ did suggest that if possible you ought to have a place in your home that is a closet, a prayer closet--a place where you can slip away and have a quiet meditation.
I have been in a lot of homes where one little room was set aside and called a prayer room. They had little seats in there. Some of them had a little altar put up, or they had a little cross put up, a place where members of the family could slip in and have a quiet time in prayer. I think that would be a good thought for some of you. Yet it is the attitude of the heart that counts more than the place of prayer.
Then, second, there is the posture in prayer. A lot of people make a great deal to do about the posture in prayer. All of the great non-Christian religions put emphasis on the right posture in their public and private prayers. But the Bible associates many postures or gestures with prayer. For example, Exodus 9:23, Psalm 28:2, and 1 Timothy 2:8 says they lifted up their hands when they prayed. Charles Wesley had this posture in mind when he wrote, "Father, I stretch my hands to thee. No other hope I know. If thou withdraw thyself from me, ah, whither shall I go?" So the old early Methodists used to pray with their hands in the air stretched towards God.
Standing was the usual Jewish attitude in prayer. Kneeling is the reverent attitude adopted by Daniel [see Daniel 6:10], Stephen [see Acts 7:60], Peter [see Acts 9:40], and Paul [see Acts 20:36]. Prostration is another biblical posture. Ezekiel fell on his face when he beheld the glory of the Lord [see Ezekiel 1:28]. And this was the posture of Christ in Gethsemane; He fell on His face [see Matthew 26:39].
Now here is something that is going to shock a lot of you. Almost all the way through the Bible you will find that they prayed with their eyes open. Did you know that? The publican would not so much as lift up his eyes unto heaven [see Luke 18:13]. But Jesus, in John 17:1, expressly says He prayed with His eyes open.
The Orientals usually pray with their eyes open. Yet I believe we have something when we close our eyes, and I always close my eyes in prayer. To me, it is an attitude of reverence, but more than that, it is an attitude of shutting out the world. During Christ's day they did not have big automobiles flashing by, and airplanes flying overhead, and television on, and the radio blaring. We need to shut our eyes in a quiet place to get away with God. When your eyes are open you have the temptation to look around and see everything else, to study the person in front of you during church. It usually is better to close your eyes as an attitude of reverence, but it is really not so important.
Third, there is the period of prayer. The time that we are to give to prayer is to be governed by desire, need, circumstance, and physical ability.
Now, I want to say something here to pastors and Sunday school superintendents. When Jesus prayed in public, He prayed a short prayer. He rebuked the Pharisees for their vain repetition and their long prayers. I personally am not in favor of long prayers in public. I do not believe that we are heard for our much loud praying. I have heard some people pray so loud to the Lord that they think the Lord is deaf. He is not deaf.
However, when Jesus prayed alone, He prayed all night [see Luke 6:12]. His prayers alone were long. His prayers in public were short. That is the reason, when you want to interest your children in family devotions, make them interesting and make them brief. My children always say, "We want Daddy to pray. He prays short." I have never heard one of my children say they did not want to have family devotions. We tell them the great Bible stories, and we try to make our devotions brief. Make them brief and make them interesting.
Charles Wesley, however, would give two hours of every day to prayer. John Wesley rose at 4 o'clock to pray. Martin Luther had to have three hours a day in prayer. Daniel, the prime minister of Babylon, prayed upon his knees three times a day [see Daniel 6:10]. Jesus was accustomed to pray evening, morning and at noon. Paul asked the Christians to pray at all times [see Ephesians 6:18]. The busier you are, the more time you ought to take for prayer.
A lot of people say, "Well, I don't feel like praying." Don't wait for feeling. If you wait until you feel like it, you won't pray. If you go by your moods, you will never pray successfully. Pray when you least feel like it, because prayer is a matter of the will. Say, "I will pray. I am going to pray. I need to pray. I am keeping my appointment today with God, whether I feel like it or not." Because Satan will make you not feel like it, and you will miss that meeting with God.
Then there are the laws of prayer. How do we get our prayers answered? That is the question. In Redding, California, I read some time ago that the police arrested a man on charges of drunkenness after they found him trying to make a phone call from a fire hydrant, complaining that he couldn't get the operator. Many of you find your life like this. You cannot seem to get through to God. Nothing happens. Heaven is like an iron curtain, and you complain. You are just like that drunk man at the fire hydrant trying to get the operator. You have not gone to the right place, under the right conditions, obeying the proper rules of prayer.
The disciples came to Jesus; and they said, "Jesus, teach us to pray. We have to learn to pray." [See Luke 11:1.] You have to learn how to pray. That takes work. It takes practice, it takes discipline, it takes diligence, and it takes study if we are to be successful prayer warriors.
Now of course the Bible teaches that we are to pray all the time. Paul said, "Pray without ceasing" [1 Thessalonians 5:17]. I can say this truthfully, I can hardly remember a moment in the past few years, a conscious moment, that I have not actually been in prayer. Even while I am talking to you, constantly my subconscious is saying, "Lord, help me to say the right thing. Lord, help me not to say the wrong thing. I don't want to mislead anyone." I may be laughing as I shake hands with you, but I am praying that God will bring something out of this contact that will edify you and me. "Thou wilt keep him in perfect peace, whose mind is stayed on thee" [Isaiah 26:3]. We are to keep our minds on Christ.
Now you say, "Does God answer prayer?" Yes, God answers every prayer, every prayer of an obedient, abiding Christian. God answers prayer. Some prayer is answered immediately. Some prayers are answered by God saying no. But when God says no, that is an answer.
For example, T. W. Wilson prayed a prayer one day; and he said, "Lord, help me get on that airplane. I've got to keep an engagement in a certain town tonight, and if I don't make this plane I won't keep the engagement." The Lord said no, and T. W. stood at the airport and watched the plane take off. He felt that the Lord had let him down. Within two hours that plane had crashed and everybody on board was killed. God did not want him on that plane, and it was for his own good. So if God says no, take it as best for you and don't complain and gripe and blame the Lord. He is doing it for your best, even though you may not see it at the moment.
Then some prayer is delayed. A woman told me some time ago that she had prayed for thirty years for the conversion of her son. Her son came forward and was converted in this crusade. Now God delayed the answer for thirty years; but because she had held on to the Lord, He has answered her prayer. The Lord sometimes delays. But put this down, that our God is a faithful God who answers every single prayer of an abiding, faithful, obedient Christian.
Now, Lord, teach us to pray. First, you must be able to say in your praying, "Our Father." Can you say that? You say, "Well, isn't God the Father of us all?" No. There is the sense in which God is the Father of us all by creation. We are the sons of God by creation, but we lost that relationship because of sin. Sin has come between us and God. And Jesus said in John 8:44, "Ye are of your father the devil." And until you come to the cross of Christ and receive Him as your Savior, you cannot properly say, "Our Father."
There are thousands of people who pray when they get in trouble, and their prayers do not get any higher than the ceiling because they have really never come to a vital relationship with Jesus Christ. Their prayers are not answered. How could God answer your prayers when you are too proud to come and receive His Son as Savior and Lord? How can God answer your prayers when you are living a life apart from God? He cannot do it. Your prayers are in vain. Your prayers cannot be answered. The only prayer that you can pray is "God, have mercy upon me, a sinner." And God has never refused to answer that prayer from anybody. "Whosoever shall call upon the name of the Lord shall be saved" [Romans 10:13], the Scripture says. You must be able to say, "Our Father." Are you able to say that tonight? Do you know that He is your Father? Has there been a moment in your life when you repented of sin?
I spoke at Davidson College this morning to all the students and faculty. I preached on the subject of conversion, how to be converted to Jesus Christ. I said this, "Unless you have come to a point in your life of repentance of sin and receiving of Christ by faith, you cannot properly say, 'I have been converted.'" Jesus once said, "Except ye become converted, and become as a little child, ye cannot enter the kingdom of God" [see Matthew 18:3]. So, tonight, if you want your prayers answered, come and give your life to Jesus Christ. Tell God that you are a sinner. Tell Him that you are going to turn from your sins. Tell Him you are going to receive His Son.
The second thing, our prayers must be in the name of Christ. John 14:13, "And whatsoever [you] shall ask in my name, that will I do." Now, you see, when Christ died on the cross, He bowed His head and said, "It is finished" [[John 19:30]. He meant the plan of salvation, the plan of redemption, was finished. It was complete. That was the victorious shout of Christ when He said, "It is finished." He came to die for our sins on the cross. And the moment Christ said, "It is finished," the veil in the temple was rent in twain [see Matthew 27:51].
Now the old Jewish temple had a veil; and the priest, the high priest, was the only one who could go beyond that veil. He could only go once a year into God's presence. But the moment Christ died, the veil was rent in twain. And now the simplest child of God, if he is coming in the name of Jesus, can come directly into the presence of God. We are told in the Hebrews epistle that we can "come boldly" into His presence and make our requests known unto Him [see 4:16]. I don't have to go through any intermediary. I come directly into the presence of God, but I have to come through the name of Christ. He is the mediator. The Bible says, "There is . . . one mediator between God and men, the man Christ Jesus" [1 Timothy 2:5].
Now that is the work of Christ tonight. The work of Christ right now is called a high priestly work. He is sitting at the right hand of God the Father. And when you come in the name of Jesus, all of heaven stops. God's ear is bent towards you. Not because you deserve it, but because you have come in the name of His Son. You have come in the name of Jesus Christ. You can go right into the presence of God the Father.
When you go before God in the court of heaven to see the mighty God of the universe, when you come in the name of the King, in the name of Christ, that is the only thing you need. The name of the Lord Jesus Christ gets you the ear of God immediately because you are coming in the name of the only begotten Son. We get to God the Father in the name of the Lord Jesus Christ. That is the reason it means so much to say, "In the name of our Lord Jesus Christ."
Then prayer must be in accord with the will of God. That is what Christ taught us in the Lord's prayer: "Thy will be done [on] earth, as it is in heaven" [Matthew 6:10]. That is what He prayed in the garden of Gethsemane, "Nevertheless, not my will, but thine, be done" [Luke 22:42].
Many people ask me if I will pray for the healing of sick. I always pray for anyone who is sick; and my prayer is, "Thy will be done." What is God's will in the matter, not what is my selfish desire.
Then we are to depend on the Holy Spirit in our prayers. He is the guide of prayer. Romans 8:26, "Likewise the Spirit also helpeth our infirmities: for we know not what we should pray for as we ought: but the Spirit [himself] maketh intercession for us with groanings which cannot be uttered." In other words, many times I do not know how to pray, but the Holy Spirit will help me to pray. Sometimes my prayers are only groanings in my soul, but the Holy Spirit can take these groanings and these inarticulate thoughts and desires of my heart and interpret them to God the Father. And my prayers are answered even though I haven't really prayed them in so many words.
Then, fifth, there must be faith when we pray. Matthew 21:21, "Jesus answered and said unto them, Verily I say unto you, If [you] have faith, and doubt not, [you] shall not only do this which is done to the fig tree, but also if [you] shall say unto this mountain, Be thou removed, and be thou cast into the sea; it shall be done." We are to believe God. The greatest thing we can do is to believe Him.
Alexander the Great had a famous but poor philosopher in his court. This philosopher was pressed for money, and he made application to Alexander for relief. Alexander said, "I want you to draw whatever cash you need from the treasurer." His first request was for fifty thousand dollars. The treasurer refused to pay it. Alexander replied, "Pay the money at once. The philosopher has done me a great honor by the largeness of his request, and he shows the idea he has conceived both of my wealth and my generosity. Pay him."
God wants us to believe Him for great things. Therefore, ask Him for big things. And if it is according to His will, He takes delight in granting it. Even little things. He has the hairs of your head numbered [see Matthew 10:30]; He sees the sparrow fall [see verse 29]. He knows about your love affair. He knows about your financial needs. He knows about that husband who is irritable. He knows about the sorrows and the burdens and the difficulties. He knows about this temptation you are faced with that you cannot seem to overcome. The Scripture says, "Rest in the Lord," in the 37th Psalm [verse 7]. That word for rest is "relax." Once you have prayed, once you have left it with God, then relax and say it is in God's hands.
Then we must be walking closely in daily fellowship with Him. Psalm 66:18, "If I regard iniquity in my heart, the Lord will not hear me." In other words, God will not hear a Christian pray if there is sin in his heart. If you are filled with pride, there is no use of you praying. If there is iniquity in your heart, you cannot be heard. Suppose you have been dishonest and you have not confessed your sin to God, or suppose you have failed to forgive someone else. Jesus said, "For if [you] forgive men their trespasses, your heavenly Father will . . . forgive you: but if ye forgive not men their trespasses, neither will your Father forgive your trespasses" [Matthew 6:14,15]. In other words, you have got to forgive the other man. And there are some of you who have got some grudges against others, and your prayers are not being answered.
The Bible says your prayers can be hindered because of a disobedient life. You are living out of fellowship with Christ because of sin in your life. The psalmist said, "If I regard iniquity in my heart, the Lord will not hear me" [Psalm 66:18].
The reason a lot of you don't pray is because your sin comes right up before you when you go to pray, so you just quit praying. Not only sins that we actually commit, but sins of neglect. We have neglected the poor. Our conscience bothers us about things that we have left undone. We recognize that we haven't done the things that we ought to have done, and we can't pray because there is sin in our lives.
Some of you don't tithe your money; you are robbing God [see Malachi 3:8]. How do you expect to get your prayers answered if you don't tithe? At least ten percent of your income belongs to the Lord. We are to give as He prospers us, at least ten percent. And if you are not giving it for the work of the Lord to the church, you are robbing God. You can't expect your prayers to be answered.
And on a Sunday morning, if it is a beautiful morning, you are on the golf course instead of in church. How do you expect to have your prayers answered? You are forsaking the assembling of yourselves together [see Hebrews 10:25]. You are disobeying God. And when communion Sunday comes, you are not there to take your place in that most holy hour with our Lord. We glorify most by our worship.
Martha was busy with everything. She was in the organizations. She was on this committee; she was on that committee. She was serving. Mary did not join any committee. She just sat and adored the Lord, and Jesus commended her. [See Luke 10:40-42.]
A lot of us like the excitement of this meeting. So do I. It has been wonderful; it has been thrilling. But when the meeting is over, when the last song has been sung, the benediction has been pronounced, let us get back into our churches and realize that there is our place of service and worship of the Lord. Then we have fellowship with His people, and we are walking in fellowship with Him; and our prayers can be answered.
There are many prayer promises that we can claim if we obey the rules of prayer. Psalm 91:15, "He [will] call upon me, and I will answer him: I will be with him in trouble; I will deliver him, and honor him." Isaiah 58:9, "Then shalt thou call, and the Lord shall answer; [they shall] cry, and he shall say, Here [am I]." Isaiah 65:24, "And it shall come to pass, that before they call, I will answer; and while they are yet speaking, I will hear." Luke 11:9, "And I say unto you, Ask and it shall be given unto you; seek, and ye shall find; knock, and it shall be opened unto you." John 15:7, "If [you] abide in me, and my words abide in you, ye shall ask what ye will, and it shall be done."
These are the words of Christ. I believe it. I have seen it happen in my life. I could stay here until midnight telling you of answers to prayer in my life in this year, just this year. I have tested God. I have put God to the test. I have seen things come up that looked like it was going to ruin our ministry. I have committed it to the Lord and seen it turn completely around and be to the Lord's glory. I have seen Him work miracles, absolutely modern-day miracles. Every time somebody comes down here and has his life changed by Christ, that is a miracle in answer to prayer.
Now I want you to listen for one minute to the most solemn thing I will ever say while I am in Charlotte. There are some prayers that will be prayed in all sincerity and fervor and earnestness that God will not answer. The prayer that you will pray at the judgment. The great judgment of God will be one gigantic prayer meeting. You people who do not go to prayer meeting now, who do not do much praying now, I tell you at the judgment of God you will cry, you will scream out to God.
Proverbs 1:24-30 describes it. "Because I have called," says God, "and [you] refused." In other words, God calls you during this crusade, and you refuse. "I have stretched out my hand." His hand of mercy and grace, wanting to forgive you, wanting to save you, but you did not regard it. "[You] have set at nought all my counsel." God's counsel was for you to repent and come to Christ. You set it aside, and you did not want any of God's rebukes when I talked about sin. God continues to say in this solemn chapter, "I also will laugh at your [calamities]; I will mock when your fear cometh." I do not pretend to know what those holy words mean: the holy laughter of God. I only know that it is a part of holy writ.
"When your fear cometh as desolation, and your destruction cometh as a whirlwind; when distress and anguish cometh upon you, then shall they call upon me, but I will not answer; they shall seek me early, but they shall not find me," says God. "They hated knowledge, and did not choose the fear of the Lord: they would none of my counsel: they despised all [of] my reproof." And God says at the judgment, "I will not hear their prayers."
In the Sermon on the Mount, Jesus said, "Some will come in that day and say, 'But, Lord, we cast out demons in your name.'" He will say, "Depart from me, ye cursed; I never knew you." "But, Lord, remember those great works we did in your name." "Depart from me, ye cursed; I never knew you. You never came to the cross. You never came to my Son. You never came to Jesus." [See Matthew 7:22,23.] There are going to be prayers prayed at the judgment, but the prayers will be too late.
Then Jesus told us in Luke, the 16th chapter, about a man who went to hell. This man in hell, what was he doing? He was only doing one thing; he was praying. Praying in hell, "If it be possible, send Lazarus; let him dip his finger in water and touch my parched tongue. O God, help me. Help me." [See verses 24-26.] But his prayer was too late. There will be prayers at the judgment and there will be prayers in hell, but they will not be answered. It will be too late. What a terrible thought! People who did not pray here cannot get their prayers answered there.
But I want to tell you tonight that there is one prayer which anyone in this building can pray, and I will guarantee you that God will answer it. God says, "Whosoever [calleth] upon the name of the Lord shall be saved" [Romans 10:13]. If you will come to God tonight in simple childlike faith and give yourself to Jesus Christ, I'll guarantee that He will forgive your sins, change your life, come into your heart, and save your soul. Your prayers can be answered, no matter how simple they may be.
There are many of you tonight to whom God has spoken, and you know that you ought to come and make your heart right with Christ. You may be a church member. You may not be a member of any church. But you are not sure that you are ready to meet God. You don't have peace. You know that you have been wrong in your life. Well, I am going to ask you to come tonight. And I guarantee you that if you come in the right attitude of prayer, calling upon God, He will save you and forgive you and cleanse you and make you a new person. I am going to ask you to come right now.
And, listen, I don't want you to put it off. I am afraid for some of you people. I know some of you that have been here night after night, and you need God and you need Christ and you have not come yet. Others of you are here for the first time tonight and God has spoken to you, and you may not have an opportunity to come back. I am going to ask you to come now. Come and stand here quietly and reverently. And say tonight, "I give my life to Christ. Tonight I am going to trust in Him and follow Him and serve Him. I want Christ in my life. I want to know that I am ready to meet Him."
---
Return to BGC Archives Home Page

Last Revised: 8/14/00
Expiration: indefinite

© Wheaton College 2005