Billy Graham Center

---

Archives
10/19/58 - "The Great Judgement"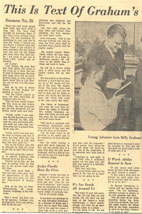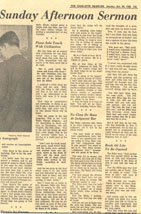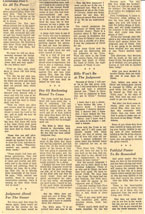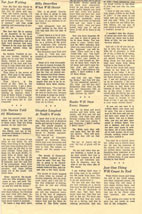 Republished with permission from The Charlotte Observer. Copyright owned by The Charlotte Observer.
What follows is a transcript of the newspaper page above, which appeared on page 5-B of the October 20, 1958 issue of The Charlotte Observer (Monday). It is a transcript of the sermon which Rev. Billy Graham had preached at the Charlotte Crusade the day before, the twenty-sixth sermon of the crusade. Attendance on October 19 was 13,200 and there were 649 inquirers. To read the actual newspaper page, click on any of the four quarters of the page above.

In the transcript that follows, any comments by the transcriber are in brackets []. Any asides by Rev. Graham are in parentheses (). The sermon title did not appear in the paper but is from material supplied by the BGEA. Only the actual sermon is transcribed below. Any introductory or concluding material included in the newspaper text is omitted.



The Great Judgement
Now let us turn to John's gospel, the 5th chapter, beginning at verse 22: "For the Father judgeth no man, but hath committed all judgment unto the Son: that all men should honor the Son, even as they honor the Father. He that honoreth not the Son honoreth not the Father which hath sent him. Verily, verily, I say unto you, He that heareth my word, and believeth on him that sent me, hath everlasting life, and shall not come into condemnation; but is passed from death unto life. Verily, verily, I say unto you, The hour is coming, and now is, when the dead shall hear the voice of the Son of God: and they that hear shall live. For as the Father hath life in himself; so hath he given to the Son to have life in himself; and hath given him authority to execute judgment also, because he is the Son of man. Marvel not at this: for the hour is coming, [when] all that are in the graves shall hear his voice, and shall come forth; they that have done good, unto the resurrection of life; and they that have done evil, unto the resurrection of damnation" [verses 22-29].
Now we turn to 1 Thessalonians, the 4th chapter, beginning at the 13th verse: "But I would not have you to be ignorant, brethren, concerning them which are asleep, that ye sorrow not." Now Paul is talking here about physical sleep, those who have died--"that ye sorrow not." We do not sorrow as the world sorrows. We do not go all to pieces.
Remember the film star whose picture was in the paper several months ago? Her husband was killed in a plane crash. She screamed and yelled and was beside herself and under sedatives. We do not sorrow like that. We do not become hysterical. We Christians who know Christ may have a tear and we miss them, but there is hope. We know we will see them someday because the Scripture tells us about a resurrection.
"If we believe that Jesus died and rose again"--do you believe that?--"even so them also which sleep in Jesus will God bring with him. For this we say unto you by the word of the Lord, that we which are alive and remain unto the coming of the Lord shall not prevent them which are asleep. For the Lord himself shall descend from heaven with a shout, [and] with the voice of the archangel, and with the trump of God: and the dead in Christ shall rise first: then we which are alive and remain shall be caught up together with them in the clouds, to meet the Lord in the air: and so shall we ever be with the Lord" [verses 14-17].
Now the apostle Paul is saying here that there will come a day when Christ shall come and the dead shall rise. Those who have died in Christ shall rise. Those who are still alive shall rise, and we shall be caught up together in the air to meet the Lord. And then he ends his words, "Wherefore comfort one another with these words" [verse 18].
These people had been suffering persecution. They had been suffering all types of persecution and trouble and difficulty, and in the midst of their trouble and suffering Paul is holding out hope. He is offering them life; he is offering them knowledge of the future. He says, "Wait, comfort one another. There is coming a resurrection morning. There is coming an hour when Christ will be back."
But Jesus said that when He comes again, there would not only be the comfort for the Christian but there would be suffering and judgment and destruction and hell for the sinner.
Just turn right across the page there. And 2 Thessalonians, the 1st chapter, you read these words. Paul continues, "And to you who are troubled rest with us, when the Lord Jesus shall be revealed from heaven with his mighty angels" [verse 7]. His mighty angels!
When Christ comes the next time, it will not be as a babe in Bethlehem's manger. He will come as the mighty King of kings and Lord of lords. He will be a Prince riding upon a white horse, and His mighty angels will be with Him. The description in Revelation indicates a sword will be coming out of His mouth and fire out of His eyes [see 1:14-16]. The mighty Christ! The tender Christ who made the blind to see and the deaf to hear and the dumb to speak [see Matthew 15:30]. The Christ that fed the poor [see Matthew 14:15-21]. The Christ that stood at the open grave and wept [see John 11:35].
The Christ of tenderness will come the next time as Christ the judge, "in flaming fire taking vengeance on them that know not God, and that obey not the gospel of our Lord Jesus Christ: who shall be punished with everlasting destruction from the presence of the Lord, and from the glory of his power; [for] he shall come to be glorified in his saints, and to be admired in all them that believe" [2 Thessalonians 1:8-10].
Now the Bible teaches a great deal about judgment. In fact, you can hardly turn to a page that does not talk about judgment. God is a God of love and mercy, yes; but God is also a righteous judge.
Suppose I broke the laws of the city of Charlotte, and the judge would pat me on the back and say, "Just try not to do it anymore"; and I would keep on repeating the offense. He would soon be forced, as an honest judge, to sentence me. God is an honest judge.
It has been my privilege to be with President Eisenhower a number of times, and I have got to know him quite well in the past five years. I knew him to be a very gentle man, a very kind man, a very understanding man. And yet I read in the annals of the history of the second world war that he ordered the execution of men who had been court-martialed and sentenced. He did not want to do it. He loved the men; he liked the men. But in that instance he was a judge. He had to do so, in order to be true to the laws of the nation.
A judge right here in one of our courts who has to sentence someone to death because of a capital offense does not have anything against the person. He does not hate the person. He is acting as a judge in order that we might have law and order instead of chaos.
God is a God of love and mercy, "not willing that any should perish, but that all should come to repentance" [2 Peter 3:9]. But God is also a righteous judge. And when men continue to break His law and men sin against Him and men rebel against Him, then the Bible says God will someday act as a judge and men shall be judged for their sins.
The whole world has known there will come, someday, a day of reckoning. You can study the culture and life and teachings of many tribes in the world or any nation in the world, and all of them believe that sometime there will be a day of judgment and a day when the world will be straightened out. The Bible is filled from Genesis to Revelation with the story and the warning of the day that has been called Judgment Day.
Now I used to think when I came to the Bible that there was one big judgment, and that someday all the world would gather at the throne of God. God was going to separate the sheep from the goats, and the goats would go to hell and the sheep would go to heaven. And if you were lucky enough, you would probably be a sheep. I thought the way God would decide that judgment would be to pile all the good works on one side, all of my bad things on the other side; and then He would weigh them and see which outweighed the other. If my bad works outweighed my good works, I would be lost. If my good works outweighed my bad works, I would be saved.
But the Bible does not teach any sort of thing. The Bible teaches several judgments, and I want to mention three this afternoon. The Bible says, "It is appointed unto men once to die, [and] after [that] the judgment" [Hebrews 9:27]. Every person here sitting before me today will stand before one of the judgments. "It is appointed unto men once to die."
Yesterday, or last night, in New York City a policeman pulled out two guns and just shot four people in a cafeteria, killing them all; then they shot him. We never know when we are going to die, but we do know this: We are going to die. This body of ours will someday die. We will take our last breath. We will have our last beat of the heart--a brain hemorrhage, a heart attack, cancer, run over by an automobile, crash in a plane. We are going to die. We see it all around us.
Now the first judgment I want you to see is the one I mentioned last. That is the judgment of sin at the cross of Calvary. Jesus was being judged for our sins, but judgment struck Him instead of us. We do not understand it all. You cannot compress the atonement of Christ into one particular theory. There is a mystery about it. But we are told enough in Scripture that the cross of Calvary was more than just a murder of a man; it was the judgment of Christ for sin. Now Jesus Christ took the hell and the destruction and the judgment at the cross. When you come to the cross and receive Christ, God appropriates that death of Christ, the blood of Christ, the righteousness of Christ to you. Because of Christ, I will never be at the last great judgment. I will never have to stand there and hear a sentence against me. "There is therefore now no [judgment] to them [that] are in Christ" [Romans 8:1].
I know that I am a sinner. I have broken His laws. I deserve death, I deserve judgment, I deserve destruction, I deserve hell. I know that I have broken the Ten Commandments. I know I am a sinner. And I know that I am going to be judged.
But wait a minute. Jesus took the cross in my place. And if I will come and identify myself with Jesus Christ, the God of mercy, the God of love will wipe out my sins. I escape judgment because Jesus has already taken the judgment for me at the cross. First Peter 2:24, "Who his own self bare our sins in his own body on the tree, that we, being dead to sins, should live unto righteousness: by whose stripes ye were healed."
Now the second judgment I want you to think about is the Christian judgment. Those of us who are in Christ--we have been born again, we have received Christ, we have been to the cross, we have had our sins forgiven--the Bible says we shall all appear at the judgment seat of Christ [see 2 Corinthians 5:10].
I am now reading from 1 Corinthians 3:11-15, "For other foundation can no man lay than that is laid, which is Jesus Christ. Now if any man build upon this foundation gold, silver, precious stones, wood, hay, stubble; every man's work shall be made manifest: for the day shall declare it, because it shall be revealed by fire; and the fire shall try every man's work of what sort it is. If any man's work abide which he hath built thereupon, he shall receive a reward. If any man's work shall be burned, he shall suffer loss: but he himself shall be saved; yet so as by fire."
In 2 Corinthians 5, verses 9-10, the apostle Paul says, "We are ambitious, whether at home or absent, to be well pleasing unto him. For we must all be made manifest before the judgment seat of Christ, that each one must receive the things done in the body, according to what he has done, whether it be good or bad" [cf.].
Romans 14:10, "But why dost thou judge thy brother? or why dost thou set at nought thy brother? for we shall all stand before the judgment seat of Christ."
First Corinthians 4, verse 5, "Therefore judge nothing before the time, until the Lord come, who both will bring to light the hidden things of darkness, and will make manifest the counsels of the hearts: and then shall every man have praise of God."
All the way through, they talk about a day when we that know Christ shall appear before the judgment seat of Christ. Now it is not going to be decided there whether you are saved or lost. That's decided right here. This afternoon that decision will be made on the part of many of you. The great decision as to whether you are going to heaven or hell will be decided here today. After you have decided to receive Christ, then you work the rest of your days for Christ.
Now before you come to Christ and before your nature is changed by Christ, all the good works that you do shall be burned up. They are as filthy rags in the sight of God [see Isaiah 64:6]. That does not earn you credit to get into heaven. But after you have come to Christ, after you have received Him, after you have had this encounter with Christ, then you work. And God is going to judge you on the basis of one thing--faithfulness.
Some of you wives that have been faithful at home and rearing your family, faithful in taking care of your husbands, faithful in the life of the church, faithful to the work of the Lord, you are going to receive the great reward. And some pastor who has been out here in the mountains and has been slaving and working in some mission station, he will receive the reward. Some pastor in this city of a small church which nobody has heard of, who has been faithful at his task, shall receive the reward.
Now the Bible lists five rewards. There is the incorruptible crown [see 1 Corinthians 9:25]. That is the crown that goes to all of those who are separated from the world and living unto Christ. That does not mean that you do not live in the world, but you are not a part of the world. You do not commit the sins the world commits. You will receive an incorruptible crown.
Then there is the crown of rejoicing [see 1 Thessalonians 2:19]. That is for the soul winner. It's fairly easy for me to preach a sermon and to get people to come to Christ. Some of you may be soul winners, and you do not know whether you have ever won a soul or not. But your godly life, your righteous life, has been a witness; and people have looked at it and found Christ through you. God will reward you.
Then there's the crown of righteousness for those who are looking for His coming again [see 2 Timothy 4:8]. In almost every church, I see a few people who really believe that the Lord is coming again. Others are living as though they are going to live forever.
Now the fact that Christ is coming again does not mean that you sit down and say, "Well, the Lord's coming. I'll just quit work and just watch for Him to come." Or that you get hysterical and say, "Christ is coming!" and then start shouting and screaming at people. No, no!
The fact that He is coming is an incentive to be more faithful to the church. It is an incentive to be more faithful to my daily obligations and my daily work, because God says, "Blessed is the man that shall be found faithful when his Lord cometh" [see Matthew 24:46]. Be faithful--faithful in loving your brother, faithful in going out of your way to help others, faithful in your understanding of the poor and your trying to help those that are in need, faithful to your visitation at the hospital.
Then there is the crown of glory [see 1 Peter 5:4]. That goes to the pastor, to the teacher who has been faithful.
Then there is the crown of life [see Revelation 2:10]. That is the martyr's crown. I got a letter today from Betty Elliot. I can hardly talk about it without choking up because when I think of Betty Elliot, I wonder if I am even a Christian. You have read about her in Life magazine. Life has carried about four stories on her in the last two or three years. They are doing another on her right now. Betty Elliot's husband, Jim Elliot, was one of the greatest Christians, I believe, I ever read about. He was only twenty-seven years of age when he was killed. He and Betty were living in the jungles and they were praying that God would open up the way to the Auca Indians. These Auca Indians are the most deadly, vicious tribe of Stone Age Indians left on the face of the globe. They live in the jungles of Ecuador. And Jim and four of his companions were down on the beach after careful preparation, and these Indians came out of the jungle and killed them. Betty stayed in the jungle with her little daughter, four years of age, and said, "By God's grace I shall someday go and live with the Aucas."
No white man has ever lived with these Indians. No Christian has ever lived with them, nobody from civilization. They have never seen anybody; they have never heard of anybody. To make a long story short, Betty Elliot walked along a jungle trail the other day into the outer Indian village expecting a poisoned dart at any moment. She has been out of contact with civilization for ten days, except once a day when a small plane flies over. She has a little transmitter, and she waves to let them know she is all right.
She is eating with the Aucas and living with them--the only Christian who has ever been there. Before she gets out of the jungle, she may be killed. I received a letter from her today. And she said, "Billy, only one thing in life counts, and that is the will of God. And I am determined to do God's will, even if it means death." That type of consecration and surrender to Christ is going to get a crown at the judgment seat, and every one of us who knows Christ will be there.
Then we come to the last judgment. This is the Great White Throne Judgment. And the description is found over here in Revelation, the 20th chapter, the 12th verse. This is the day for which all other days were made. This is the day towards which time is moving at a rapid pace at the moment.
"And I saw the dead, small and great, stand before God; and the books were opened: and another book was opened, which is the book of life: and the dead were judged out of those things which were written in the books, according to their works. And the sea gave up the dead which were in it; and death and hell delivered up the dead which were in them: and they were judged every man according to their works" [verses 12,13].
Now I want you to listen to this because there are thousands of people in this auditorium right now, and over in Ovens Auditorium. Now we, those of us who have received Christ and who have had our sins forgiven, will not be in that judgment. We may be sitting there as part of the judgment council, but we will not be there to be judged.
This is an actual description of what is going to take place in that day. So you had better listen because you will be there if you continue to reject Christ. "And whosoever was not found written in the book of life was cast into the lake of fire" [verse 15].
I know there is a lot of symbolism in Revelation, but I believe that John is describing for us a picture of the great last judgment day towards which the world is moving at this moment. The Scripture says, Paul said, in Acts 17, "God . . . now commandeth all men every where to repent"--think of it; God commands all men to repent--"because he [has] appointed a day, in . . . which he will judge the world" [verses 30,31]. God has the day all picked out. The moment has been chosen. The judge has been chosen. The angels and the archangels that are to be in attendance have been chosen. And God says you had better repent now. You had better turn to Christ now, because He is going to judge the world. Judgment, and fear of judgment, is an incentive to turn from sin to Christ.
I know that a lot of you sitting there are sort of skeptical inside and saying it cannot happen. The people laughed at Noah's prediction that a flood was coming and nobody believed it. Nobody repented. They were all lost. [See Genesis 7:23.] The people of Jerusalem laughed when Christ wept over Jerusalem [see Luke 19:41] and warned the people to repent and turn to God. But nobody repented, and the people were lost. The people of Gomorrah and Sodom laughed at Lot when he said, "Get out; the city is going to be burned with fire and brimstone" [see Genesis 19:14]. The people of Israel laughed at Amos when he warned of coming judgment, but the judgment came [see Amos 7:11-17].
And I tell you today that judgment is coming as sure as you are sitting there. More certain than that the sun will rise tomorrow morning is the fact of judgment. God has the day appointed in which every man shall stand before God, and the Bible describes it. The Bible makes clear that the judge will be Jesus Christ.
He is standing here today with nail prints in His hands, pleading to you from the cross to come to Him, to receive Him. He is willing to forgive your sins. He is willing to cleanse you today. He is willing to make you a new person today. He is willing to wipe your sins away today. He is a Christ of love. He is a Christ of mercy. He is a Christ of grace. But at that time, at the mighty judgment of God, He will be the mighty judge; and He shall judge us as we stand before Him.
Who is going to be judged? Every person outside of Christ. I don't care who you are--you may be a big man, a big social leader, maybe an intellectual, maybe a college professor, maybe a student, maybe a carpenter, maybe a factory worker, housewife, high school student--you are going to be there. It may be dark, or it may be light. You will all be there, everyone standing before Him. The Bible indicates that there is no class judgment, no race judgment, for it will be the whole world [see Romans 2:11].
You may make or break your appointments here, but there is one appointment you are going to keep. Have you got your engagement book in your pocket? You ought to put in it, "One thing certain--judgment day," because you are going to be there.
"You may try to escape," the Bible says. "You may try to flee, but," God says, "if you flee to hell, my Spirit will be there to bring you back." God says, "You may try to climb up to heaven, but," God says, "my Spirit will bring you back." [See Psalm 139:7,8.] You may escape the officers of the law down here, but you are not going to escape the judgment angels of God. The Bible says that the book will be open, and the dead would be judged out of those things which were written in the book.
Now the Bible, I believe, teaches that God has two sets of books. God has one set of books that He calls the books [see Revelation 20:12]. The moment you are born, your name is written in the books. Now everything you do during the rest of your life is put in the books. Every secret sin you have ever committed, every lie you have ever told, every lustful thought you have ever had, every evil motive, every time you have lost your temper, every time you have lied about somebody, every time you have read an indecent book and you know it was wrong, every time you have looked with lust it will be there. It will all be there in the books.
Now you have forgotten ninety percent of what is going to be in those books. You are going to come before God, and the Bible indicates that when you come before God in the judgment you will be alone. There won't be a big crowd with you. You won't have your parents along. You won't have your friends to lean on and depend on, like you do down here. You'll be all alone. And you'll come before God; and you'll say, "O God, I don't believe I'm guilty. I don't believe I did all those things." And God will say, "Open the books." And God will say, "Do you remember January 1, 1921, what you did that day? Remember 1918, what you did that day? Remember 1932, on that night? Remember the night October 1, 1941?" It'll all be there; and you'll stumble and turn white and purple and blue and red, and tremble. And when God gets through reading the list, you'll say, "My God, have mercy. I had forgotten. I didn't realize, I didn't know."
The Bible says they will call upon God, but He will not answer; they will seek Him, but they will not find Him [see Proverbs 1:28]. The day of mercy will be over; the day of grace will be over.
We are told today that we are building a rocket to go up next month that has a television camera on it. And we, on our television sets here in America, may be able to see the other side of the moon. I am talking right now; I am being seen in an auditorium five hundred yards from here. You are seeing me by television. I do not understand it.
We are told also that they are now working on a device that may be able to pull sound out of the air thousands of years ago, that they have never been lost, that they are still in the air. We have also been told that they are working on a device--and this is nearing perfection--that can read the thoughts of a man, that can pick up brain waves. Now if man can do that, don't you think God can keep an accurate set of books? God has a picture of your life from the cradle to the grave.
You may say, "But, Lord, I would have repented of sin if I had had a chance. Lord, I would have come to you if I had had a chance, but I never really knew. I never was confronted with it. I never really thought about it." And God will say, "Gabriel, bring down the screen." And they will pull down the screen and the projector will start, and there you will see yourself all through your life.
And then you will see this Sunday afternoon; you will see yourself sitting right up there. You will hear them sing the song again. You will hear Bev Shea sing "The Love Of God." You will see the crowds, and you will hear this sermon. And you will say, "My God, my God, I did love you." And the Bible says that everyone--every knee shall bow and every tongue shall confess that He is just and that He is love [see Philippians 2:10,11].
But then it will be too late. "He that believeth on him is not condemned: but he that believeth not is condemned already, because he hath not believed [on] the name of the only begotten Son of God" [John 3:18].
Now the Bible says that God has another set of books. This set of books is called the book of life [see Revelation 20:12]. And here is what I believe happens. The moment you receive Christ as your Savior, God comes over to the book where your name is written and all your sins are written down. God comes over to this set of books; and when you come and give your life to Christ in humility and repentance and faith in Him, God doth blot out your name. Then God takes His pen and writes your name in the book of life. "And whosoever was not found written in the book of life was cast into the lake of fire" [Revelation 20:15].
I want to ask you today: Is your name written in the book of life? If you come to me today, and you had the ability, and you said, "Billy, I'll give you a check for one billion tax-free dollars for one day of your name in the book of life," I wouldn't accept it. I wouldn't take the chance of going one more day unless I knew my name was in that book of life, for one billion tax-free dollars. And yet a lot of you are going to take the chance for a little bit of pleasure, a little bit of sin, a little bit of cheap tawdry sin, a few dollars that are earned wrong. For something cheap, you are going to keep your name from being written in the book of life.
That is how much that name written in the book of life means to me today. I do not deserve to have my name written there, because I am a sinner. I am not holding myself up as an example. I am saying to you today that my name is written in that book only because of what Christ did for me at the cross. I have received what He did for me. And when I did that, the Bible says my name is written in the book of life. I ask you today: Is your name written there?
If you are not sure it is written there, you come and be sure. You are a businessman in this town, and you are not sure your name is written there. You are a housewife, you are not sure your name is written there. You are a student, and you are not sure your name is written there. All of your studies, all of your money, all of your friends--nothing counts until you have settled it. You may be a church member.
Judas was a church member; he was the treasurer of the church, but his name was not written there [see John 17:12]. Ananias and Sapphira were members of the church, but their names were not written there [see Acts 5:1-11]. Is your name written in that book?
When Christ comes, and when the end of the world comes, and when judgment comes, the only thing that will count is your name written there. And after your name is written in the book of life, then the things that you do for Christ after that moment are written there. I am asking you today to be sure you are ready to meet God at the judgment.
---
Return to BGC Archives Home Page

Last Revised: 8/16/00
Expiration: indefinite

© Wheaton College 2005