Billy Graham Center

---

Archives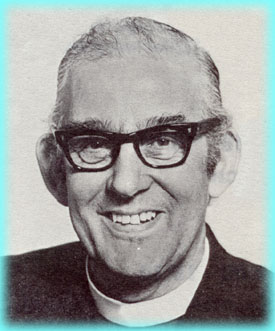 Transcribed text of an oral history interview with Bishop Dain conducted by Lois Ferm of the Billy Graham Evangelistic Association on December 1, 1971.
The transcript below, found in Collection 141, box 6, folder 70, was prepared by BGEA staff; the paragraph breaks within the text of Dain's comments are those of the transcriber. Text appearing in brackets [ ] was inserted by the BGC Archives staff for explanation or clarification.

DAIN: ...This world in which we live is a world, first of all, of desperate need with competing ideologies in conflict, which could launch us into another world war. The great powers of China and Russia are involved. India and Pakistan are at war quite apart from the Middle East. At the same time, we are seeing as never before the Spirit of God at work in revival. I do not believe we yet have true revival anywhere. I don't use that word lightly. But I see a quickening of the Spirit of God. The wind bloweth where it listeth. It is happening here in the States. But it is happening mightily in Indonesia, in Ethiopia, in the great Betak church of Sumatra. It is happening across Africa where churches are exploding. It is happening in South America.

This is happening at the time when I would say, as never before, the church is bereft of overall spiritual leadership. There is a tragic vacuum in the councils of the church. There were great hopes on the part of some in the World Council of Churches. I was present and one of the very few that voted at Ghana in 1959 against the assimilation of the old International Missionary Council with its concern for missions into the World Council. We were told, "Bring the IMC into the WCC - and it will make the whole world council missionary-hearted." The reverse has happened. You have only got to look at the recent documents from Upsalla to see that the reverse has happened. Mission and salvation are now political not theological terms. No longer is there any real pulse beat of dynamic mission and evangelisim. There is a tragic vacuum. This is the word that came up so much in our discussion together at the beginning of this consultation. A vacuum. And it is a vacuum that must be filled. I am committed to the concept of an organized church. But God is working today largely outside the organized church with people who are in the organized church. I believe that God is looking for men and women who have an understanding of the times in which we live. Men and women who, to quote the margin of the New English Bible rendering of Romans 12:11, "can meet the demands of the hour." I believe we are approaching a point where there needs to be not another Berlin but another consultation of minds and hearts to ask what is God saying to us now? I would personally feel it should just not be in the area of evangelism if we think of evangelism as proclamation. Because my understanding of the great commission is the one that we find at the end of Matthew's Gospel. To, "make disciples of all nations, baptizing them in the name of the Father, the Son the the Holy Spirit, teaching them to observe all things whatsoever I have commanded you." Any conference that fails to take in the threefold nature of the Commission is inadequate. So I think we need to come together with a concern for mission and evangelization.

Mission to some is a dirty word. It shouldn't be. I believe it is a Scriptural word. Our Lord said, "As my Father hath sent me, even so send I you." What is that but mission? The word only means "sent." And I am not prepared to yield that mission isn't a Scriptural word. "Missions" may be dangerous if we think of western superiority and patronage.

FERM: Institutionalized perhaps!

DAIN: Yes. But mission is the very beat of the heart of God. So I think we need to get together again in a concern for mission and evangelization. And I use that word as apart from evangelization which is proclamation. Proclamation is part but not the whole. I think we have got to think more widely and I think that all over the world God is at work. You only have to look at movements such as Inter-Varsity, Campus Crusade, Navigators and at churches where God is at work manifestly. There are places where God is doing great things. The new charismatic movement, with its dangers as well as potential, is a movement of the Spirit of God without any question. God is speaking and I believe we need to get together and to listen to what God is saying much more than telling God what to do. I think the time may be coming when that needs to be done in this wider vision than we had even in Berlin.



Read an additional excerpt from this interview where Dain describes his conversion, his missionary work, service in the military, and first meeting Billy Graham in 1953.

Return to the Dain memorial page

---
Return to BGC Archives Home Page

Last Revised: 3/14/03
Last Revised: 1/5/05
Expiration: indefinite

© Wheaton College 2005