Billy Graham Center

---

Archives
Christmas Play #1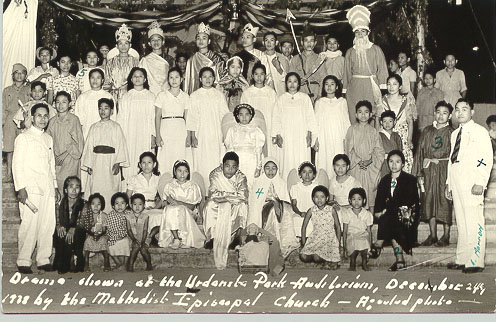 The caption on the back of this photo reads in part:
This humble photo is heartily dedicated to you as a remberance from your son, Rev. Aquilino Marron, pastor of the Methodist Episcopal Church of the towns of Urdaneta and Rosales, Pangasinan, Philippine Islands. By the guidance of the Lord and through your help spiritually and financially, this drama of the life of our Lord Jesus Christ was shown successfully at Christmas Eve December 24, 1938, at the Urdaneta Park Auditorium witnessed by more five thousand people. The Lord was greatly glorified.
---


Click
to go to the guide for collection 210, from which this photo came.


Return to BGC Archives Home Page

Last Revised: 11/28/98
Expiration: indefinite

© Wheaton College 2005