Billy Graham Center

---

Archives
The documents and images featured here are for the personal use of students, scholars and the public. Any commercial use or publication of them is strictly prohibited.
The Archives Bulletin Board
This service is intended for Wheaton College students, faculty and staff; people who live in convenient driving range to campus; or people who will be visiting Wheaton's campus. Every month, this Bulletin Board will highlight a new document or set of documents that are available in the Archives. Come on over and have a look!
To view items previously featured on the Bulletin Board, click
.


Now Showing
September 1999: "This Can't Be Los Angeles!" The 1949 Christ for Greater Los Angeles Campaign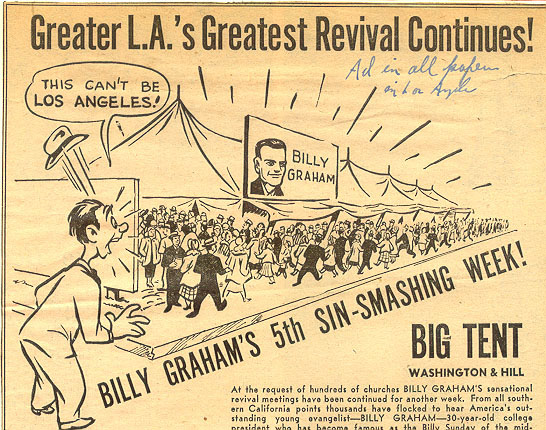 Ad from a Los Angeles paper about the meetings. Collection 360, Scrapbook 5. Click on the image to see the entire ad.




The Christ for Greater Los Angeles had for several years in the 1940s been bringing evangelists to the city for campaigns. The evangelist for 1949 was Billy Graham and the meeting began on September 25. The response and enthusiasm from attendees soon began to draw attention, which was heightened when local celebrities such as Stuart Hamblen and Louis Zamprini made public confessions of faith and the Hearst newspaper chain began to print daily favorable stories. The meetings, whose fiftieth anniversary we celebrate this month, have since become almost legendary as not only the introduction of Billy Graham's evangelistic ministry to the nation at large and soon to the world but also as a very public sign of the reemergence of Evangelicalism as a major force in American life. The Archives contains a small but significant array of documents from Los Angeles 1949 scattered through fifteen collections. Types of documents include audio tapes of almost all the sermons Graham preached at the meetings (Collection 26), a 1950 film about the meetings called The Canvass Cathedral (Collection 74), the newspaper coverage of the meetings plus a poster, handbill and a few other items ( Collection 360), and oral history interviews in which participants in the '49 meetings recorded their experiences there ( Collection 141). Come to the Archives Reading Room to understand and relive these historic events.
---
Return to BGC Archives Home Page

---

Last Revised: 3/7/02
Expiration: indefinite

© Wheaton College 2005