Billy Graham Center

---

Archives
The documents and images featured here are for the personal use of students, scholars and the public. Any commercial use or publication of them is strictly prohibited.
The Archives Bulletin Board
This service is intended for Wheaton College students, faculty and staff; people who live in convenient driving range to campus; or people who will be visiting Wheaton's campus. Every month, this Bulletin Board will highlight a new document or set of documents that are available in the Archives. Come on over and have a look!
To view items previously featured on the Bulletin Board, click
.


Now Showing
July 1999: Poems of Fanny Crosby
What began in tragedy ending with glory being given to the Lord Jesus Christ. Frances Jane (Fanny) Crosby (1820-1915), who became blind as an infant, was the composer of thousand of poems and hymn lyrics many of which still inspire and comfort the Christian world. She composed in her head sometimes as many as seven hymns a day and would later recite them to others to be transcribed. Throughout her long life she continued to compose even up to the year she died at the age of ninety-five.
Collection 35 in the Archives contains about 2,400 original manuscripts which Crosby composed between 1862 and 1915. Most are dated and numbered and some have both words and music. Below is a one of her poems composed in 1876.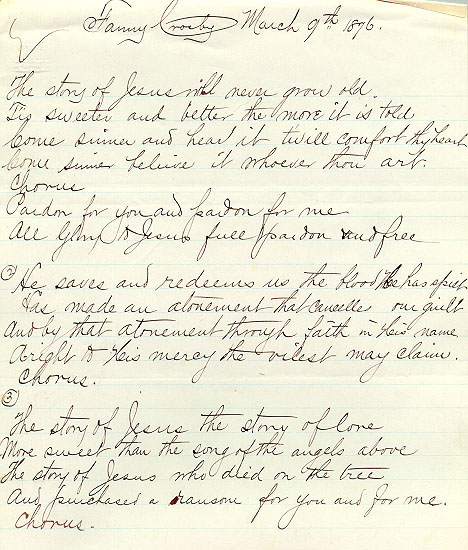 Poem from Collection 35, box 1, folder 6



Click
to go to the guide for Fanny Crosby collection.


This collection is available for inter-library loan. Click
for more information.
---
Return to BGC Archives Home Page

---

Last Revised: 7/1/99
Expiration: indefinite

© Wheaton College 2005