Born in 1896 to a single mother in Chester, Pennsylvania, Ethel Waters was first known as a prominent blues and jazz vocalist, and then as an Oscar-nominated actress. Raised in poverty, she began singing professionally in nightclubs at age 17 under the name "Sweet Mama Stringbean." After relocating to New York, Waters' professional ascent was swift, her powerful voice and broad vocal range displayed in her most famous jazz hits over the next decade, including "Stormy Weather," "Am I Blue?" "Heat Wave," and "Dinah." She rapidly transitioned from nightclubs to Broadway, becoming the first African American to receive equal billing in a Broadway musical while starring in "As Thousands Cheer" in 1933. Her career naturally segued from stage to film, and in 1949 Waters became the second African American woman to be nominated for an Academy Award for her role in the film Pinky; in 1962 she was the first African American female to be nominated for an Emmy Award.
1957 marked a turning in Ethel Waters' life, both professionally and spiritually. While attending a Billy Graham crusade held in Madison Square Garden in New York, Waters rededicated her life to Jesus Christ, recalling, "When the people sang, 'This is My Story,' I just felt, I imagine, like the prodigal son would have felt." Over the next eight weeks of the New York Crusade, which ran from May 15 to September 1, Waters joined the crusade choir directed by Cliff Barrows. Recognizing her unique vocal talents, Barrows asked Waters to sing the classic Gospel hymn, "His Eye is on the Sparrow," a number she sang at five more meetings through the end of the crusade - watch one of her New York Crusade featured solos. In many ways, the choice to sing at a Billy Graham crusade marked a significant departure from her successful professional life. Waters recalls, "When they asked me to sing, that was when I had to make a decision: 'Ethel, are you going to sing The Sparrow or Stormy Weather?' That was my decision, and my only livelihood depended on what I earned in the theater." After Madison Square Garden, Waters became a musical fixture at Graham crusades, distinguished by her quick humor and ability to fascinate her audience. For the next nineteen years, Waters performed her trademark number, "His Eye is On the Sparrow" for millions of crusade attendees across the globe. Although her health eventually prevented her from continuing to perform at the evangelistic meetings, Waters, much like George Beverly Shea, was an integral part of the crusade music team, whose unforgettable voice and testimony blessed millions of crusade attendees.
Letter from Waters to Cliff "Cliffee" Barrows and his wife Billie in 1966 or 1967.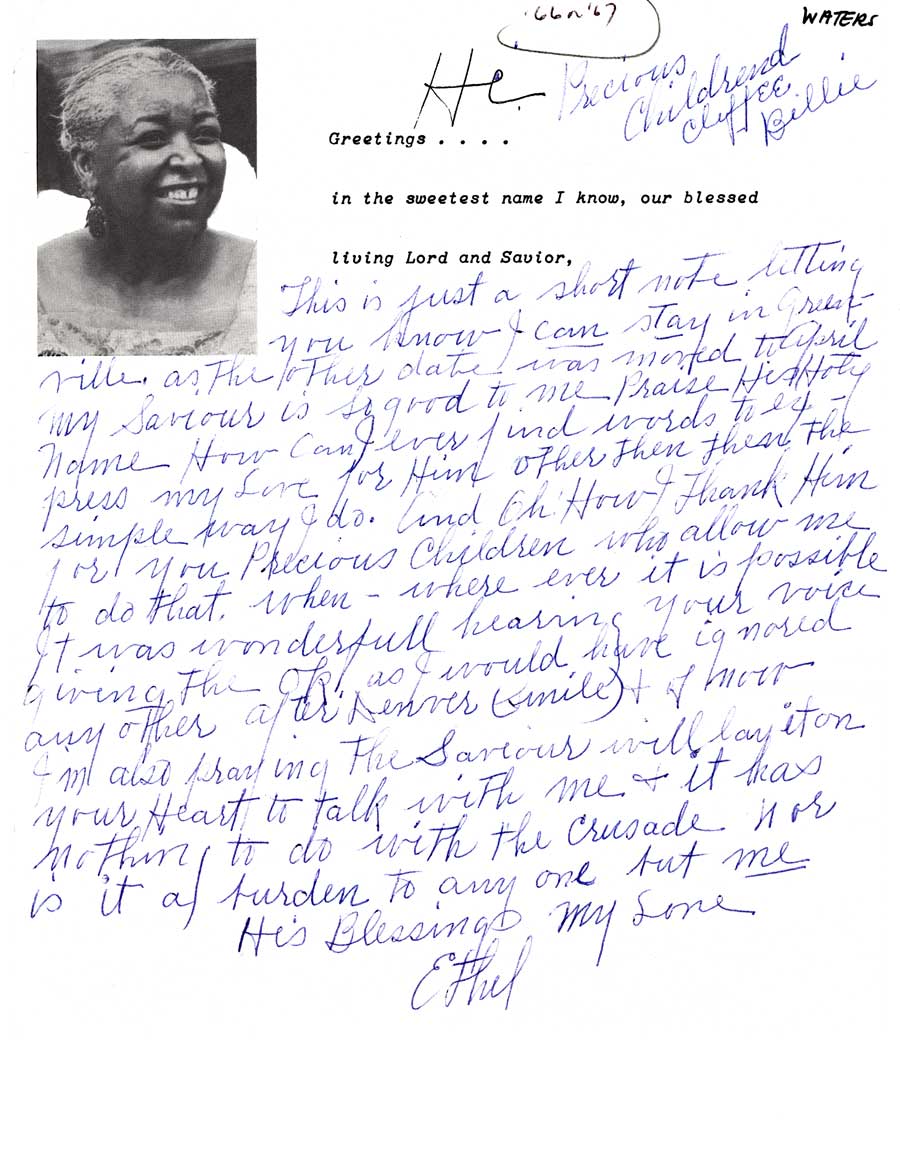 In addition to performing at crusades, Waters contributed her stage and film experience to the BGEA's broader evangelistic efforts. In 1958, she starred in The Heart is a Rebel, a film produced by the BGEA's World Wide Pictures, which featured scenes from the New York Crusade meetings where she was first featured as a soloist.
Waters has been the subject of a number of recent books. She told her own story about her early jazz career and later musical service with the BGEA in her two autobiographies, His Eye is on the Sparrow (1951) and To Me It's Wonderful (1972). She
was interviewed in 1970 as part of an oral history project conducted by the BGEA - read and listen to an excerpt from the interview. Waters made her final crusade appearance in San Diego in 1976 and died the following year.
The photo Waters signed in 1936 and the two images of her crusade solo appearances come from the Archives' Ethel Waters photo file; the featured letter is part of the Cliff Barrows papers (Collection 622).