Billy Graham Center

---

Archives
The Archives Bulletin Board
Every month, this Bulletin Board will highlight a new document or set of documents that are available in the Archives. These are intended solely for the edification of our viewers and cannot be copied or otherwise reused without permission.
To view items previously featured on the Bulletin Board, click
Now Showing
October 2007:
"Needing nothing but to know that God was there"
The Ministry of Isobel Kuhn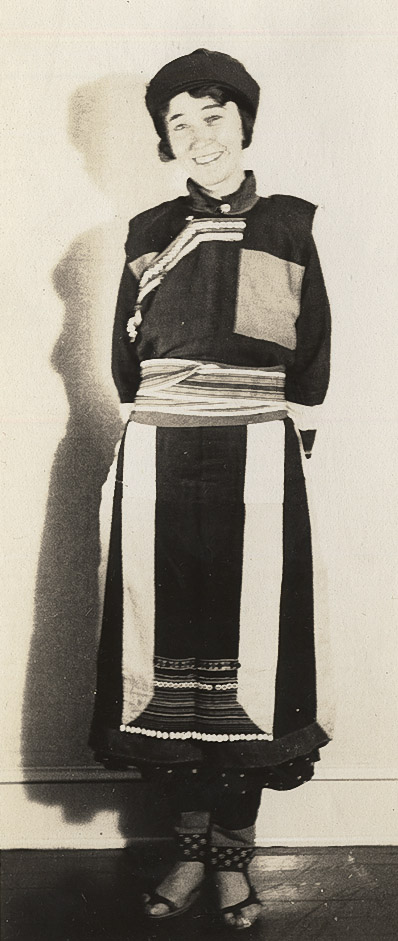 Isobel in Lisu dress. No date, ca. mid 1930s?
Isobel Selina Miller Kuhn (1901-1957) during most of her brief adult life was a missionary under the China Inland Mission (later the Overseas Missionary Fellowship). She served, along with her husband John, as a Bible translator, church planter, Bible teacher, evangelist and friend to the Lisu people of southwest China and northern Burma and Thailand. Besides helping to introduce Chrsitianity to the Lisu people, she also helped to introduce the Lisu church to Ameriucan Christians through her warm, humurous, down-to earth books describing her expereinces, including Ascent to the Tribes (1956) and Stones of Fire (1960).

The Archives has many of the letters, photogrpahs, and manuscripts of this remarkable woman, especially in Collections 435 and 215, as well as descriptions from people who knew in several oral history interviews. This month the Bulletin Board is highlighting some of her documents. Below, for example, is an excerpt from one of her letters.

Click here to see others of her pictures and correspondence.

Part of a letter from Isobel Miller to her family while she sailing to China as a novice missionary in 1928.
---
Send us a message
Return to BGC Archives Home Page
Last Revised: 10/01/07
Expiration: indefinite

© Wheaton College 2007