Billy Graham Center

---

Archives
The Archives Bulletin Board
This service is intended for Wheaton College students, faculty and staff; people who live in convenient driving range to campus; or people who will be visiting Wheaton's campus. Every month, this Bulletin Board will highlight a new document or set of documents that are available in the Archives. Come on over and have a look!
To view items previously featured on the Bulletin Board, click
Now Showing
August 2004: Campaigning For Souls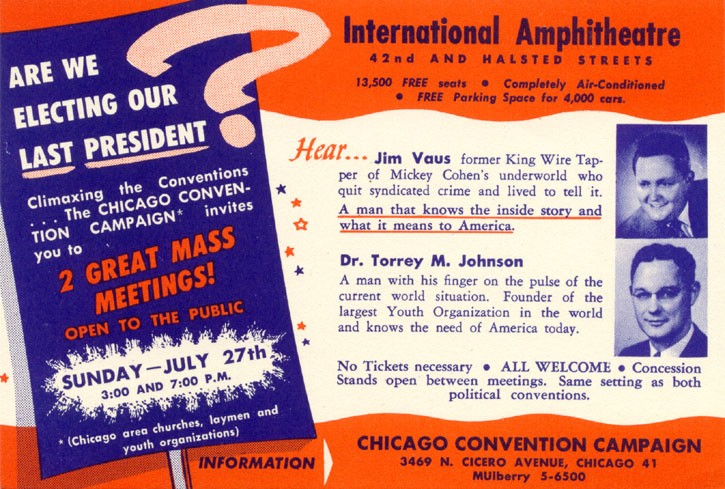 Handbill promoting the Chicago Convention Campaign, 1952.
Fifty-two years ago, the Republican Party nominated Dwight D. Eisenhower as its presidential candidate at their convention in Chicago's International Amphitheatre (July 7-11, 1952), along with their vice-presidential choice, Richard M. Nixon. Two weeks later (July 21-26) in the same Amphitheatre, the Democrats nominated Adlai Stevenson and John Sparkman as their party's candidates. (It was in this election year that political campaign commercials, now common and criticized, were for the first time aired on the young television medium.) At the crossroads of these two campaigns, a group of Chicago Christians seized the opportunity to convene their own campaign to raise spiritual questions and offer answers. Held in a series of meetings throughout the Upper Midwest during July 1952, the final rally took place in the Chicago Amphitheatre where the Democratic National Convention had just concluded the day before. Torrey Johnson, an area pastor and evangelist, was at the center of the planning and the meetings of the "campaign." Jim Vaus, converted during Billy Graham's 1949 Christ for Greater Los Angeles meetings and a newly ordained minister, was also a featured speaker during the meetings held in the hall on Sunday, July 27th.
The items featured here illustrate this third campaign that talked about spiritual values in the midst of the country's political process. The documents and photographs featured here come from Collection 285, the papers of Torrey Johnson, soon to be opened for use by researchers.

Press clippings from Chicago newspapers announcing the Campaign's early and last meetings.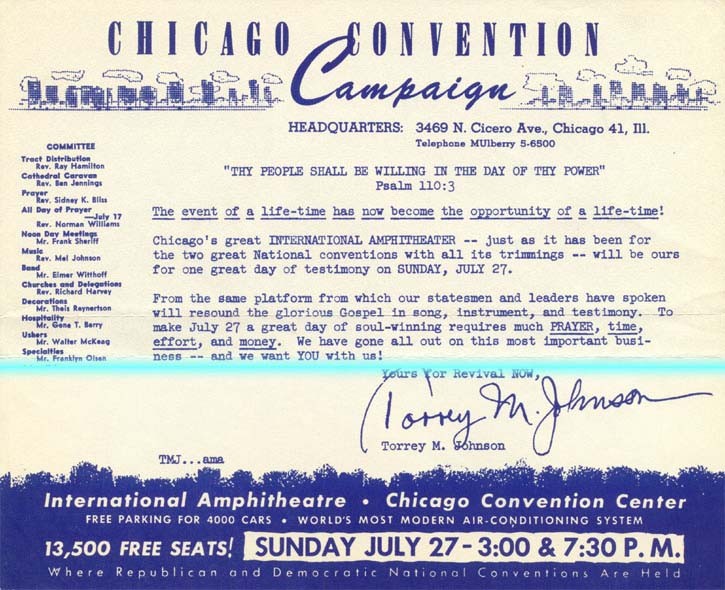 Top and bottom details of form letter urging participation in the upcoming evangelistic meeting.
Photos from brochure depicting promotion and activity during the Campaign at the Amphitheater.
Photos of the of the Amphitheater interior (left) and Torrey Johnson at the podium (right) during the Chicago Convention Campaign on Sunday, July 27th. Notice that banners like the "For All the People All the Time," a portrait of President Harry S. Truman hanging near the rafters, and the party insignia on the podium, remain from the Democratic National Convention that ended the day before.
---
Return to BGC Archives Home Page

Last Revised: 8/1/04
Expiration: indefinite


© Wheaton College 2005