Billy Graham Center

---

Archives
The Archives Bulletin Board
This service is intended for Wheaton College students, faculty and staff; people who live in convenient driving range to campus; or people who will be visiting Wheaton's campus. Every month, this Bulletin Board will highlight a new document or set of documents that are available in the Archives. Come on over and have a look!
To view items previously featured on the Bulletin Board, click
.


Now Showing
June 2004: A Renaissance Woman for Christ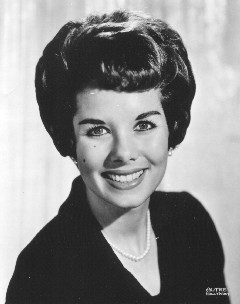 Portrait photo of Colleen Townsend Evans, n.d.
Colleen Townsend Evans signed a movie contract with Twentieth Century Fox in 1947 at the age of eighteen and held roles in several films over the next four years, including When Willie Comes Marching Home, Chicken Every Sunday and The Walls of Jericho. By 1948, Colleen Evans had appeared on the cover of Life magazine and was mentioned as the most prominent starlet in Hollywood in 1949.


At this same time she began attending First Presbyterian Church of Hollywood and became a Christ follower at Forest Home conference grounds. In his autobiography, Just As I Am, Billy Graham describes attending the Hollywood Christian Group, also attended by the likes of Stuart Hamblen, Connie Haines and Jane Russell and often led by Edwin Orr, at the house of Dr. Henrietta Mears in 1949: "I was inspired especially by the testimony of actress Colleen Townsend, who had a contract with Twentieth Century-Fox and whose picture had just been on the cover of Life magazine. She was one of the most dedicated Christians I had met..." (146).


In 1950, Colleen left Hollywood behind and spoke at churches and Youth for Christ evangelistic events. That same year she married Louis Evans and they began married life together as students at San Francisco Theological Seminary. In the early 1950s, Colleen Townsend Evans briefly returned to acting with roles in two of the earliest movies produced by the Billy Graham Evangelistic Association, Oiltown, USA and Souls in Conflict. Colleen served as a pastor's wife at churches in Los Angeles and La Jolla, California and at the National Presbyterian Church in Washington, DC over the following several decades.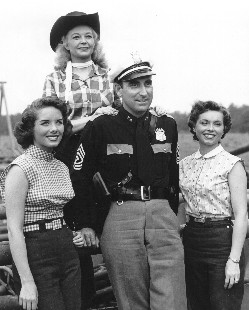 Colleen Townsend Evans (l) on set with her Oiltown, USA co-stars (l-r) Cindy Walker, Paul Powers and Georgia Lee.
Colleen Evans has been a strong advocate for human rights, racial reconciliation and greater opportunity for women to use their spiritual gifts in the body of Christ. She has visited numerous refugee camps and was occasionally consulted by the House Foreign Affairs Subcommittee on Human Rights when it dealt with religious persecution as a violation of human rights in 1982. She has served on the boards of several ministries, including the Christian College Coalition, World Vision and International Justice Mission. She also volunteered with various ministries in inner-city Washington, DC, and led her family to move to the inner-city to intentionally build relationships in the African-American community. In good part because of these relationships and her strong Christian witness, Mrs. Evans served as the first female chair of a Billy Graham Crusade at the Greater Washington (DC) Billy Graham Crusade in 1986. Today she continues to be an advocate for the marginalized and travels the country as a speaker and author of several books.


To find what materials (including films, interviews, photos, audio tapes and testimonies) the Archives has concerning her, do a search for "Evans, Colleen Townsend" (without quotation marks) on the Archives online database.


To find out how to view Oiltown, USA or Souls in Conflict on the Billy Graham Evangelistic Association web site, click here.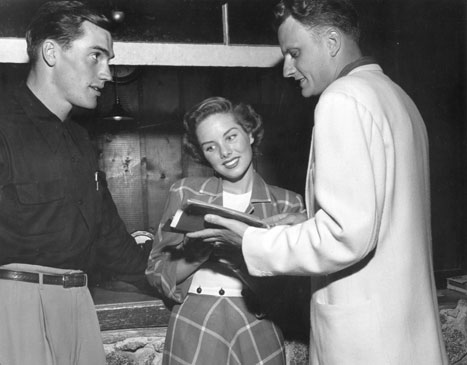 Billy Graham shares a passage from his Bible with Louis and Collen Townsend Evans, n.d.


The images featured on this page from the Billy Graham Evangelistic Association's records are used with the permission of the BGEA.
---
Return to BGC Archives Home Page

Last Revised: 5/28/04
Expiration: indefinite

© Wheaton College 2005