READING
ROOM


billy graham center archives
2012 annual report
---
Researcher Reports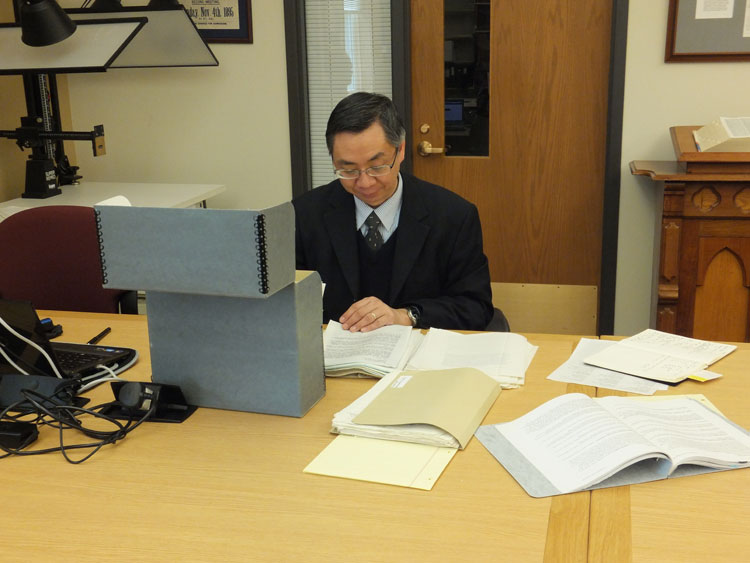 Dr. Patrick Fung, General Director of OMF International, studying some of the documents from the mission's history in Collection 215.
Below are reports from some of the people who used the Archives in 2012, giving examples of the different kinds of research that was done. The reports have been edited slightly in some cases to ensure that they are all in the same format:
Ms. Stephanie Birch, graduate student
University of Illinois, Springfield
My project was a historical research paper for a course exploring the identity relationships between European colonists and American missionaries working in Africa during the late 19th and early 20th centuries. In my paper I discuss the unique circumstances through which missionaries and colonizers were inherently intertwined. While missionaries were known to denounce support for the violent methods of the colonizers, they were no less dependent upon one another. Together, they possessed shared identities, including racial, religious, economic / class, etc; these shared identities often formed from opposition to local peoples and governments. Missionaries also relied on the colonial empires for protection during territorial conflict. Colonial empires built railroads and implemented a telegraph network, allowing missionaries to venture into the most remote regions of the African continent. Missionaries and colonists, alike, relied on
African explorers like Livingstone and Stanley, suggesting a shared perspective on Africa and her
peoples.

BGC Archives is renowned for records and documents of missionaries from around the global. It was suggested by a professor that I use the resources available through your institution. I expected to find detailed missionary journals from field excursions, mission organization records and documents, and in-field photographs. I found several notable journals from missionaries in the field and photo albums. I unfortunately did not find many mission organization minutes, constitutions, ledgers. A majority of the information I found was from the early 19th century, and I had hoped to find more from the 18th century. The letter correspondences between colonial officials and missionaries was particularly helpful in my research. The captions on many of the photographs was particularly enlightening in regards to the way missionaries perceived local peoples and cultures. Some of the in-field journals provided detailed accounts of local religious traditions, ceremonies, and customs.
As a historian, research of primary source material is a necessary process. In terms of scholarship in African history, academics are investigating the colonial history of Africa during the present post-colonial era. With the social unrest and civil conflict that has greatly impacted independent African nations over the last several decades, scholars look to the past history to explain how present circumstances have accumulated over time to the violence and terror of colonialism.
I found the policies and staff enlightening. Because I had only a day to travel to the archives, I used the online collection summaries to determine the boxes and folders most applicable to my research. However, a more detailed description of box/folder contents would've proved more helpful. The online resources can be difficult to navigate. I'm sure there is a wealth of information I missed.
Dr. Nina Bissett
Principal, Covenant Christian School, Aurora, Illinois
I have been collecting data for a book I am currently writing on the life of Emma Dryer who impacted D. L. Moody's life. As part of the literature search I came to the BGC primarily to obtain the stenographer notes taken of Emma's 1925 memorial service [in the BGC Archives' Collection 330, the Records of Moody Church]. From the Center's web site I noted that the steno book had not been transcribed but believed I could perhaps copy this book and find an individual to transcribe the shorthand. I discovered that the writing was in the early 1900s American Gregg shorthand popular during the first part of the 20th century. A transcriber experienced in shorthand obtained a 1919 copy of the Gregg Shorthand Dictionary from the University of Chicago and proceeded to transcribe approximately twenty pages of symbols into ten single spaced pages. New information not formerly published or known is included in these transcripts which will only serve to validate and highlight Emma's biography.
Additionally, the staff generously allowed me to carefully photocopy pages from an original 1915 copy of the Autobiography of Charles Blanchard in which President Blanchard discusses his association with Emma Dryer and his financial assistance in helping her to begin a Bible training school in 1873 which served as a precursor to Moody Bible Institute. [In the case of the Blanchard manuscript, Dr. Bassett is referring to the help she received from the Wheaton College Archives, a separate department from the BGC Archives. The College Archives has the Charles Blanchard manuscript.]
Dr. Christopher D. Cantwell
Assistant Director of the Dr. William M. Scholl Center for American History & Culture at the Newberry Library, Chicago, Illinois
I am currently completing an article on the kinds of conversion narratives produced by Gospel Rescue Missions at the turn of the twentieth century. The article is rooted in a study of the Pacific Garden Mission, which published wonderful collections of conversions in their annual reports. To fill out this source base, I came to the BGC Archives to look at the personal papers of Mel Trotter and Billy Sunday. Both were converted in the PGM, and kept in touch afterward. My hope was that their papers could give me insight into how rescue mission leaders planned services, and how the PGM had an impact beyond its Chicago location. I was not disappointed. Trotter's papers in particular provided me with evidence that showed the PGM had a hand in helping him organized his City Rescue Mission in Grand Rapids, MI which, in turn, helped to coordinate the efforts of rescue missions everywhere. Trotter's papers also contained a number of sermons delivered at rescue missions, which provided an importance glimpse into the culture of rescue mission worship, as well as the character of the sermons that converts reacted to. Billy Sunday's papers provided important primary information about the PGM after the 1920s, at which point PGM's own records become very sparse. I was greatly impressed by the BGC Archives' facilities and exceptionally helpful staff. They continued to provide me with excellent service even after I had returned home.
Dr. Andrew Finstuen
Boise State University
I used the archives in June of 2012 as a part of the Worlds of Billy Graham project through the Institute for the Study of American Evangelicals. My assignment for that project, which consists of a conference and edited collection, is: Billy Graham and American Intellectual Culture. To that end, I reviewed materials related to the possible founding of a university named after Billy Graham and/or inspired by his work, his visits to Yale and Harvard, and some of his sermons. The idea of founding a university affiliated with Billy Graham was the most surprising aspect of my research and those materials were brought to my attention by Bob Shuster. Otherwise, since I consulted the finding aid ahead of my visit, I found all things I expected to find. Finally, I found the staff of the BGC archives to be incredibly helpful.
Dr Patrick Fung,
General Director, OMF International (formerly the China Inland Mission)
The China Inland Mission was founded by Hudson Taylor in 1865 in Britain. The goal of the CIM was the urgent spreading of the gospel among in the inlands of China. The CIM was known to be a British mission during its beginning years and all the workers were British. Initially Hudson Taylor had no plan to start a branch of the CIM in North America in mobilizing workers for China. However, in 1888 Hudson Taylor visited North America at the invitation of Moody and spoke in Chicago followed by a trip to Toronto. That trip was momentous and changed the nature of the China Inland Mission. Hudson Taylor spoke around the Great Lakes with many young people offering their lives for mission service in China. By the end of 1888, CIM's North America Branch was established.
The goal of my research is to find out about Hudson Taylor's leadership in mobilizing young men and women from North America for the work in China between 1888 and 1905. The BGC Archives is known to have a rich collection of archive materials on mission work in China particularly that of the China Inland Mission. I was particularly interested to find out how the North America Branch of the China Inland Mission was established and the challenges Hudson Taylor faced at that time.
The BGC Archives not only has many of the original correspondence by Hudson Taylor in the formation of the North America Branch of the China Inland Mission, it also has many original letters written by young people who were challenged by Hudson Taylor's visit. From the correspondence, it was very obvious that those from Britain initially did not agree with Hudson Taylor's vision to start a North America branch of the China Inland Mission. Hudson Taylor vision that the China Inland Mission needed to be a truly international mission is now realized after 145 years. OMF International, as it is now currently known, which originated from the China Inland Mission now has more than 1400 missionaries from more than 25 countries serving among East Asia's peoples.
I deeply appreciate the help from colleagues at the BGC. They were able to find the materials requested speedily and professionally. I fully recommend this to those who are serious about research on mission history to use the BGC Archives.
Dr. Richard Gehman
Professor (retired) at Scott Theological College, Kenya and Africa Inland Mission (AIM) worker
My personal project is to gather materials on the history of the Africa Inland Church in Kenya with special emphasis on the role of the Kenyans. For this purpose I have visited the BGC Archives several times to gather information there on the Africa Inland Mission. This year we have also spent two months in Kenya where, in addition to my primary purpose of preaching, teaching and addressing two Bible College graduations, I used the AIM archival materials in Nairobi and interviewed twp-dozen people as well. In addition a retired missionary friend in Canada gathered records from old stations in Ukambani, brought them to Kenya for his use, and has now sent them to me....
I have nothing but praise and thanks to the Archives' staff for their assistance and help. They were very generous, gracious and helpful. The policies, though a bit restrictive, are understood as necessary to help preserve the treasures that you do have.
This is a personal project. Only time will tell whether my work will be embraced by the A.I.M. The Africa Inland Church will certainly welcome it, though at this point I have no idea how it will be financed. We take one step at a time.
Mr. Paul Grant, graduate student
University of Wisconsin-Madison
This project was a research paper for a graduate history seminar at the University of Wisconsin-Madison. The Simba Rebellion was a violent and confusing uprising in the former Belgian Congo. My plan was to investigate how missionary witnesses and victims gave meaning to their memories decades after the bloodshed.
The BGC holds several recorded interviews with retired missionaries who had lived through the period. These interviews were recorded between twenty and thirty years later. Some have been transcribed; others are available on tape (i.e. MP3). I expected to find a variety of narratives making sense of an extremely brutal rebellion, one which accomplished very little. I expected to find the missionaries reading their suffering into missionary history or biblical notions of persecution.
What I found instead was that some missionaries framed the rebellion in political terms: as Cold War history. Others gave the rebellion no meaning at all—thirty years later some people's voices still quivered at the memory. The most interesting twist was the gendered quality: all the political narratives came from men; all the narratives of pointless suffering came from women. Precisely because it accomplished so little beyond localized terror, the Simba Rebellion has not received much historical attention. That foreign men and women understood the rebellion in entirely different ways suggests a way forward toward a historical interpretation. In light of recent histories of public healing in Central Africa, future fieldwork among the African survivors
might look at the rebellion at the level of initiations and social reproduction.
The BGC staff were great! They had everything ready for me and were really kind. Thank you so much! The finding guides were phenomenal.
Father Charles Obiguma
Catholic Diocese of Arura, Uganda
Greeting in the name of the Lord. I enjoyed my visit to the Billy Graham Center Archives to look at the papers of Laura Barr. The visit was productive. I have been carrying research on "The Centenary of Christianity in Lugbaraland, 1912 to 2012." Laura Barr was one of the Missioners, who worked among the Lugbara people for considerable number of years.
The African Inland Mission from Philadelphia, Pennsylvania, USA, was first to step in Lugbaraland at Ania, Aru zone, in 1912. The Catholic Missionaries came to Aru in September 1915. Visiting Archives related to Missioners and Missionaries, who worked among the Lugbara to plant the Good News of Christ have been important. The nature of my research is focused on the a hundred years journey of the Christian faith among the Lugbara. My visit to BGC Archives was important, because Laura Barr worked among the people in the mission field.
I expected Laura Barr to have worked among the Lugbara in Uganda and the Lugbara in Democratic Republic of Congo. I found she did work in both. I also found that she made some translations of the bible into Lugbara language, baptized some Lugbara in Aru, and actively committed herself to pastoral activities at Ringili and in Aru. A couple of pictures Laura Barr took while in Aru, are surprising, because they give some flashback to the life, times and activities in the past decades. The Archives' collections had sufficient material, the policies and staff were welcoming. The Diocese of Arua celebrates a hundred years of the Faith. The research complements the centennial celebration of the Christian faith in this central and interior part of Africa. Peace and love in Christ.
Mr. Kip Richardson, Doctoral candidate
Harvard University
My dissertation attempts to account for the demographic, cultural, and political successes of American evangelicalism in the twentieth century by examining the historical development and flourishing of massive, growth-oriented evangelical congregations, popularly known as "megachurches." I came to the BGC archives to examine the records of several evangelical churches, like the
Moody Memorial Church
or
the Chicago Tabernacle
, which experienced rapid and sustained membership growth during the first decades of the twentieth century. I was also interested in the papers of several evangelical scholars, namely
Donald McGavran
and
C. Peter Wagner
, who spent their careers advocating for "growth" as the major objective of evangelical congregations, both in America and abroad.
My expectations for the various collections were initially loose since I was still in the exploratory phase of dissertation research, but several archival finds have been useful in shaping the direction of my research. The Moody Memorial Church collections were helpful in pushing me to consider the ways in which large congregations must develop and rely upon lay-led small-group programs to care for and manage their members. The big surprise working in the papers of Donald McGavran was the extensive records of his early missionary career in India, which is much better documented than I had originally believed and helps to show the develop of McGavran's thinking over the course of his life. These archival finds – and many others – have been crucial to the development of the project and I look forward to returning to the BGC in the future to follow up those leads.
Dr. Tobin Shearer.
African American Studies Coordinator, University of Montana
I am writing a history of public prayer in the civil rights movement, with the working title, Invoking Crisis: An Analysis of Public Prayer During the Civil Rights Movement. By covering the period from the 1944 Smith v. Allwright decision ending the all-white Democratic Party primary in the South to the 1978 Bakke decision ending the use of fixed quotas in higher education admissions, I will be able to explore the relationship between social change movements and public prayer during civil rights movement crises. Rather than an emotional breakdown or military emergency, crisis here refers to any socially, culturally, or politically unstable point in history requiring a decision to act in a new way. In short, it is a turning point. Through this historical study of prayer as a crisis event, I will describe a principal mechanism employed by religious activists to bring about change in the racial and social order.
My colleague Seth Dowland suggested that I spend time in the BGC Archives after I asked him for suggestions of sources of public prayer by evangelicals during the civil rights movement. I came expecting to find examples of public prayers given by evangelicals. I was able to find said prayers. I also found several photos of period actors engaged in public prayer and good contextual information on evangelicals' engagement with civil rights issues more broadly.
As historians of religion Paul Harvey and Kevin M. Schultz contend, scholars evaluating the civil rights movement have, unlike historians of other U.S. periods, vigorously analyzed the role of religion. These studies, however, approach religion as a means of emotional sustenance or logistical support. None focus on public prayer. Although there have been studies focusing on the particularities of prayer practices in various racially defined communities, none have focused on the ways activists in support of and opposed to the civil rights agenda prayed before, during, and after crisis and as a means to create it.
Those who have studied public prayer have centered on the relationship of prayer and the state. Most frequently, scholars have turned to a study of prayer in public schools. Even Carol and Philip Zaleski in their masterful work Prayer: A History focus their study of prayer in the public square on a discussion of the relationship of church and state in public schools. Although some scholars attend to issues of religious pluralism, the primary and recurrent focus remains on tensions inherent in church-state relations. Other dynamics of public prayer, such as the ability to create crisis, remain largely unconsidered. In using the Archives, I was a little confused at first about which collections could and could not be photographed for research purposes. The multiple requirements is daunting to keep straight.
Mr. Ed Smith
My research in the BGC Archives was of a personal nature and something which I had wanted to do for many years. I was researching the papers and documents related to
John and Betty Stam
, missionaries to China with the China Inland Mission. It was because of the lives and sacrifice of John and Betty Stam that I also became interested in China as a young believer and first traveled to China myself to teach English in 1985. I was a personal friend of John's elder sister Clazina Stam and corresponded with her for many years while I was in college and in China. I was one of the many people she prayed for daily. At the BGC Archives, I was amazed with the number of original documents which were held in the collection, including John's dairy and many personal letters which he wrote. I also enjoyed looking at his notes related to his own study of the Chinese language. There were also letters written between John and Betty prior to their reunion and marriage in China. The research enriched and encouraged me in my personal life and walk with the Lord. Included in the archives were copies of the final autopsy report related to John and Betty's death which impressed upon me the great sacrifice each gave in service to China for the Lord. I also was surprised to find and pleased to watch a short movie of John and Betty's wedding in China which the BGC Archive staff graciously set up for me in a private viewing area. I am thankful that records such as these and many others are maintained and available for anyone wishing to view them.
Ms. Ronit Stall, Doctoral candidate,
University of Michigan, Ann Arbor
I came to Wheaton College to do research on evangelical military chaplains for my dissertation, "God, War, and Politics: The American Military Chaplaincy and the Making of Modern American Religion." Initially I came to examine the National Association of Evangelicals' Chaplains' Commission papers [in the Wheaton College Archives and Special Collections, a separate department]. While the documentation for the 1940s and 50s is more scant than in later years, there was nevertheless some very valuable and helpful material for my project. Moreover, while at the archives, I learned that the Billy Graham Center held papers and had conducted oral histories of several evangelical chaplains. This unexpected resource was quite a boon and helped answer some of the questions I had about the NAE Chaplains' Commission in its early years. In addition, the papers and oral histories provided details and anecdotes that enliven the statistics and reports found elsewhere. That some of the interviews have been posted online and transcribed is especially helpful.
Dr. Matthew Avery Sutton
Washington State University
I am currently writing a book tentatively entitled American Evangelicals and the Politics of Apocalypse (Harvard University Press, 2014). It examines the relationships among American evangelicalism, apocalyptic thought, and political activism during times of national crisis and war. I have also written a textbook, Jerry Falwell and the Rise of the Religious Right: A Brief History with Documents, as part of the popular Bedford "History and Culture" series (Bedford/St. Martin's, 2013). Documents housed at the BGC Archives have been instrumental in shaping both books and the BGC Archives staff, as always, has been a pleasure to work with.
Ms. Amy Weiss, Doctoral candidate
New York University
My dissertation examines the socio-political history of American Protestant responses to the Holocaust, Zionism, and Israel between 1939 and 1976. Specifically, my project analyzes the decline of pro-Israel theologically liberal Protestants and the rise of evangelicals within the larger Christian Zionist movement in the late twentieth-century. I contend that the history of American Protestant relations with Israel needs to be told in conjunction with that of American Jews, given that initial funding and access to Israeli leaders often came from Jews eager to garner American popular support for a Jewish homeland.
I visited the Billy Graham Center Archives to find documents relating to evangelical Protestant interest in Israel as well as correspondence dealing with Jewish-Protestant interfaith dialogue. In examining the papers of Roy Gustafson, the Evangelical Fellowship of Mission Agencies, and Christianity Today, among others, I found a wealth of material for my dissertation. For instance, tour itineraries to Israel helped to emphasize the theological significance of the Holy Land for American participants. Correspondence between liberal and evangelical Protestant organizations highlighted instances of both agreement and contention regarding the internationalization of Jerusalem and Christian eschatology. The archive's extensive collection of evangelical periodicals also provided useful commentary on watershed moments in American and Israeli history.
The research conducted at the Billy Graham Center Archives will play a large role in my discussion of American evangelical Protestants and their varying attitudes towards Jews and Israel.
Dr. Anne Blue Wills
Davidson College
I am working on a biographical study of Ruth Bell Graham, who grew up in the Chinese mission field, felt called herself to mission work, but ended up on a very different mission as the wife of the world's most famous evangelist. I am telling the story of her life, work, spiritual path, and her relationship to late-twentieth-century U.S. culture. I am also exploring her as part of the long U.S. tradition of white Protestant clergy wives. This project on RBG grows from my research and teaching interests more generally, which focus on the influences that run between religion and culture in the U.S., particularly with respect to gender roles for men and women.
I have been able to see some of the collection's microfilm reels through Interlibrary Loan to my institution. I have explored these reels for images and descriptions of Mrs. Graham that appeared in popular and religious periodical/newspapers. These materials have been extremely helpful in forming my sense of Mrs. Graham's media image in the public eye. I also knew, from Bob Shuster, that the Archives has a copy of Peace with God that Mrs. Graham had annotated in preparation for a new edition. Because Mrs. Graham's papers are not available to researchers, I was eager to see this artifact while at the Archives and get a sense of Mrs. Graham's theological perspective and her influence on her husband's work. This annotated book has been very useful in helping me to hear Mrs. Graham's voice as a cultural critic and as Billy Graham's adviser. I also looked through the Wheaton College yearbooks from the years that Ruth Bell and Billy Graham attended. These materials helped me gauge the level of each one's involvement in campus activities and revealed a lot about the character of the institution in those days