WEB
SITE


billy graham center archives
2008 annual report
---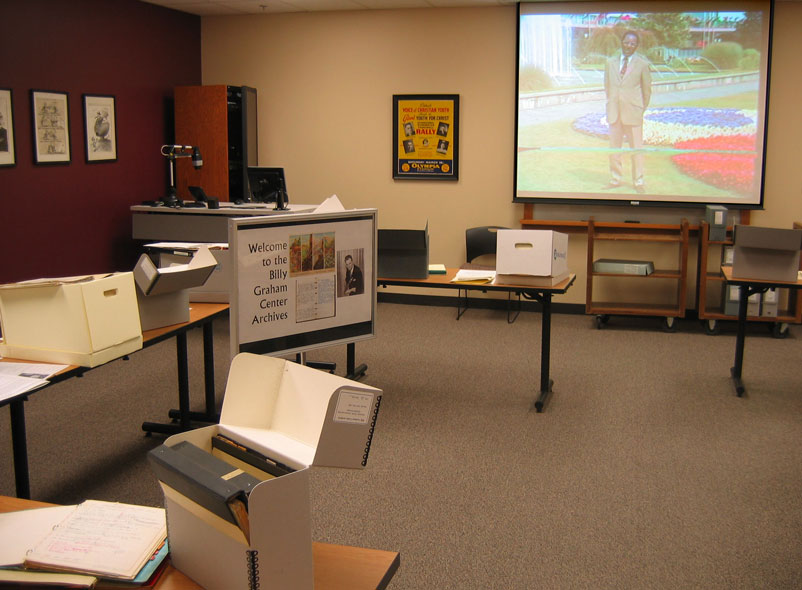 The exhibit prepared for new international Wheaton College Grad School students includes a film on the 1974 Lausanne Congress, made available through the Archives Web site. The Web site, while populated primarily with descriptions of Archives collections, also includes many samples of audio and video files, as well as photographs and documents. (Watch the Lausanne Congress film.)
"Thanks so much for this month's email showing illustrated hymns, etc. I saw names of people such as "Peter Slack" and Percy Crawford and so much more that brought happy memories. Thanks so much for your wonderful work there at Wheaton's BGC ARCHIVES. Am so glad you and Wheaton College realize the worth of maintaining these files."
This e-mail was in response to the Archives online
Bulletin Board for July
.
The Archives Web site is one of our primary tools to sow the seeds of our resources to a wider audience. The site is comprised of thousands of collection guides, documents, images, exhibits, lecture texts, audio and video files, reports and other materials. People searching on a specific topic or casually browsing the Internet discover Archives resources and then submit their requests for more information, or for a copy of a letter or photograph. Because of the resources the Archives has made available on the Web, many people at a distance have very specific needs met from our collections, while others discover its resources for the first time. And many other users of the Archives Web site use the site's documents, exhibits, and information without ever consulting with the staff. The Manuscript Reading Room is open 41.5 hours each week for researchers to use the unrestricted materials from our many collections at their ease, but the online resources at the Archives are available continuously, night and day, throughout the world. Altogether, 400,411 unique visitors made 758,890 visits, resulting in 4,710,438 hits on our various pages.
One measure of the use of the Archives Web site is to monitor the links that connect to it. Click here to go to a sample of some of the sites that linked to the homepage or some other part of the BGC Archives Web site:

Click here to see the Web site statistics.
Among the additions to the Web site this year were:

An extensive series of evangelistic postcards, including the Lord's Prayer, Hymns and Humor.
The Archival Bulletin Board featured twelve interesting documents from the collection, one each month.
A memorial page, drawing on documents from the Archives, remembering Charlie Riggs, who died in July. Riggs began working for the BGEA in 1954 as a counseling and follow-up instructor, and later became director of the program.
Oral history interview transcripts and audio files with Robert B. Ekvall (1898-1983) in which he talks, among other topics, about growing up on the China/Tibet border before World War I; education at Wheaton College in Wheaton, Illinois, USA; service in the United States army during World War I; work as a missionary in China and Tibet from 1923 through 1941; Tibetan Buddhism; his visit back to the place he grew up in the 1980s.
Audio reports from workers of Africa Inland Mission describing the work of the mission in East Africa in 1958. Included is a talk by missionary Edward Schuit on the impact of changing conditions in Africa on the work of the mission and the relationship between the AIM and the Africa Inland Church.

An online compilation of the posters hanging on display in the Manuscript Reading Room and Archival Seminar Room. These documents add to the resources made available in 2007 in the online exhibit, A Sign Unto You, on evangelism posters.
The partial text and photos from the first Archives Lecture featuring Dr. Joel Carpenter. The title of his talk was "Wheaton, Moody and the China Connection: Finding Our Ancestors in the Archives." Carpenter's book (edited with Wilbert Shenk) Earthen Vessels: American Evangelicals in Foreign Missions, 1880-1980, was based on his extensive use of oral history interviews at the Archives.

The staff began creating links between descriptive guides and all digitized documents, audio and video files, photographs, etc., indicated either by the symbol or the customary Web-environment underlined text. This ensures that those using the text-extensive descriptions can quickly link to sample documents from a particular file, box or video.
The Archives continues to send out e-mail notices when it adds new documents to the Web site, opens new or updates old collections, or has an exhibit or other event likely to be of interest to the public. If you would like to be added to the Archives E-mail List, click here or send an e-mail request to: bgc.archives@wheaton.edu