billy graham center archives
2003 annual report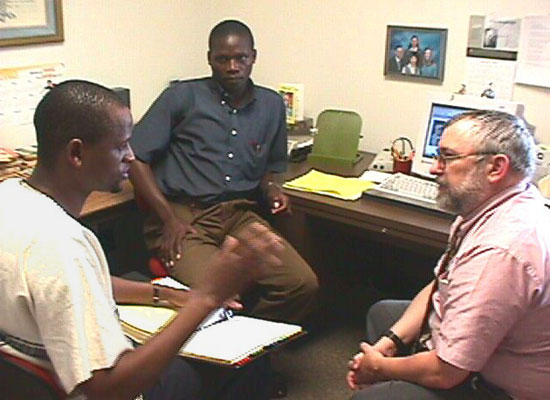 Bob meeting in July with Charles Nandain of Daystar University (Kenya) and Daniel Ruheni of the Nairobi International School of Theology (Kenya), who were exploring the development of archives at those institutions.
---
"Out of the fullness of his grace, he has blessed us all, giving us one blessing after another. God gave the Law through Moses, but grace and truth came through Jesus Christ."
Gospel of John 1:16-17 (NIV)
Grace is a gift we receive. It is God's strength and clarity, unearned and often unsought. It guides, emboldens and consoles, a river of light coming to us from the Father. Truth is a gift we seek. For it we lay aside the tenacious, small fears and doubts that so easily deflect us — what we wish weren't true, what we don't want to know, the spots where God didn't do what we knew He should have. Truth is also a work we do, acknowledging the real world we see, hear and move through as we will God's will that we be channels for His grace into His creation.
As archivists, we play a small part in truth-seeking — small and needed. We preserve and help people use documents about what happened in the past. It is a small part of truth-seeking, but small stones lay a foundation. We try to see what happened, without the disorientation of spin, without the hot air and grease of sizzle. We try to look at facts. We know now in part and we understand in part and our understanding of the past is based on guess and shaky certainties. But those faithful in these small things are moved on to larger ones. Archival research can teach us to persist in getting the details true, to develop the grit needed to endure, to be confident that all truth leads back to the Father of light.
In this spirit, we present the record of our stewardship in 2003. During the past year...
We developed the sixth of our Web-based online exhibits, including over 160 pages of documents, photos, audio clips, and a video, telling the story of Paul Rader and the Chicago Gospel Tabernacle.

We made available through our Web site audio recordings of sermons by evangelist R.A. Torrey and missionary Jim Elliot, which had not been available to the general public for many decades. These have been added to our growing selection of items in our Evangelism Archives.

Bob supervised the microfilming and digitizing of a major portion of the papers of theologian and evangelist John Stott, so that these materials will eventually be a resource for Christian scholars around the world. He also oversaw projects to microfilm and digitize selected AIM records, J. Stratton Shufelt papers and Youth for Christ records (using a generous gift from the Torrey Johnson Family), and the R.A. & Clara Torrey diaries (with help from the Johnson Family and Carlton and Miriam Ericksen Family).

We maintained and expanded our Web site, which had more than 3.25 million hits, representing more than 210,000 unique individuals.

We assisted over four hundred researchers who came to the Archives Reading Room to use our collections, more than half of them from outside the Wheaton College community. (The staff also held sessions for 13 classes in the Reading Room)

We responded to 1063 requests for assistance outside the Reading Room. Three-quarters of these came via e-mail. (The staff in addition made presentations to 13 groups outside the Reading Room.)

Paul gave a presentation about the life and ministry of evangelist and social activist John Perkins to Wheaton alumni.

We acquired 362 cubic feet of material, including several boxes of papers of Cliff Barrows and of Corrie ten Boom.

We arranged and described twenty-three collections, some new and others expanded to include new material. We also transcribed and made available on the Web twenty-two hours of interviews with ten missionaries, evangelists and other Christian workers.

We explored further opportunities to encourage emerging archives in other parts of the world. In April we provided a week-long orientation to a Singaporean Christian librarian who will be establishing a mission archives at Singapore Bible College. And in June we consulted with two librarians from Christian colleges in Nairobi on establishing archives or developing a joint project.

Among a series of RA Torrey-related opportunities, Wayne represented the Archives at a BIOLA University conference highlighting evangelist R.A. Torrey's life and ministry, contributing a paper prepared by Bob on the Archives' holdings about Torrey and presenting a digitized copy of the Torrey diaries to BIOLA.
Taken together, we're grateful to have participated in this collage of opportunities during the year, whether adding more collections, helping researchers use them, offering new or additional Web resources, or joining with young developing archives to help them get their footing. We're grateful, too, that God has given us companions on our journey, both for each other as colleagues, and for you and others outside the office who encourage and pray for us, for donors of materials, financial supporters, fellow archivists, or those who have alerted us to new opportunities. What follows is a further description of what we've done and participated in during the past year.
---