Public Service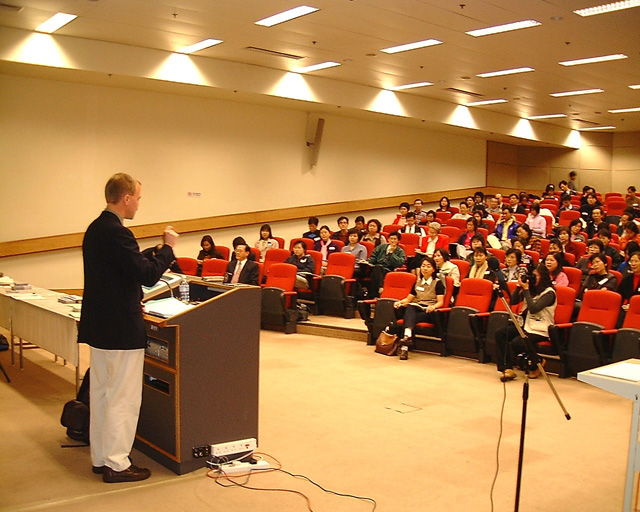 1/99 "Thank you for all the info and picture. I will use it for a bulletin board in my classroom. We are reading the biography of Sunday by Elaine Cunningham (5th and 6th graders at a Christian school) Thanks again!!!! God bless you for your efforts." E-mail from a teacher at a Christian secondary school, about information she had received on Billy Sunday
* * * * *
Public Service Statistics 1980-2000
Year
80
81
82
83
84
85
86
87
88
89
90
91
92
93
94
95
96
97
98
99
00
01
BGEA
25
30
27
31
22
34
22
40
36
39
30
59
56
53
19
26
60
34
36
32
19
Classes
24
20
21
14
18
13
20
17
19
E-Mail
38
38
64
89
147
274
291
467
575
Faxes
6
7
3
5
4
3
3
Inter-Library Loans
3
7
6
12
7
6
21
31
Letters
78
67
64
63
59
46
95
72
64
58
69
60
61
57
34
28
20
12
15
Personal Contacts
284
507
310
354
762
709
502
434
869
344
96
40
75
64
53
49
36
22
14
Phone Calls
78
132
82
85
127
136
95
114
114
133
215
128
181
194
171
179
163
132
145
Presentations
7
12
10
14
9
9
12
Totals
25
30
467
737
478
536
970
931
728
659
1077
594
498
342
441
469
508
603
585
715
833
Notes:

All categories are exclusive. That is, if a phone caller asks for an inter-library loan, the request is counted under "Inter-Library Loan" or Phone" but not under both.
BGEA: Requests for information from the Billy Graham Evangelistic Association
Classes: Lecture given to a group in the Reading Room
Presentations: Lectures given anywhere outside of the Reading Room
Personal Contacts: Assistance given by staff to a researcher on a one-to-one basis, outside of the Reading Room.
Before 1991, all assistance that was not for the BGEA or was not given in a letter or over the phone was lumped together as "Personal Contact." Also, before 1991, if a staff member spoke to a class of 30 people, that was counted as 30 Personal contacts. Now it would be counted as 1 class.



* * * * *



Click on any or all of the these links to see the year's issues of the Archives newsletter. (Starting in January 2001 the newsletter is only available online via the World Wide Web.)



January 2000
May 2000
September 2000





* * * * *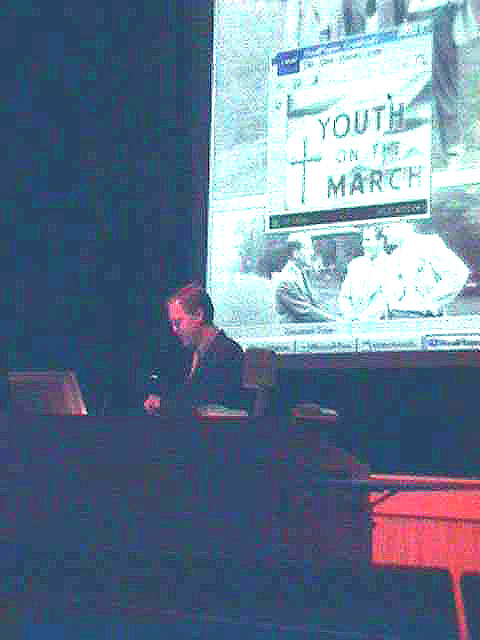 Paul at a darkened podium in Barrows Auditorium delivering the BGC Archives part of the annual Treasures of Wheaton
program. Every year in May, each of the three archives on campus makes a
presentation based on documents from their holdings. This year, Paul's talk
(which was illustrated with video clips and other materials from our
Web site exhibit) was entitled: Flickering Images and the Timeless Gospel:
Percy Crawford and the Birth of Televangelism.
The three archives on campus began this year to meet regularly
to discuss common problems and investigate solutions.


* * * * *



During the year, the Archives received $9,600 in gifts. We also received $5,900 in fees for the use and/or duplication of materials.

* * * * *


Organizations Assisted



Following is a select list of the organizations, Christian and secular, which the Archives assisted in one way or another during the year.

Anglican Diocese of Melbourne, Australia
Apostolic Christian Church (Nazarene)
Awana
Baker Book House
Banner
Baptist General Convention of Oklahoma
Baptist Theological College of Western Australia
Billy Graham Evangelistic Association
Books and Culture
Cable Network News
Campus Crusade for Christ
Catholic University of America
CBS News
Central Rappahannock Regional Library
Christian and Missionary Alliance
Christian Literature Crusade
Christian reformed Church in America
Christian Theological Seminary
Christianity Today Inc.
Church History Institute
Cross Point magazine
Daily Telegraph NY
David C. Cook Publishing
Decision Magazine
The DeMoss Group
Detroit Free Press
Dordt College
Ethics and Public Policy Center
Family Net TV
Filmroos
Florida Times Union
Fox News
Geneva Public Library
Grace College
Guideposts
Hal Bernard Dixon Jr. Pentecostal Research Center
Harvest Bible Chapel
Hale/Illinois Baptist State Association
HCJB
Hearts for Romania
Hiram College Archives
Hong Kong Baptist University
Houghton Mifflin Publishers
Impact Productions
Imslow Publications
Institute on World War II & the Human Experience, Florida State University
International Fellowship of Evangelical Students
InterVarsity Christian Fellowship
Iowa State University Archives
Jews for Jesus
John Garrick Ministries
Just Between You and Us
Kingsway Publications
KUSA-TV
Lausanne Committee for World Evangelization
Linden Publications
Mars Hill Productions
Metra News
Moody Bible Institute
Moody Church
North American Indian Ministries
Northwestern College
Nyack College
OMS Mission
Outpost Mission
Oxford University Press
Peale Center for Christian Living
Pioneers
Presbyterian and Reformed Publishing
Prison Fellowship International
Radiant Life Curriculum
Rockford Rescue Mission
Southern Baptist Convention, International Mission Board
Southern Baptist Convention, North American Mission Board
Specialty Research Associates
Stanford University Libraries
Sun Herald Newspapers
Taylor University
Touch Canada
United States Center for World Missions
University of Alaska-Fairbanks
University of North Carolina-Chapel Hill
U.S. Center for World Missions
The Wade Center
Warner Brothers
Wartburg Theological Seminary
Washington Bible College
Western Washington University
World Magazine
WJXX radio, Jacksonville, Florida
World Book Publications Research Library
Wycliffe Bible Translators
Young Life Service Center
Zondervan Publishers



* * * * *

Hong Kong Interlude

In February, Paul represented the Archives in its ongoing interaction with and contribution to developing archives. At the invitation of Hong Kong Baptist University, from which Irene Wong had come for a half year of training during 1999, he relocated to Hong Kong for two weeks to present lectures and a workshop, observe and evaluate the HKBU's Archives of Christianity in China, and become familiar with the context in which archives in Hong Kong function.
This phase of interaction between HKBU and the BGC Archives was a two-way street to which both archives contributed. Paul offered lectures to history students, archivists and the public on oral history methodology and missions in China in the mid-1900s, while the HKBU Library hosted these public events to provide public exposure for its collection (see inset from promotional poster at left). The Library also sponsored an all-day seminar on developing a simple congregational archives. Attended by 155 participants, Paul spoke and interacted with participants while Wong translated and provided relevant clarification for Hong Kong archivists and church leaders. Paul later commented that...
"...The enthusiasm expressed in the attendance figures at the workshop was matched by questions which revealed a growing understanding of archives theory, recognition of the implications of these on archival practice in the Hong Kong context, and a determination to find workable solutions. The collaboration between the Archives of Christianity in China, other University departments and Christian agencies in Hong Kong to sponsor these events becomes an additional resource for HKBU's collecting and outreach."
In his consultation with the Archives of Christianity in China, Paul found a young program anticipating the arrival of its first collection of private papers and working to finalize its collection policy. HKBU had already coordinated training for Wong, its first archivist, and was now seeking to strengthen links in the Hong Kong Christian community to assist church archives and gather new material. As for local context, in addition to Paul's conferring with Hong Kong church leaders and administrators, he participated in the HKBU-sponsored tour to the Public Records Office (HK's government archives) and the Catholic diocesan archives, which added to the many highlights of his visit. Paul as he looks back now adds:
"I hope our contribution to the ongoing development of HKBU's Archives of Christianity in China will be lasting, but a personal benefit of the trip for me was in observing archives in another culture, helping them consider and apply archival principles in their context, and engaging in professional interaction with a common goal."
* * * * *
The Internet



Thank you very much for making available the documents in the article, "Who's in Charge". I am a seminary professor in Indonesia, and we desperately need access to things like this to help expand the world view of our students. By downloading articles and info like this, I can teach them how to research and study topics like this that have direct application to their lives and ministries. We are blessed by your efforts! Praying you are blessed and rewarded in the work there as well. E-mail message regarding the Archives online exhibit Who's In Charge? The Transition from Missionary to National Authority.

In the year 2000, people walked through the front door (http://www2.wheaton.edu/bgc/archives/archhp1.html) of the Archives Web site 21,650 times, a 50% increase from 1999. As can be seen from the chart above, the staff handled 575 e-mailed requests for information.

Hundreds of pages of guides, documents, images as well as dozens of audio clips were made available through the Archives Web page. Among the items made available in this way were:

Previous Section Table of Contents Next Section