Billy Graham Center

---

Archives
MacGillvray Notes
---
To read the following as a full-text transcript, please click here. Scroll below the image for information about MacGillvray and the notes.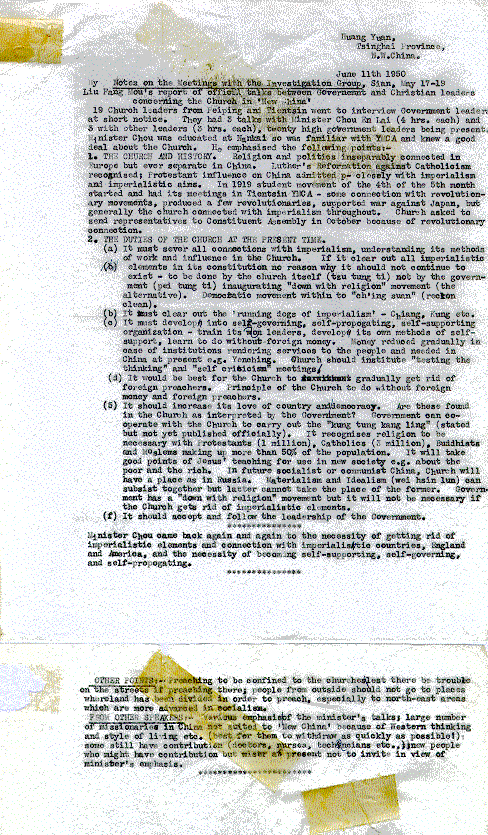 Kenneth McGillvray was a missionary with the Elim Pentecostal Assemblies of Britain, working in northwest China. This report was apparently compiled by him from reports he heard about meetings Chinese church leaders had had with Chou En Lai and other government leaders shortly after the Communist victory in China. These notes help document the beginings of the Three Self Movement in China. This copy of McGillivray's notes was apparently sent by him to his friend and fellow missionary Victor Plymire in Springfield, Missouri and is from box 1, folder 24 in Collection 341, the Papers of Victor Guy Plymire.

The above copy was typed on very thin copy paper, with a few inked in or typed in changes. For example, the word "own" in the phrase "its own leaders" in paragraph (c) is actually spelled "won" and an inked-in editorial mark indicates the correct order of the letters. It was not possible to reproduce most of these handwritten corrections in this text, although they do appear in the photographic reproduction. The transcription follows reflects these editorial corrections. Any comments by the archivist are in brackets [ ]. On the reproduction of the notes, the discolored patches on the document were caused by scotch tape that had been applied sometime in the past. Page two is extremely short, but does appear to be the end of the document. Because of limitations in the software program, the layout is not exactly the same as in the original document.

---
---
---
---
---
Last Revised: 6/7/01
Expiration: indefinite


© Wheaton College 2005