Billy Graham Center

---

Archives
Witness... newsletter, September 2001
---
A Mississippi Voice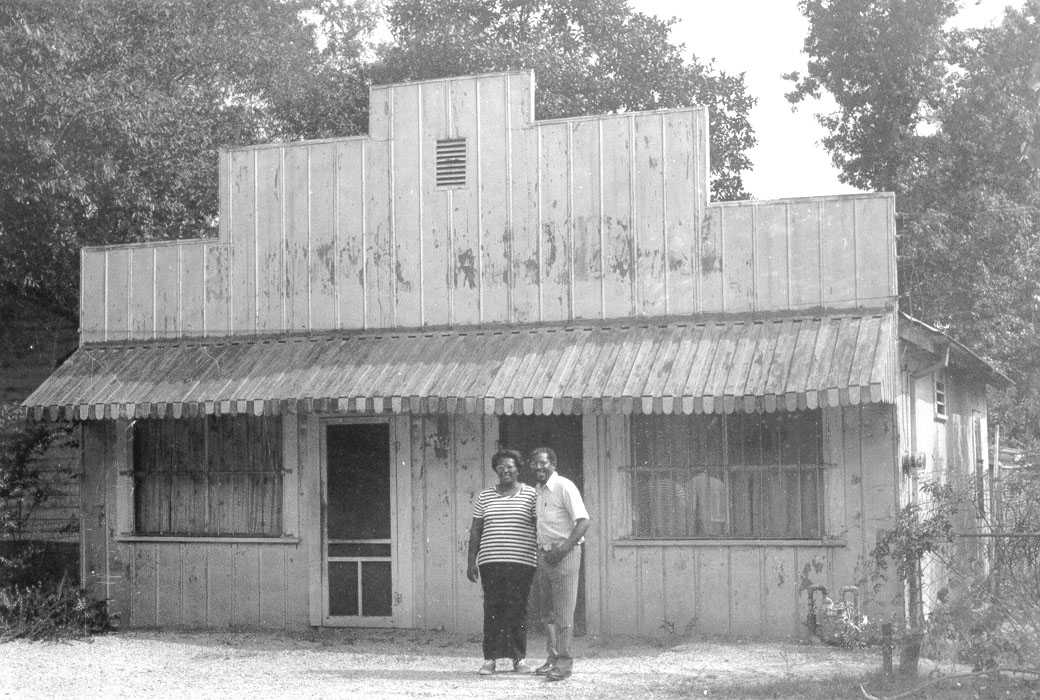 The year 1965 was a milestone in the history of race relations in the United States. The Montgomery bus boycott was ten years in the past and the March on Washington two. The Civil Rights Act of 1964, and the Voting Rights Act of 1965 were already established features on the landscape. And quietly a movement began in rural Mississippi. What emerged from New Hebron, Mendenhall and later the state's capital Jackson, was an organization run by African Americans called Voice of Calvary Ministries. While America's Evangelical church has wrestled with how to reconcile evangelism and social action, VOCM has over the past forty-one years been an evolving experiment in innovative ministry and a model in Christian community development and racial reconciliation.

Voice of Calvary began in 1960. John Perkins (standing above with his wife Vera in front of what became Voice of Calvary's first cooperative retail store in Mendenhall, Mississippi) after serving in the Army, resettling in California, and coming to faith in Christ, returned to his home state of Mississippi with passion to share the gospel. What emerged from his passion was an explosion of programs, services, and publications which formulated a holistic vision of Christian ministry, integrating evangelism with community development, economic redistribution, and racial reconciliation. Among these were Bible classes, a church and Bible institute, a housing renovation co-op, preaching about civil rights and racial reconciliation, a radio ministry, a leadership development program, an internship program for white and black college students from around the country, a community gym, an adult education program, a health clinic, a nationwide speaking ministry, an agricultural co-op, several books and a quarterly newspaper, a Jackson congregation, a residence for dislocated people, visitors and volunteers, an elementary school, a youth center, a study center, community development conferences, community festivals, thrift stores, and more. Not even Perkins' racially motivated arrests in 1969 and 1970 and his imprisonment during which he was almost beaten to death by white police officers, did more than interrupt what was growing. Perkins' relocation to Jackson led to establishing an urban-oriented emphasis.

Collection 362, the Voice of Calvary Ministries records (1969-1986), tell this story of activity and dreams, new steps and redirections, dead ends and successes. Among the documents in the collection are administrative correspondence, memos, reports, policy and procedure manuals, form letters, questionnaires, minutes, resource and curriculum materials, brochures and other promotional material, grant proposals, financial records, transcribed interviews, administrative notebooks, photographs and more. Although VOCM is now over forty years old, its records reflect an incomplete but diverse picture of the organization's history. While the documentation is spotty (non-existent for its first decade), it captures its changes over the years and the transition to younger leadership. VOCM's history is also told in the hundreds of photographs in the collection.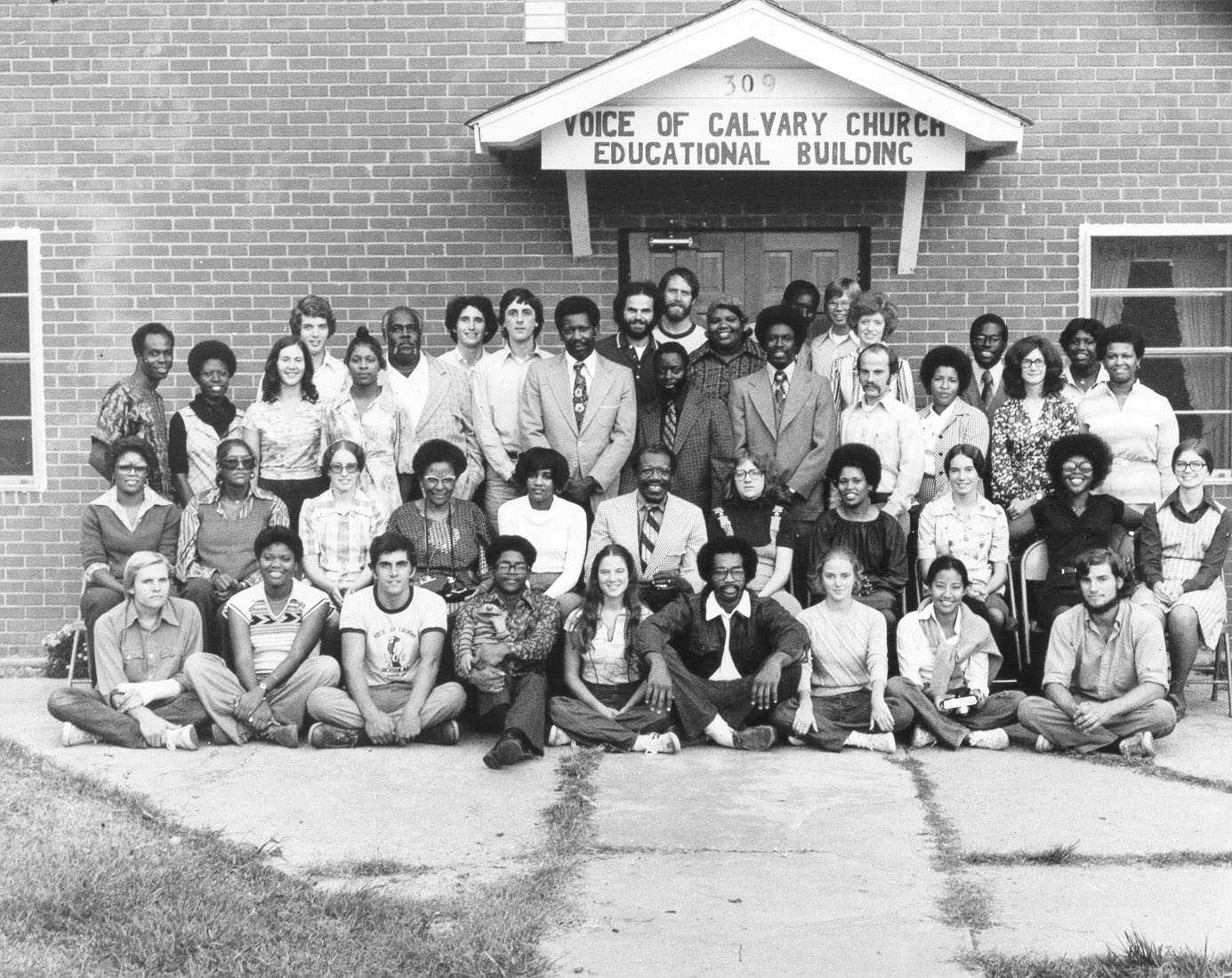 Group photo in front of Voice of Calvary facility in Mendenhall, including John Perkins (second row center), Lem Tucker (front row fourth from right), and other VOCM staff.
Back to Table of Contents
The Impact of Billy Graham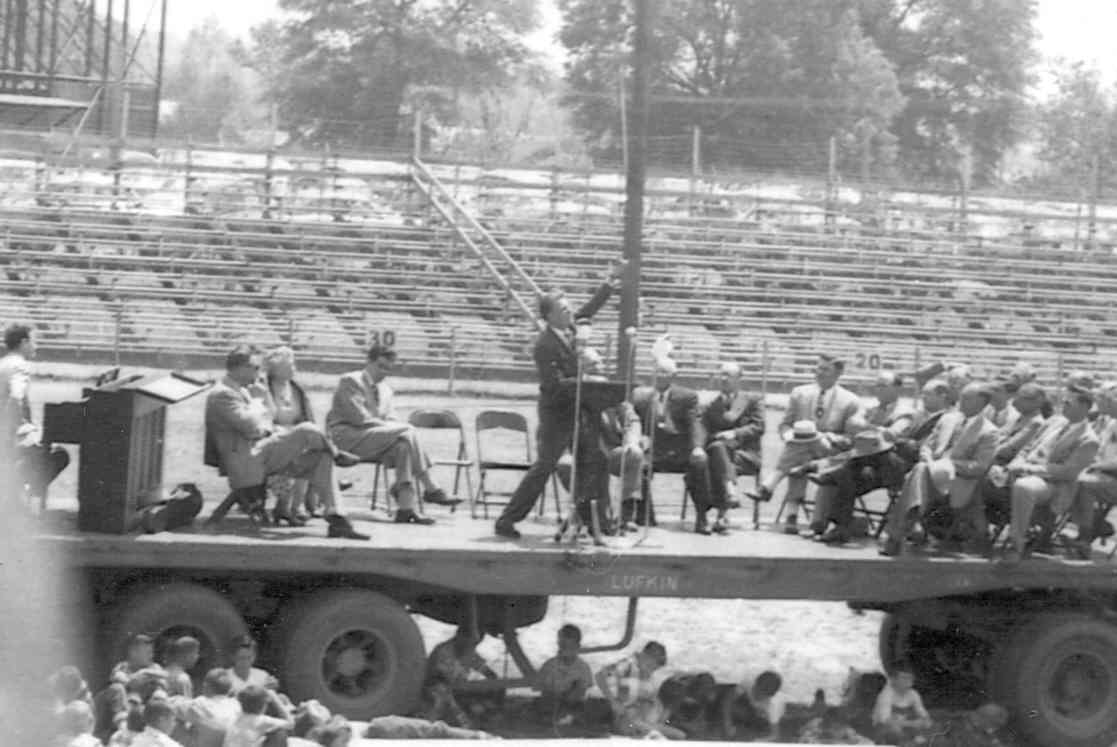 Billy Graham has had great influence as an evangelist, public figure and leader of church. This influence is the theme of the materials that the staff have recently finished describing and adding to two of the most significant collections in the BGC Archives. Collection 74 contains materials about Billy Graham that were created, for the most part, by some source other than the Billy Graham Evangelistic Association. Collection 15 contains various documents which in one way or another have a personal connection to Rev. Graham. For the last few months the staff has been pulling off the shelves dozens of unprocessed accessions they have received over the years that needed to be added to these existing collections. The results are now open for researchers to use.

And when they do they will find much fascinating material. Here are a few samples:


Fourteen videos of documentaries about Graham and/or interviews with him about his life and ministry. They represent a wide range of viewpoints and levels of insight, starting with the 1956 live interview by Edward Murrow of Billy and Ruth Graham at their newly finished home in North Carolina and going through to the 1997 episode of the BBC's Everyman program dedicated to Graham which especially emphasized his work in the United Kingdom.


Recordings of twenty-one sermons
or speeches by Graham on a wide variety of occasions. The earliest is from 1948 when he, as president of Northwestern Schools, served as master of ceremonies at the dedication of a new building. There are other tapes of his preaching at Chiang Kai-shek's memorial service, leading a worship service in Barranquilla, Colombia, speaking to the Young Presidents' organization on a program that included Henry Kissinger and the president of Mexico, his comments during the 1968 Salute to Bob Hope, his visit to the 1992 victims of Hurricane Andrew, his sermon at the memorial service for the victims of the 1995 Oklahoma City bombing and the 1996 ceremony at which he and his wife Ruth received the Congressional Gold medal. There are also transcripts of many sermons and speeches.


Many black and white and color photos
from the early days of his career, such as the photo at the beginning of this article of Graham preaching at Longview, Texas in 1951.


Notes and comments sent to him via the offering plate
by people attending the 1948 meetings he led in Augusta, Georgia and similar audience reactions from the 1957 New York crusade and the 1985 Southern California meetings.


A 1942 license
from one of the first marriage services he performed


Editorial cartoons
from 1945 through 1982, mostly from his European tours of the 1950s and 60s


For more information about what is in these collections, visit the online guides to Collection 74 and Collection 15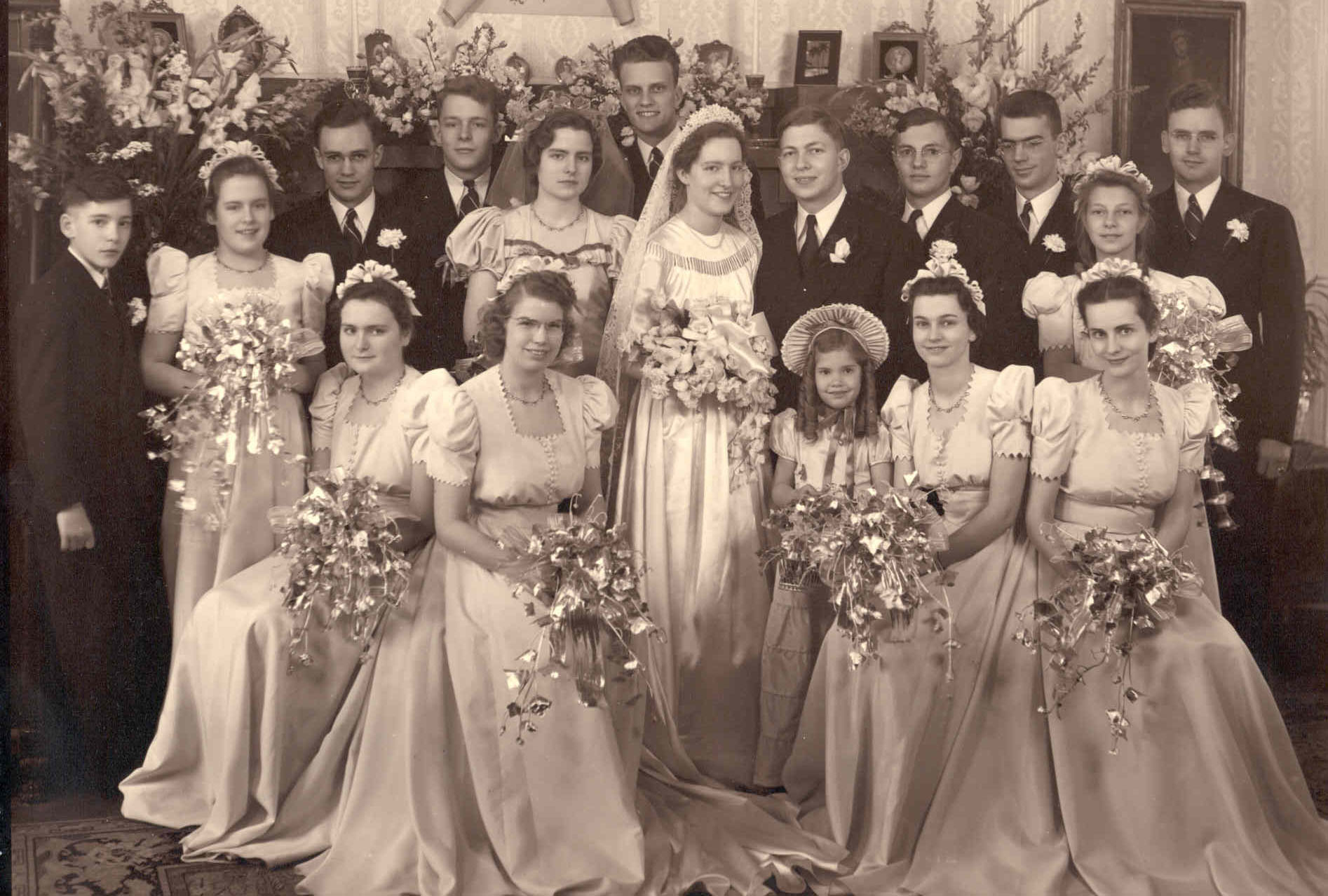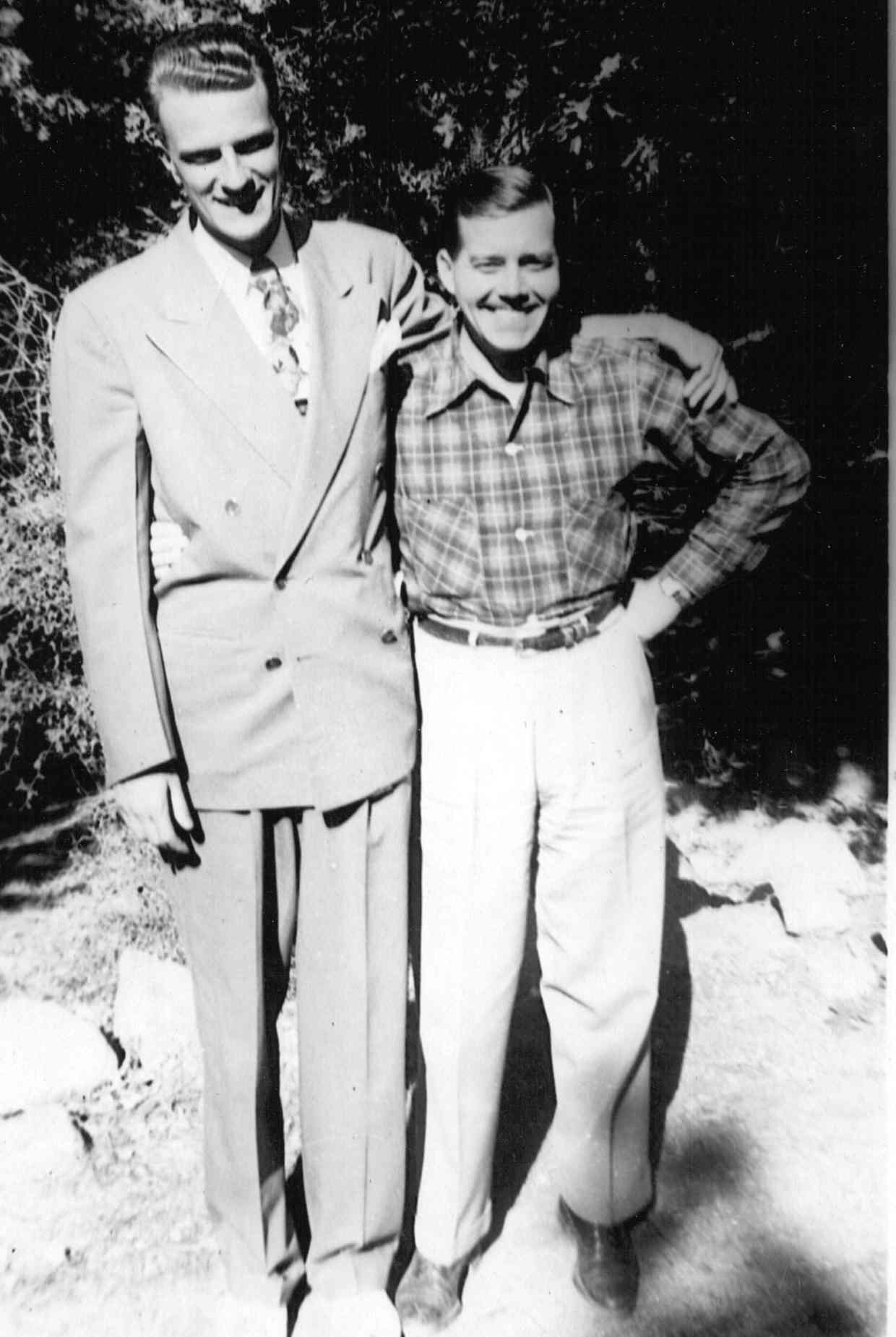 Above on the left, Billy Graham (center, just behind the bride) and his wife to be , Ruth Bell (seated, extreme right), as members of a wedding party during their days as students at Wheaton College, ca. 1942. On the right, Graham and future founder of Campus Crusade for Christ Bill Bright at Forest Home Conference Center in California in 1946.
Back to Table of Contents



*****





A World of Change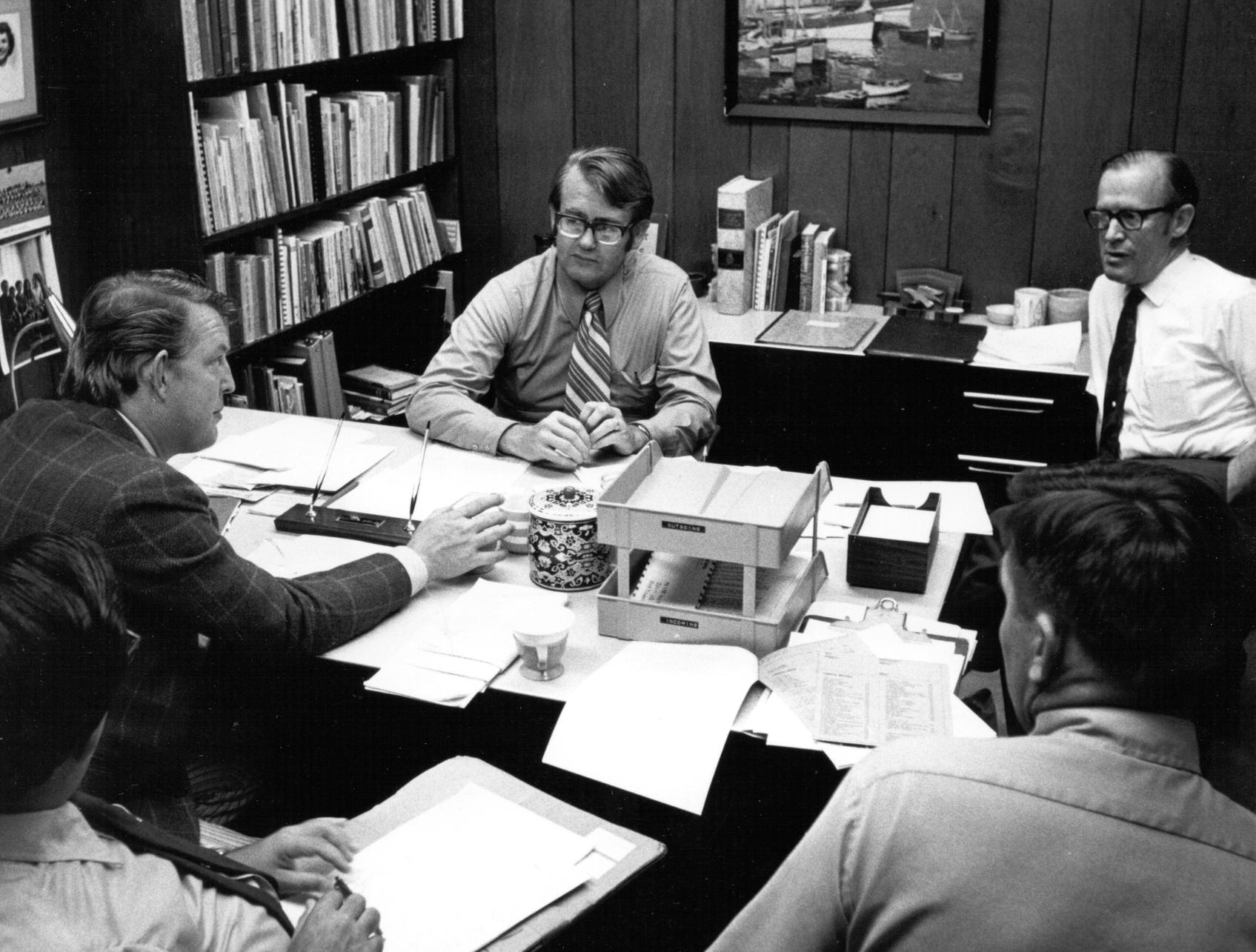 Mike (Clayton L., Jr.) Berg's service with Latin America Mission spanned five decades. It began in 1956 when he was assigned to teach at the Seminario Biblico Latinoamericano in Costa Rica. During that time he observed many changes in the world, in his mission, in Latin America, and in the church. Berg (at left in the center of the picture, wearing a striped tie, meeting with LAM staff and other Christian workers in the 1970s) later went on to be the director of LAM's Educational Division, director of the mission's literature division, Editorial Caribou, and between 1976 and 1989 the mission's president. In 1993 one of the Archives staff interviewed Berg, covering in seven-and-a-half hours a wide range of subjects including his youth and development, education, responsibilities with the mission, events he witnessed or was a participant in, the structural evolution of the mission, observations about his colleagues (including Orlando Costs, Horace Festoon, David Howard, Juan Isis, Ruben Lorries, Paul Pretax, Dayton Roberts, Ken Stratton, and Charles Troutman), and themes particularly relevant to the Latin American context (liberation theology and transition of authority from mission to indigenous control). The interview became Collection 473, which is now available for any interested person.

Also among the themes he addressed were the many changes which occurred in Latin America, including that in relationships with Roman Catholics. In the following excerpt from tape T4 he comments on the impact of the Vatican II Council during the 1960s on relationships with those Catholics he had contact with in Costa Rica:

It was also during this time (remember, 1962, Vatican II Council) this whole thing changed, our whole relationship with the Roman Catholic Church. And I remember the first time [laughs]...we had a Roman Catholic priest in chapel [at the Seminario Biblico]. And I think we were all in...in on this together, although I suspect...I think that Wilton [Nelson] went ahead and did that without really checking with the great white fathers [LAM leadership].... I'll never forget the tongue-lashing I had to sit through (I was part of the group there)...tongue lashing by Ken Strachan [laughs] on...Wilton Nelson as rector of seminary because he didn't really check it out with these guys ahead of time. And when they found out that they had a priest...in the chapel, oh boy oh boy oh boy. So Ken really gave him a tongue-lashing. And Ken at that particular time was concerned about public relations, not up here [in the United States] so much as in Costa Rica, 'cause...to this day the Evangelical church is very conservative as far as Roman Catholic priests are concerned and so forth. But Wilton and we were all caught up in the...in this post-Vatican II atmosphere, which was tremendous. I mean, they were coming to our bookstores and buying Bibles. I mean priests were. Protestant Bibles to distribute, and, you know, there were all kinds of contacts and communication we'd never had before, and they were open to us like never before. We were treated...they called us 'hermanos y hermanas,' brothers and sisters, rather than...rather than, you know, infidels or [laughs] whatever it is they used to call us.... It was a different...different climate. But that would have been...yeah, that would have been probably 1963, probably, I think.

Back to Table of Contents



*****


In May, Walter Hoffman, a 1944 Wheaton College grad, casual ly stopped by the Reading Room to see if the Archives had any material on evangelist Percy Crawford. While viewing a film of a 1949 program of Crawford's Youth on the March television program, he pointed and exclaimed, "That's me!." There on the screen was Hoffman singing On to Victory with other of the Young People's Church of the Air choir. At the left is a picture of Hoffman singing in 1949. (The entire thirty minute program may be viewed on the Archives web site at ttp://www2.wheaton.edu/bgc/archives/exhibits/crawford/crawford03.htm)

Here are brief descriptions of a few of the other searches and discoveries researchers have made over the past few months:

John Moe and his daughter Debra came to study the Wheaton College revival of 1995 for a D.Min project he was working on. He found out about the revival materials through the Archives' website. He had been hoping to find testimonies, specific accounts, and commentary and was delighted to locate these in Collection 514, which contains materials on revivals at Wheaton College. Moe said that the individual testimonies were particularly revealing, I only wish more students had written them. Collection 514 contains information not only on the 1995 revival but also on the revivals of 1936, 1943, 1950, and 1970. Among other documents, the collections contains many oral history interviews with participants, some of which have been transcribed and put on the web.

Art McPhee came looking for questionnaires. He was turning his dissertation on missionary to India Jarrell Waskom Pickett into a book and he wanted to trace the influence Pickett had had on fellow India missionary Donald McGavran, generally considered the father church growth theory. As McPhee wrote to the staff, I was specifically looking for a copy of one of the several questionnaires ("schedules") used by Pickett and McGavran in the Indian mass movement studies of the 1930s. Because I had seen a photocopy obtained by an earlier researcher at the BGC archives of a Household Questionnaire used in Pickett's Sudra Study, I expected to find an original and perhaps samples of some of their other questionnaires that were used. I was also interested in seeing an original because I knew that the interview booklets were designed so that additional sheets could be inserted for specific purposes, and I wanted to see how they were physically arranged. He was able to find them in Collection 178, and much more besides. I found an original plus several examples of questionnaires that had been modified for the printer by McGavran. The information was not surprising, but I was very interested in the kind of changes McGavran wanted to make.

William Inboden, a doctoral candidate in History at Yale University, found that the Archives provided a stimulating research environment and a solid collection of valuable documents. His dissertation, tentatively titled "Diplomatic Theology: Protestantism and American Foreign Policy, 1945-1960" looks at the interaction of Protestant church leaders and American policy-makers in the early Cold War years. Inboden visited the [Archives] to explore whether the then-newly emergent neo-evangelicals offered any distinctive voice on foreign policy. Most of my time was spent on the collections of L. Nelson Bell, Christianity Today, the Evangelical Foreign Missions Association, and early leaders of the National Association of Evangelicals. I was somewhat surprised to discover that, along with the well-known effort by the neo-evangelicals to distinguish themselves theologically from mainline Protestantism, they also attempted to differentiate themselves on certain foreign policy issues.



Back to Table of Contents



*****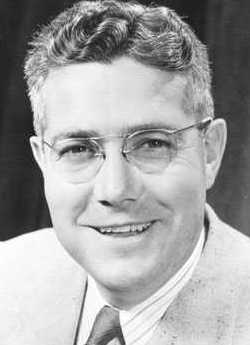 And even after I was saved I led the dance band for a while.... And the last place I played in was the Hotel Ambassador on Park Avenue in New York City.... And I was a Christian a few months, and I can still remember getting in my tux, taking the subway to New York City, trombone under my arm, and...just to ease my conscience, walking through the train, giving our tracts. And I got there to lead the dance band.... And at about one o'clock in the morning (it was a sorority dance), the girl who hired me, she said, "You don't feel well, do you?" "Oh yeah, yeah," I said, "What's the matter?" She said, "You don't play or sing like you usually do. You're not playing up." Well, I was really then beginning to get convicted of this, what I was doing. And I saw that it was dirty and it was wrong, a wrong association, but not willing to give it up. And I think the job ended at about three o'clock in the morning. And I met a fellow who I'd met at the Baptist church, which was a very liberal church, and his father...we used to call him "moneybags" because he played all the bills in the church. And he wanted to know how I was getting home, and I said, "I'm taking the subway." He said, "Well, look. I've got a car.... My girl and I will take you home." So on the way home, I said, "So how's your brother?" "Oh," he said, "didn't you hear? Two weeks ago tonight he was killed in an automobile accident on the way home from a fraternity dance at Amherst College, up in New England. Hit a tree and was gone. A few drinks too many." So I blurted out, I said, "Was your brother saved?" He said, "What do you mean?" and I explained the whole plan of salvation to him. He said, "How long have you known this?" I said, "Several months." And I'll never forget, he turned towards me and said, "Then,if my brother is in hell, it's your fault. Why didn't..." he said, "why didn't you come and tell me? Why didn't you tell him?" Well, I got out of the car. I don't even remember saying good night to him. And I went upstairs and got down on my knees. And I could still feel the beat of the bass drum and I cried out to God. I said, "God, I'm through. No more of this stuff. No more one foot in the world and one foot on God's side. I'm finished.
Excerpt from Collection 446, Tape T1, in which Jack Wyrtzen talks about his early days as a Christian in 1932.
Jack Wyrtzen (1913-1996) was a very influential Fundamentalist evangelist and the founder of Word of Life programs for young people in many states in the United States as well as many countries around the world. He also founded the Word of Life Bible Institute in New York and established the Christian camp at Schroon Lake, New York. In 1991, he sat down for a long interview about his life and ministry. In the interview he talked about his family background, his conversion, the early days of World of Life, his contacts with other evangelists (including Billy Graham), and working with young people. That interview has now been processed as Collection 446, which also includes two audio tapes of his sermons and two video tapes about the Word of Life camps. Click

to here a online excerpt from tape T4 of his interview.



Back to Table of Contents



*****



Henry Wellington Stough (1870-1939) was an American evangelist for almost forty years in the early decades of the twentieth century. Recently eighteen of his sermon notebooks along with several books he authored were added to the existing Stough collection (Collection 106) of materials in the BGC Archives. The notebooks contain typewritten sermon notes, outlines, clippings, and charts that were probably created in the 1920s and 1930s. They provide an invaluable snapshot of preaching in that period. Subjects covered include: the Kingdom gospel and eschatology, the Depression in the US, books of the Bible, evening sermons, spiritual life with Christ, Christian living, prophecy, and moral problems.

Here is a synopsis of a sample sermon. In the notebook in folder 1 of box 4, Stough discussed six reasons why he was conducting an evangelistic campaign. They were: in answer to prayer, to arouse sleeping consciences, to bring hope to lost sinners, to bring recovery and comfort to discouraged backsliders, to strengthen hands of Christ's workers, and to make this a better and safer place in which to live. Each was illustrated with a variety of illustrations to emphasis his point.



Back to Table of Contents



*****

Guides on the Web

Guides to all the collections mentioned in this newsletter can be found on the World Wide Web at the Archives' home page.

The address (or URL) for a list of collection guides in collection number order is: http://www2.wheaton.edu/bgc/archives/guides/g1.htm

The address for a list of collection guides in alphabetical order, according to the name of the creator of the documents, is: http://www2.wheaton.edu/bgc/archives/guides/g2.htm



Back to Table of Contents



*****


Witness...
Volume 10, Number 3
September 2001
The Archives of the Billy Graham Center is a department of Wheaton College which collects and makes available documents on the part nondenominational Protestant efforts have played in the spread of the Christian Gospel.
Robert Shuster, Director
Paul A. Ericksen, Associate Director
Wayne D. Weber, Reference Archivist
Christian Sawyer, Archival Coordinator

For further information, contact the archives at: Archives of the Billy Graham Center
Wheaton College
Wheaton, IL 60187
or call (630) 752-5910
E-mail:
Home Page: http:/www2.wheaton.edu/bgc/archives/archhp1.html

Back to Table of Contents
---
Last Revised: 9/1/2001
Expiration: indefinite


© Wheaton College 2005