Billy Graham Center

---

Archives
Witness... newsletter, May 2001
---
Updating the Archives
An archives is always acquiring new old material. Not only do we process new collections but we add to existing ones. If an organization which has given its records to the BGC Archives continues to have an active ministry, eventually it will have more materials to add to is original accession, perhaps much more than the original gift. The updating of two of the Archives' organization collections illustrates this process.



The Continuing Story of Prison Fellowship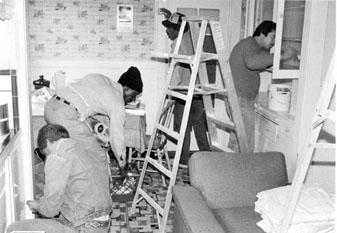 An example of this is Collection 274, the records of Prison Fellowship Ministry. PFM, which was incorporated in 1976, gave its papers to the Archives in 1984, which mostly covered the time period from its founding until about 1979. These were processed and described and opened to use in April 1989. The collection then was in 22 boxes. In 1991, Prison Fellowship gave the Archives its next accumulation of inactive files, these covering the years from 1979 to 1989. These have now also been processed and described and are available for use. The collection has now grown to 192 boxes, along with many photo albums and photographs. At left is a photo from the collection, showing a group of prisoners refurbishing a condemned home. This is one of many Community Service Projects organized by PFM around the country to provide means for prisoners to make meaningful contributions to their communities.

The documents in the original collection dealt mainly with Chuck Colson and the origins of the Fellowship - the attempts to determine its ministry, the hiring of staff, the development of programs in and contacts with jails and prisons across the country, the recruitment of volunteers to work in their local jails and prisons, the beginning of training programs for prisoners in the Bible and the Christian life. The new updated collection now tells how Prison Fellowship developed into one of the leading Evangelical institutions in the country and traces the development of the organization and its programs. These include the yearly Washington Seminar, during which selected prisoners who have demonstrated commitment and ability are brought to Washington for training to help them serve as resource people for the Christian community within their prison; the in-prison seminars during which volunteers go to institutions across the country to lead Bible studies and seminars on personal growth; the marriage seminars for prisoners and their spouses; and Angel Tree, which provides a means for the children of prisoners to receive Christmas gifts from their parents. The files contain numerous testimonies from individual prisoners concerning the development of their own faith. The documents also tell the story of Justice Fellowship, which grew out of Prison Fellowship and became an agency devoted to studying the problems of the administration of criminal justice in the United States and developed models for healing the victim as well as criminal.

Many of the Archives' collections tell the story of a work in progress and over time chart the development of an individual or an organization. That is certainly the case with the Prison Fellowship collection. Its rich and varied story of grace, faith and service will be used and studied for many years to come.




EFMA Collection Grows Wider and Deeper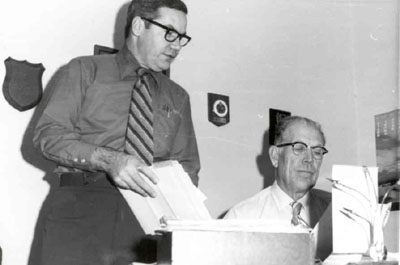 The updated administrative records of EFMA (or Evangelical Fellowship of Mission Agencies) in Collection 165 is now open for use by researchers. EFMA is an association of foreign and domestic mission boards, which acts on behalf of its members in government relations, cooperative purchasing and travel, visa applications, inter-mission relations, and by providing fellowship and instruction through conferences and retreats. This significant addition, which almost doubles the size of the collection, includes more papers of EFMA's first two Executive Directors, Clyde Taylor and Wade Coggins (shown at the left, in the Association's Washington office), and also adds those of its most recent and current Executive Director Paul McKaughan. The annual correspondence series now extends through 1995, and the internal reference files on Protestant Christian agencies, leaders and relevant themes are supplemented with new material. The update also adds EFMA board and committee minutes, and sample audits from member agencies, more than 250 audio tapes of sessions at EFMA's Spring conventions and Fall mission executive retreats, and over 200 photographs, including shots of Clyde Taylor and EFMA conferences. The new files add further detail to EFMA's story, show the Association's growth and change to meet the ongoing needs of its members and their missionaries, and illustrate its influence in the Evangelical community.

"Administrative records" may sound too routine to be interesting. But these documents not only include a wealth of information, but new photographs as well, which illustrate EFMA's participation in the worldwide Evangelical community. While a few restrictions limit access to recent but small portions of the collection, the bulk of the collection is open and available.

Back to Table of Contents

*****


Documentaries, Biographies, Genealogy - Recent Research in the Archives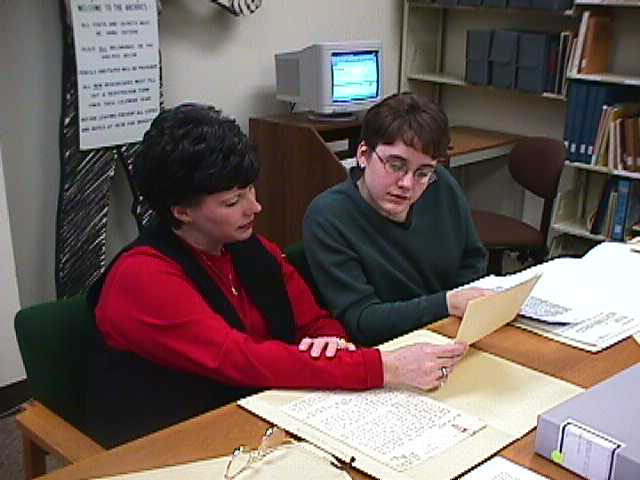 A continuing stream of patrons visited the Archives from November 1, 2000, through February 28, 2001. Besides the Wheaton College students working on theses, papers, and class assignments, there were researchers from around Illinois, fourteen other states, the District of Columbia, Korea, and England. The work they did reflected a wide range of projects - evangelistic, scholarly and personal. Here are some examples:

Patricia Liggett and Beth Guthrie, production assistants with Radio Bible Class Ministry, who were working on a television documentary for Day of Discovery. They came seeking information on John and Betty Stam, missionaries with China Inland Mission who were killed by Communist guerrillas in Miaosheo, China in December 1934. The death of the Stams stirred fundamentalist Protestants in the United States to renewed missionary commitment with scores influenced by the Stam's example to go to the mission field. In the Elisabeth Alden (Scott) and John Cornelius Stam Collection ( CN 449) Liggett and Guthrie found a wealth of information, even a home movie of the Stam's wedding in Jinan, Shandong in 1933. During the day and a half of their visit to the Archives they were here they sifted through correspondence, reports, newspaper clippings, a diary, and photographs relating to the Stams' activities as missionaries and their deaths. These included many letters from the Stams that told their story in their own words, as well as a variety of documents from the investigation of their deaths by the Chinese and United States governments.

Another visitor was DeAnna Putnam, a journalist, who was working on a biography of educator, author and Christian leader J. Christy Wilson Jr. (1921-1999). After 8 receiving permission from the Wilson family to use his unprocessed materials, Putnam spent several days searching through four boxes of materials and listening to the oral history interviews the Archives did with Wilson. Some of the items in these boxes were Wilson's correspondence, dairies, prayer letters, clippings, lectures and class notes, and reports. Wilson was born of missionary parents in Iran and lived much of his life outside the United States. He was one of the founders of Tentmakers International Exchange. After returning to the US in 1974 he became Professor of World Evangelization at Gordon-Conwell Theological Seminary in South Hamilton, Massachusetts. The materials in the Archives, including the hours of oral history interviews in which he reflected on his life, documented, among other events, his work as the organizer of InterVarsity Christian Fellowship's first Student Mission Convention, held in Toronto in 1946. (Later triennial meetings were called "Urbanas" after their site in Urbana, Illinois.)

Conrad Wilcox, a Wheaton alumni and former TEAM missionary, came to the Archives seeking information on Rev. John McDonald, a missionary with the American Home Missionary Society (AHMS). He was doing research for Mary Ewing Gosline, who was writing a family history about the Joseph Ewing family of Douglas County, Illinois and Ewing's father-in-law, Rev. McDonald. Gosline had contacted the Archives previously but was unable to come and do the research herself. She asked if there were any local historical or genealogical societies in the area that might have someone who would be willing to do research. The Archives gave her the web address for a local society and they gave her request to Wilcox. He found several references to and letters by McDonald in the AHMS collection (CN 142) This is a microfilm collection which the Archives purchased. The same set of microfilm can be found in many libraries and archives around the country. The American Board of Home Missions was concerned with planting churches in United States territories and newly formed states as the country expanded westward. The AHMS records are a rich resource, not only for genealogical information on hundreds of missionaries, but also for religious history and the story of the American frontier.

Back to Table of Contents



*****



B. Sam Hart's first congregation was a banana tree in Jamaica where he grew up, the son of a minister. When asked what was important to him as a child, he said, ...preparing to preach that was what was in the back of my mind. I'd stand on the little stump of a tree that had been cut down and I'd stand on that tree and I'd preach to the banana tree. That was my practice ground when I was nine, ten, eleven, twelve years of age. I'd preach to those banana trees and I'd get...except that the parents didn't like that.... I'd get these kids in the neighborhood (a game to us). "Come on, let's go we're going to have church." And I'd preach to them. Some of them didn't mind but I think my parents didn't like it. They thought I was playing the gospel. They didn't know how serious I was.

The above excerpt is from the oral history interview of Dr. B. Sam Hart, Collection 516, which was recently opened to researchers. Hart, a church planter and African American minister of the Gospel, was born in New York City in 1931 and raised in Jamaica by missionary parents. He later founded the Grand Old Gospel Fellowship (1961) and the Grand Old Gospel Hour (1962) radio program. His interview tells how he was converted under his father's preaching at the age of eleven and three years later began his own preaching ministry in a Jamaican jail where thirty-seven inmates were converted. It also describes his seminary education in the United States, his first experiences of racial segregation there, and his early memories of being a minister, including working with evangelist B. M. Nottage.

Back to Table of Contents



*****


In March and April, Amy Schlumpf Manion was temporarily on the Archives staff. She was taking a course on archival administration at nearby Dominican University and one part of that class was to process a document collection. The Archives staff supervised as she prepared a guide to the records of a Detroit urban mission. The photo on the left shows her working on the collection. Here is her report.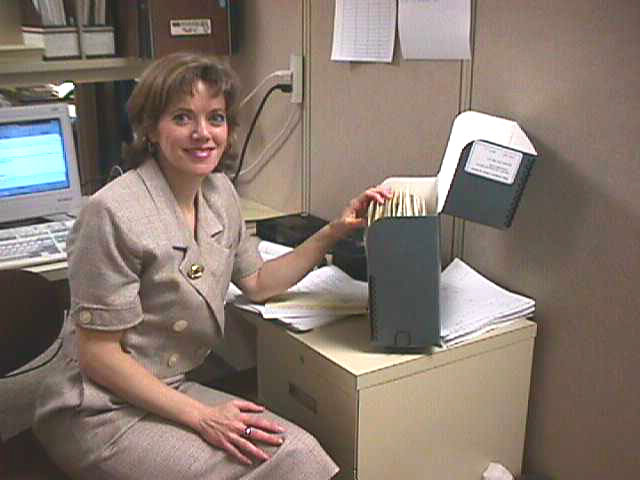 What a picture of the inner city wherein we labor for Christ. Sin and Satanic influence on every hand–yet our God is able. For this cause did Detroit's Afro-American Mission, Inc. come into being some five years ago and by God's grace we have seen growth and development among the Black community. It has not been spectacular but by God's grace He has led the way–and now we stand on the threshold of even greater thrust to rearm the Black community with a building at Clay Avenue situated in the heart of our Mission field vineyard. Plans are already under study to remodel into an attractive efficient edifice to meet the varied needs of a mission work such as is our calling. There is much to do and the need for dedicated talented workers to offer a helping hand in any way, no matter how insignificant it might seem, is tremendous. Will you not pray with us as you review our objectives and goals set forth in the following pages, and ask to the Lord to burden your heart for some phase of the Mission needs, consistent with your available time and talents, and then put action into your prayers."



This is an excerpt from the papers of Haman Cross, Sr., now available to users in Collection 573. Cross helped found Detroit's Afro-American Mission, Inc. in 1964 and served as its superintendent in the years that followed. Striving to "reach Afro-American families for Christ" in the metropolitan Detroit area, its programming for youth in the form of vacation Bible school offered an escape from "the concrete and asphalt jungle of the inner city," according to its director. The Mission further accomplished its mission through a variety of other programs: Bible clubs for children, Bible classes for adults, distribution of clothing and food to the needy, Bible and sewing classes for women and adolescent girls, girls' Pioneer Club, boys Christian Service Brigade, Sunday school classes, sports and recreation for children and adolescents, Sunday worship, choir and other musical groups, the Institute for Biblical Research, family social activities, prayer meetings, the Joshua Generation drama club, and special ministry to singles.

The bulk of the material is meeting minutes of the Mission's board of directors but also included in the collection are correspondence, budgets, balance sheets, proposals, pamphlets, resumes, blueprints, a deed of property, board of directors lists, organizational charts, reports, contracts, a questionnaire, rosters, mission worker reports, and superintendent's reports. Together these documents offer a glimpse of the workings of an inner city mission in the turbulent decades of the 1960s, 70s, and early 80s. The collection also includes five videotapes which offer a pictorial representation of Mission activities through the 90s.


Back to Table of Contents

*****


The Name of the Game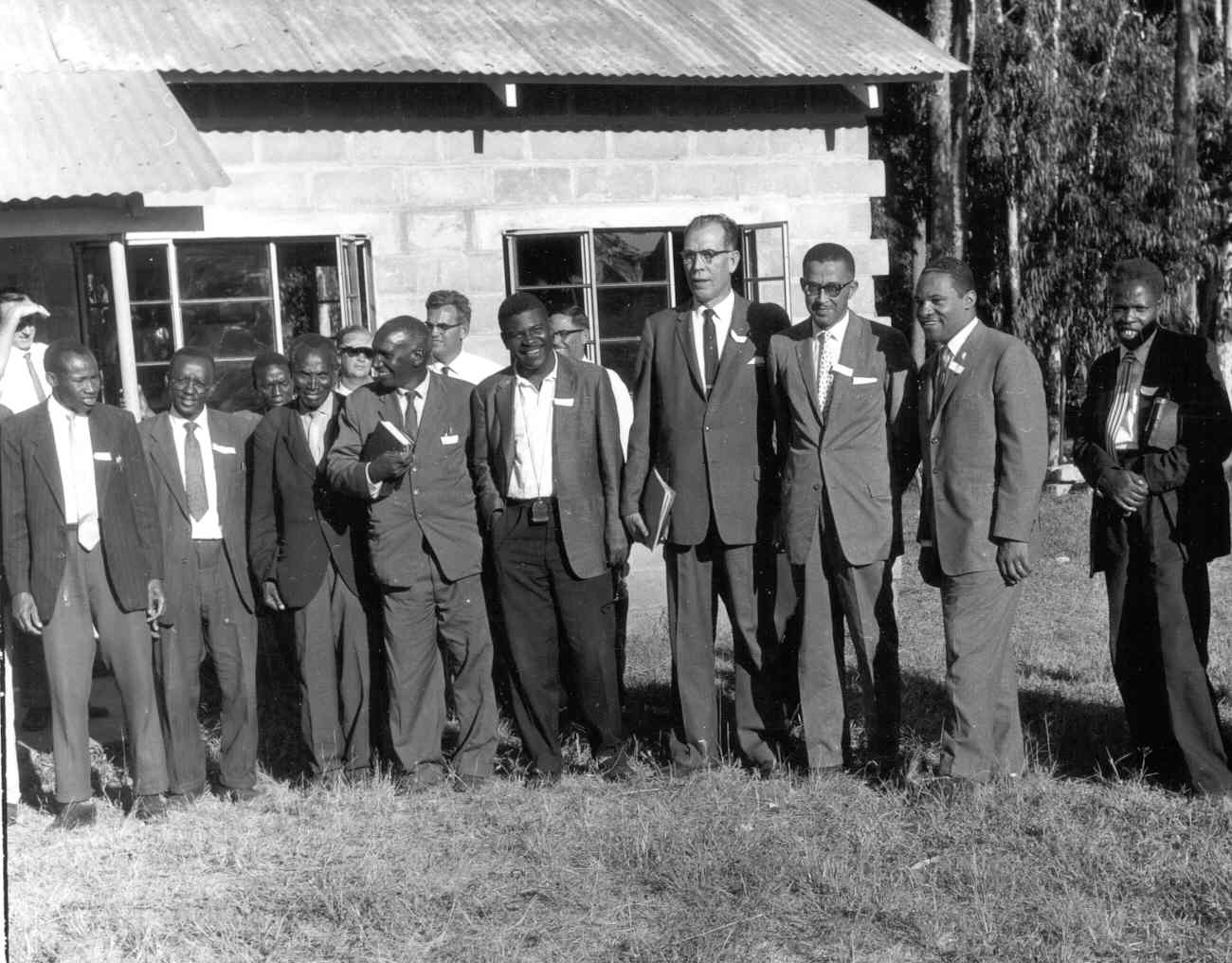 Bob Harrison has served as one of Billy Graham's associate evangelists, ministered as a missionary in the Philippines, and preached the Christian gospel in many countries throughout the world. Educated at an Assemblies of God Bible college, he was denied ordination credentials because he was African American, but during his lifetime has seen that redressed. To the left is a picture of Harrison, second from the right, attending the Conference on Evangelical Fellowship and Ecumenicity in Machakos, Kenya, 1962. To Harrison's right are three other Americans attending the meeting with the African pastors and church leaders - Howard Jones, Clyde Taylor, and Jimmie McDonald. (The photo is from Collection 165) In an oral history he recently contributed to the Archives (Collection 557), he reflected on some of the changes he has seen and the need for deeper change.

Yeah, they're astounded. Many of them turn red-faced about it. They get so embarrassed by it. They say, "We had no idea. None whatsoever." And then they apologize. I said, "Well, you can't really apologize for what somebody else did in past history." I said, "I appreciate that though." But they're so thankful because conditions have changed overwhelmingly. I mean, the Assemblies of God have just changed totally, completely. In fact, they're making a lot of scholarships available to blacks, they're . . . they're helping to finance a number of inner city churches and efforts. We're . . .they're constantly inviting us to headquarters and telling . . . and asking us is there anything they're doing they shouldn't be doing; is there anything they're not doing they should be doing? So they really have . . . I mean, they've made a total turn around, just a total turn around. And there's real genuine effort being given now. And now they're integrating their leadership in that . . . in fact, they just recently have accepted several blacks in leadership capacity from headquarters, headquarters leadership capacity. 'Cause I said, "You know, just having a few blacks . . . ." I tell the average church person . . . I said, " Just having a few blacks sprinkle your church doesn't mean your church is integrated." I said, "And the bottom line is: no place is ever integrated until your leadership becomes integrated. And when leadership becomes integrated, then you're talking about real integration." And some of the churches are wondering why they can't get more . . . blacks to come and really be involved. I said, "Well, listen." I said, "Number one, if you incorporate some of your leadership, and let them . . . and blacks see leadership, they're convinced that they're really wanted and needed and accepted when they see an integration in leadership." I said, "And that's the name of the game." So the tide really has . . . has changed for the better now.



Back to Table of Contents

*****



Guides to all the collections mentioned in this newsletter can be found on the World Wide Web at the Archives' home page.

The address (or URL) for a list of collection guides in collection number order is: http://www2.wheaton.edu/bgc/archives/guides/g1.htm

The address for a list of collection guides in alphabetical order, according to the name of the creator of the documents, is: http://www2.wheaton.edu/bgc/archives/guides/g2.htm

Back to Table of Contents

*****


Witness...
Volume 10, Number 2
May 2001
The Archives of the Billy Graham Center is a department of Wheaton College which collects and makes available documents on the part nondenominational Protestant efforts have played in the spread of the Christian Gospel.
Robert Shuster, Director
Paul A. Ericksen, Associate Director
Wayne D. Weber, Reference Archivist
Christian Sawyer, Archival Coordinator

For further information, contact the archives at: Archives of the Billy Graham Center
Wheaton College
Wheaton, IL 60187
or call (630) 752-5910
E-mail:
Home Page: http:/www2.wheaton.edu/bgc/archives/archhp1.html
Back to Table of Contents
---
Last Revised: 5/1/2001
Expiration: indefinite


© Wheaton College 2005