The Archives' New Old Stuff: Additions to BGEA Collections
The Archives staff has spent much of 1998 adding new material about the work of Billy Graham and the Billy Graham Evangelistic Association (BGEA) to some of its already existing collections. That is, material that is "new" in an archival sense. A letter may be fifty years old, but since it was filed away, inactive and unused, for practical purposes it did not exist. Only when it has been received by the Archives staff, described and made available, can researchers and the larger public they serve benefit from this new/old information.
For example, Collection 214 is the records of World Wide Pictures, the film production subsidiary of the BGEA. This collection was opened to use in 1982, but new material has been periodically added to it and the guide has been revised. This year numerous films and videos were added, such as a 1985 prayer breakfast addressed by coach Tom Landry, excerpts from evangelistic crusades, seminars led by Joni Eareckson Tada on dealing with suffering, early religious programing such as Homestead USA, a series WWP produced for the Churches of Christ in 1958.
Other additions to BGEA collections include:
Collection 17: Administrative correspondence and sample files documenting United States and international crusades from 1960 down to 1993. The files also contain the records of senior BGEA executive, Walter Smyth, and international crusade directors Henry Holley and Blair Carlson. Hundreds of photos have also been added, which cover half a century of Graham's ministry.
Collection 74: A number of early television programs about Graham, including an appearance ca. 1960 with his wife Ruth on F. Lee Bailey's interview program, Good Company; the 1960 broadcast of his speech on public service at a banquet honoring Mrs. Spencer Tracy; and a 1961 CBS documentary entitled The World of Billy Graham which includes comments from Jack Parr and Henry Luce, a solo by Ethel Waters, and many scenes illustrating the typical operation of a BGEA evangelistic campaign.
Collection 191: A set of Graham's weekly radio program, The Hour of Decision, for 1990-1996. These programs include many sermons (by Graham and other evangelists inside and outside the BGEA), some on current events, such as, in 1992, Graham's trip to North Korea, and the impact of Hurricane Andrew.
Back to Table of Contents


*****


James Opp at work in the Reading Room in April.
---
When Mark Irwin, an administrator with the missionary radio station HCJB in Ecuador, contacted the Archives in mid-April about his interest in the Clarence Jones papers (Jones was cofounder of the mission), he was on a search for information. He sought data that would help him reconstruct the early history of the mission, particularly during World War II. Irwin, a doctoral student at Ohio University--Athens, wanted to focus on the early history of HCJB between 1939 and 1945, a period for which there is little documentation.
During his visit in early May, he did find needed information in the Archives about the early history of the mission. However, what he particularly enjoyed were some discoveries peripheral to his main search. First, there was some family history in Collection 396, an interview with Perry Straw. [Straw] began listening to HCJB as a seven-year old, and then he wanted to go and serve at HCJB. And that's why he went to Bible college in Alabama and then later at Moody [Bible Institute], and he works with the Moody Network now. So anyway, the surprise was that he mentions his time in Alabama under the tutelage of my father. And so it was just really neat to be able to find something on my own father. It's something I'll go back and call my family and say 'Hey, our dad's in the BGC Archives.
More discoveries awaited him. Speaking of surprises, there was a brochure [of a presentation] about radio broadcasting given by Clarence Jones in a seminar on radio. It didn't say when, but I believe it was in Peru. And it was in Spanish. When I was the director for Spanish programing I was looking for materials (and I couldn't find them) by Clarence Jones himself that were in Spanish, and there they are. I'll tell our people about that. I thought it was interesting too that so many things that we're doing today in HCJB are even repeats of what Jones and company were doing years ago. We even use the same terminology decades later. It's just really funny the way we've done that. This is the first time I've done a research project of this nature and first time I've had to go into any type of archives, and it's really been fascinating.
*****
John W. Opp came to the Archives at the end of April to gather material for his dissertation, "The Faith Healers: Medicine, Religion and Divine Healing in Canada, 1880-1940" (he is a doctoral candidate at Carleton University in Ontario). Among the collections he found helpful were 322, the papers of Oswald J. Smith; 103, the papers of Aimee Semple McPherson; and 330, the records of the Moody Memorial Church of Chicago.
Opp used the Archives' web site before he visited in person and knew what he wanted to look at. I was especially pleased to find information on the Bosworth Brothers' campaign in Toronto in 1921 and the divine healing sermons by McPherson on microfilm, audio tapes and phonograph records. He was in the Chicago area primarily to present a paper at the Institute for the Study of American Evangelicals' Conference on "Women in Twentieth Century Protestantism."
Back to Table of Contents

*****


I'm really encouraged, though by the...young generation. They have a huge amount of energy and pure hearts and pure visions.... I know numerous students who want to commit to world mission. Now the Korea church...actually it is a kind of transition period. How can we integrate mission energy to the real mission field.... If the situation is bad or the church...neglects the need to orient... the young generation's energy, I think the church will be corrupted by its riches and its wealth and its organization.
Dr. Seung-Hun Yang was interviewed by the Archives staff in 1991 and those interviews have now been processed and made available as Collection 448. They cover a time period from about the mid 1950s to the 1980s and are concerned with the major events in the Korean scientist's life. On these tapes, Dr. Yang describes his father, a Presbyterian elder who would take his family to church at 4am every morning, lead the prayer service there, and then go on to a full day of farming rocky land. Yang's parents sent him (as well as most of his brothers and sisters) to college, where he became a physicist. During his interview he talks about the work of the Navigators and Campus Crusade in Korea, his involvement in introducing creation science to the country and his efforts to start a new Christian university in the country. There are also parts of the interview in which he talks about the influence of the Korean War on his generation and his father's generation.

Back to Table of Contents

*****


Romania under Nicole Ceausescu was one of contemporary Europe's most ruthless and bizarre regimes. Yet while the government was introducing extreme repressive measures, Christian churches in the country were undergoing revival and experiencing spiritual and numerical growth. A just opened oral history with Christian worker Vasile Bunta (Collection 450), taped in 1991, describes the outreach of the Baptist church in his home town of Oradea in the 1970s and 80s, the visit of Billy Graham to the country in 1985, the impact of the fall of Ceausescu on the country, and the position of the church in post-communist society.
Well, we were taught Marxism and evolutionism. This is the idealogy of our country. In its core, it's nice. It's something everybody would like to live. But there are some fundamental contradictions there.... Everything starts from the premise that man is good in himself and if you would provide a good environment to that person, to a child which is innocent, then a child would grow [to be] a straight person, an honest person with all noble qualities. They start in their idealogy from a wrong point. But the Bible tells that man in himself is [pauses] bad...his nature is fallen, full of sin. So starting from two viewpoints, you have two results. They tried to do something, they proclaimed they will produce the new man. And this new man, as Hitler tried to do, was a total failure. Because a whole generation (maybe more than a generation) now they are thieves, they are liars, and they are people who try to grasp position in society by wrongdoing. And that's what Marxism produced in our country. At that time, I didn't realize so clearly...I saw the contradiction so clearly, because I grew up in a Christian family and I...I felt the contradiction. But my...my conviction, my theoretical support came later.
Back to Table of Contents

*****


In 1990, Paul F. Hurlburt sat down to record an interview that covered in ninety minutes the events of a small part of his varied life. He described how his grandfather, Charles Hurlburt, helped start the Africa Inland Mission. Then he went on to talk about the work of his father, Paul F. E. Hurlburt, as a church organizer and evangelist in the Belgian Congo in the 1920s, 30s and 40s. Besides describing his own African childhood and the development of the Christian church in the Kivu region, he commented on the music and culture of the Nande people. This collection, number 438, is now processed and open. Here is an excerpt:
And the idea of horns, using instruments like that, was something that came from the African Inland Mission. Austin Paul used a lot of horns up to the north [in the northern part of the Belgian Congo]. We still use a lot of them in our area. Now people have really taken to them. It's almost become part of their culture because within one generation you choose what you want. And people are going towards guitars, people are going towards horns, people are going towards choirs, and the choirs you...in every church you'll have half a dozen choirs--young people, married, young married, older married, various choirs and everything. And so there's a lot of music that came into spontaneous being and become their part. But a lot of it you can't look back and say, "Hey this came from their cultural background," because their cultural background changed along the way
And we find in our area now that they begin to pick up on harp choirs. But these harps were not indigenous to our tribe. They were from the tribes up to the northern Africa Inland [Mission] area where they had these...these great big bass harps and then these little harps.... It's just a new way of music, a new way of expressing yourself, and it's more indigenous in the sense that it came from another part of Africa, but it didn't come from that tribe, so it doesn't mean that much more to them -- just because it's African -- any more than the other parts. And so I say this by way of balance, that sometimes we try to say, "Well, this comes out of their culture, their tribe." And you find most of these things, a lot of these things come from other tribes, other cultures. But they're absorbed because they like them and they take them.
Back to Table of Contents

*****


Inge Rydland was a Norwegian missionary who worked in Ethiopia as a teacher and community development worker from 1977 on. The Archives staff taped several hours of interviews with him in 1991, which are now open for use (Collection 440). Here is an excerpt.
The second thing we did was to introduce pulling instead of carrying for the horse and donkeys. A horse can easily carry up to a hundred twenty-five, a hundred forty pounds on their backs. But if we loaded it on a cart, we could increase the load, maybe to...triple it at least. Now this was a new concept because farmers would never like to see their donkeys or mules or horses pull.... If he had a horse or mule, a farmer would ride on that animal (because that was a sign of status) and his wife would carry the load.... We decided we should try to do something. So we made a number of carts for donkeys. And we made the harnesses that would help the donkeys to pull and distribute the power. And I remember when we tried the first donkey on this cart. We were not given any donkeys by the farmers, because they refused to...to lend us their donkeys. One day a farmer came to the fuel station we had at the technical school and he had two liter [?] cans on his donkey. He wanted to buy diesel [fuel] for his mill. And while he was up in the office paying his bill, we took his donkey. My Counterpart said, "Let's just take it." And we put on the harnesses and we linked it up to the wagon. And the donkey...this was the first experience the donkey had with a cart.... We wanted to get across that it could...pull much more than it could carry. We put two of our students into the cart. And it was quite interesting to see the reaction from the donkey. Because it could easily pull it, but it got exceedingly more and more afraid of what was behind it all the time, so it started to run. And once it started to run, we discovered another problem. It did not have the ability to brake down the speed. So we could see all the four legs static, sliding on the mud straight into the meadow. And people laughed at this, of course, and found it exceedingly funny. And I still can see the face of the farmer when he came out and he saw his donkey pulling two people without any problem. And I just remember his mouth fell open, you know, and his hat fell off. He had it in his hand. He dropped it. He didn't believe what he saw. And since then we bought a donkey and we used the donkey to transport different things from town, firewood and everything. Kind of exciting to see that a simple cart that was used in this country [USA] and my country [Norway] a couple of hundred years back still is a great invention in that part of the world.
Back to Table of Contents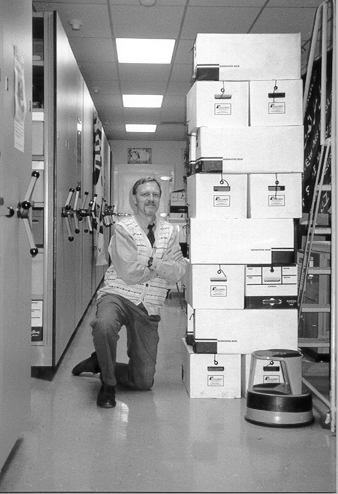 Paul Ericksen next to some of the BGEA records he was processing.

*****