Manuscripts Through the Mail: Documents of Aimee Semple McPherson and of Moody Church Available Through Interlibrary Loan
Some of the most interesting documents in the BGC Archives have recently become available to a much wider audience.
In the summer of 1998, the publication scrapbooks and executive committee minute books of the Moody Church of Chicago (Collection 330) were microfilmed. These huge volumes cover the years 1872-1920 (for the minutes) and 1907-1930 (for the scrapbooks). The scrapbooks contain posters, tracts, newspaper clippings, sermons, handbills, letters, temperance lectures, and many other types of documents that the church used to keep its members and the city at large informed of its program and outreach. They present a varied picture of a congregation deeply committed to making the Gospel meaningful in the city through outreach to immigrants, youth camps, Sunday schools, street corner preaching , evangelistic campaigns and a multitude of other methods. The minute books details the day to day life of the church, as well as its minor and major crises over half a century.
The Archives' Aimee Semple McPherson collection (103) was microfilmed several years ago. These files contained texts of hundreds of her sermons, as well as many, many scrapbooks of clippings covering her life. However, up until 1998, the film had to be used at the Center. In the summer of '98, through a generous decision of the board of the International Church of the Foursquare Gospel, the two dozen reels of microfilm could be used without special permission.
The Moody and McPherson microfilm can be borrowed through interlibrary loan. For more information, see page 3 or contact the Archives staff.
Back to Table of Contents


*****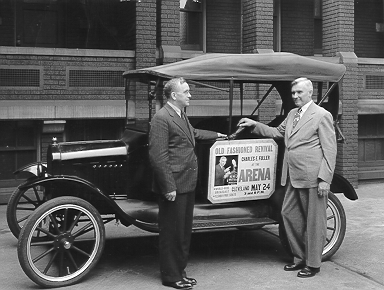 Charles Fuller (on right) and J. Elwin Wright (an early leader of NAE) during Fuller's May 1942 campaign in Cleveland, Ohio.
---



John Vencer visited in August on behalf of the World Evangelical Fellowship. Most of the files of the Evangelical Fellowship of Sri Lanka (EFSL) had been destroyed during ethnic riots in 1983. The EFSL asked the WEF, of which it is a member, for copies of any EFSL documents it might have. Vencer came to the Archives to answer this request. "They particularly would like to have materials which trace the part they have played in the WEF and any official documents that might be in the WEF archives," Vencer said. He especially wanted to find information on Sri Lanka's participation in the founding of WEF in 1951. And in Collection 338, the Records of the World Evangelical Fellowship, he found it - minutes of meetings, an attendance roster and other materials that documented the active part taken by Dr. A. P. Guruswamy, Ceylon's delegate to the meeting and member of the WEF's first executive committee.

*****

The Archives staff frequently get to witness the evolution of some intriguing projects. An example of this was the project of Tom Bergler, a PhD candidate at Notre Dame University, who settled into the Archives in mid–September for an intensive ten day search. This visit was to explore how Christian organizations working among young people regarded the American culture. He was particularly focusing on Catholic, Methodist, and Evangelical youth movements and used the Youth for Christ records (Collection 48) for the Evangelical part of the picture. His findings included documentation of a recognition within the Catholic and YFC environments of a youth crisis in the 1930s and 40s that prompted the organizations to try new approaches to communication. A common feature he discovered in the 1950s was the use of contests to attract young people and develop their character and a shift from leadership by the youth themselves to leadership by adults. "With Youth for Christ, I was somewhat surprised to find the level of concern that they had towards issues of race and integration, even in the 50s. They suffered from the fact that they couldn't make it as high a priority as maybe some of them wanted to, given their constituency, but they were really concerned about it. And in some locations they had integrated Bible clubs.... I didn't expect virulent racism, but I hadn't expect as much concern as there was either."

*****

Charles E. Fuller was a pioneer radio preacher and founder of Fuller Theological Seminary in Pasadena. Yet he allowed very few of his own personal papers to be preserved. And this presents a challenge to anyone telling his story, as Phillip Goff has discovered. Goff teaches history at California State University in Los Angeles and is working on a Fuller biography. His research was funded by a grant from the Haynes Foundation, which supports the study of Southern California history. It is quite a contrast to [President] John Adams, the last man I studied, said Goff. Adams wrote down every thought and preserved everything he wrote, while with Fuller, is diffiuclt to find anything sunstantial. Fuller Seminary has the best collection, but they deal mainly with the radio broadcasts of Fuller's The Old Fashioned Revival Hour. Goff came to the BGC Archives in September to find what else might exist. Besides personal correspondence, he was hoping to be able to reconstruct in more detail the chronology of Fuller's meetings and the way he made decisions. He found the papers of Fuller associates Herbert Taylor and Harold Lindsell particularly useful. I was surprised to discover how important he was to the founding of the National Association of Evangelicals in the early 1940s. I had known that he was involved, but was surprised how the very first meetings of the NAE were planned around evening services at which he preached. From Goff's work here and elsewhere, a clearer picture of this evangelist, broadcaster and educator is emerging. He was not a joiner of other people's groups. (He never joined the NAE.) And he did not like to restrict his own actions or record them. If it took a board in order to pass something or get something done, that would just slow him down."
Back to Table of Contents

*****



William Drury grew up in cold-water flats in Brooklyn, New York, and went to Europe to fight as an infantryman in World War II. He had begun a business career when he committed his life to Christ in 1948 and began to spend more and more of his time preaching on street corners. He was in charge of the Youtharama ministry to teenagers in Philadelphia when his life reached another turning point. The opposition of Youtharama board members to extending the outreach to poor, inner city teenagers caused him to doubt the reality of his own faith. And humanly speaking, I shouldn't have been doing what I was doing. You know, going into...into a predominately black and sometimes Puerto Rican neighborhood. You're not wanted. You know, and they knew that. And I knew it. I knew it. But I...I wanted to find out...I wanted to find out whether Jesus Christ, the God-Man, the God of all miracles, whether He was relevant to this type of youngster. You know. [chuckles] Could Jesus really cut the mustard in the lives of ghetto young people who were brought up in a violent, hostile community? Drury quit Youtharama in 1963 to start his own ministry, Teen Haven, to work with kids in the Philadelphia ghetto (the work was later expanded to Buffalo, Washington DC, Lancaster and York). The Archives has just opened collection 492, which contains nine hours of oral history interviews, as well as other documents. Here is a quote from tape T7: I was out in LA. (Shows you how the white evangelical thinks.) I had to go out there to speak.... And I called a friend of mine.... I knew he was out there, and I called and I wanted to visit with him. 'Yeah, stay with us, please. Don't go to a hotel....' He said, 'I'll get you a car.' So I went out there. And I had a day off, and [he] said, 'Where would you like to go?' He said, 'You want to go to Forest Lawn? That's an incredible cemetery out here.' "No," I said, 'I'm going to die soon enough. I don't want to go to a cemetery....' He said, 'You've got a day free, what would you like to do? You know, I want to take you out to dinner....' I said, 'I'd like to go down to Watts.' He said, 'You want to go where?' I said, 'To Watts. There's a section called Watts where they had a riot.' "Yeah, but you don't want to go there.' I said, 'Yeah I do. I want to go down to Watts.' He said, 'I...I really do have a busy day tomorrow....' And I didn't realize that his wife was standing behind me going like this....[Drury shakes his head to indicate no.] 'You are NOT going to Watts.' He said, 'Can I just give you the...the...the keys to one of our cars and a street map? But...you really want to go there?' I said, 'Yeah, I really do.' And I drove down to Watts by myself. I walked around and I went into some of the black restaurants. They had the thing called, The Wing's the Thing where you get chicken wings, you know. And I went in there, and talked to adult people, and talked about.... Just curious, not with the intention of starting a work. I said, 'Do you think there's a Christian youth center needed in here?' 'One? We need ten, fifteen of those places here. You get these kids to come to know God, that's a miracle.' I found nothing but receptive adults.