Billy Graham Center

---

Archives
Witness... newsletter, January 2000
Below, very slightly edited because of the different context, are the text and photographs from the most recent issue of Witness....





---



*****


Post-World War II Evangelicalism Through One Man's Eyes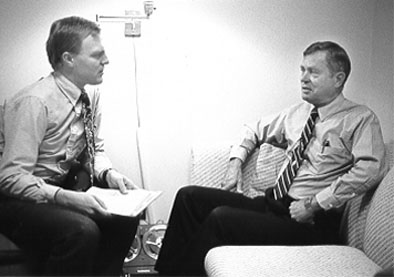 David Howard (right) being interviewed by Paul Ericksen in 1993

"Phil Butler had this concept [in 1970] that you could feed into a computer the needs of mission societies and you could feed into a computer personal profiles of students and they could be matched up and you could tell students 'Well, here's a mission that has the kind of openings that you might be looking for,' and you could tell a mission, 'Here's some students who are qualified for the type of needs you have.' We were skeptical. We didn't know whether this could be pulled off or not. We didn't know much about computers in those days and I still don't, [laughs] but in those days very few did. But we gave it a shot, with some skepticism I guess. But it proved to be an overwhelming success. We initially got negative feedback from students. In the 1970 period, you used to hear these things 'I am a person, don't bend, mutilate, or staple,' that sort of thing you know.... But what this proved to them was this personalized rather than depersonalized Urbana [the triennial InterVarsity conferences on students and missions held at Urbana, Illinois, of which Howard was director] 'Cause you see, they'd come to the big armory there where all the [mission] displays were and instead of having to hunt for a needle in a haystack, going down a hundred different booths, now they got a printout...that would list six or eight missions boards that had openings...for which they were qualified. Because they'd filled out this, in their registration form, and the computer had already done the work. So, it was then that the missions began to realize 'Hey! Boy, this just gave us an overwhelming number of responses.'"
So recalled David M. Howard Sr. (in an excerpt from tape T9 of Collection 484), describing an early use of computers by American evangelicals. This tape is part of a series of six oral history interviews which Paul Ericksen of the Archives recorded with Howard in 1993. The interviews together total more than ten hours and the length of time was understandable, because there was a great deal of material to discuss. These interviews, along with two boxes of Howard's papers and other materials, have been processed and are now available to the public.
The collection covers many topics important for the study of twentieth century American evangelical history, such as the Howard family's management of the influential publication, The Sunday School Times; David Howard's conversion and the development of his Christian faith; his impressions of his roommate and brother-in-law Jim Elliot; his involvement as an executive in the work (in Colombia and Costa Rica) of Latin America Mission, InterVarsity Christian Fellowship, Evangelism Explosion, the 1980 Consultation on World Evangelization held by the Lausanne Committee for World Evangelization, and the World Evangelical Fellowship. The collection is rich in material on diverse topics - the dramatic growth of the Protestant churches in Colombia in the 1950s and 60s, the turbulent debate among evangelical college students over the value of missions in the 1970s, Howard's work as director of IVCF's student missionary conventions, cooperation and conflict between evangelical movements in different countries, and contrasting administrative styles among evangelical institutions. This collection documents the ministry so far of one who has been a participant and witness to many of the significant developments in American Protestantism in the last fifty years.
Back to Table of Contents


*****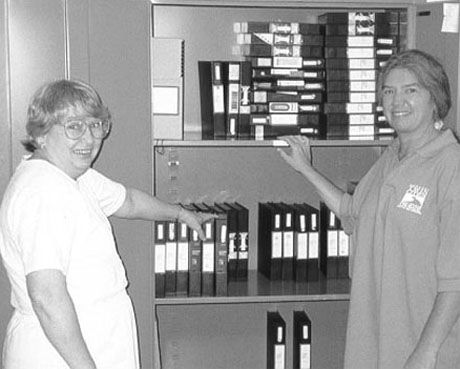 Jan (on left) and researcher Rebecca Nelson in 1996 in the Reading Room, looking at some of the video tapes she was helping Nelson use.

"Thank You and Thank You!"



"I am back in Memphis again...and want to take this opportunity of thanking you for all the help you extended to me while I was at the Archives looking through photographs.... I especially appreciated the courtesy and 'extra mile' that Janyce Nasgowitz went to in my 'race against the clock.' Message from a researcher in 1990.

Many researchers, of all types and backgrounds, working on everything from family genealogy to grade school reports to dissertations to multi-part television documentaries, have had similar occasion to give thanks for the knowledge, professional skill and Christian love of the our Reference Archivist, Mrs. Janyce Nasgowitz.

On January 6, 2000, Jan retired from the Archives after almost nineteen years of service. She started here in 1981 as office manager. In 1989, following training at the National Archives' Modern Archives Institute, she moved into the position of Reference Archivist, which she has filled with distinction for the last decade. During that time she has taught dozens of classes, processed 49 collections (and assisted in the processing of 271 others) and answered (since 1989) more than 2600 reference requests that came in by letter, phone, e-mail, or face-to-face contact. And as the staff person primarily in charge of the Reading Room, she dealt, one-on-one, with thousands of researchers. An archives can be a strange place and archival research difficult to do, even for professional scholars. But Jan has always, through simple human warmth as well as detailed knowledge of the Center's holdings, been able to make all researchers feel at home. As one patron she assisted via mail wrote in 1992, "Dear Mrs. Nasgowitz: You have more than made my day. Honestly, I have made fruitless overseas contacts in an attempt to fully document the source of this material. And in one grand sweep you have gone to the heart of the matter and I thank you and thank you."

All of us on the staff of the BGC Archives, too, who have been privileged to work with Jan over the years and whose lives have been enriched by our contacts with her can only praise God for the gifts we received through her and say, "Thank you and thank you" and thank you once more.


Back to Table of Contents

*****



After more than four decades of preaching the gospel to crowds small and large around the world, there was an undeniable logic to Billy Graham convening the July 1983 International Conference for Itinerant Evangelists in Amsterdam.

He wanted to help those individuals who were directly involved in Christian evangelism. The Billy Graham Evangelistic Association (BGEA), with assistance from other organizations, brought almost 3900 Christian workers to hear talks and attend workshops on how to preach; how to reach different ethnic, age and social groups; evangelism in different regions of the world; and the personal and spiritual needs of the evangelist and the evangelist's family. Fifty-eight percent of the participants were from outside North America and Europe. The BGEA staff made a concerted effort to find people at the grass roots level who had had the least chance for education and who would benefit most. The enthusiastic response to this meeting laid the groundwork for a second, much larger, international conference in 1986, also in Amsterdam.

The records of the 1983 meeting (Collection 253) are now open at the BGC Archives. Among the holdings are hundreds of audio and video tapes of the plenary sessions and workshops, at which speakers included Billy Graham, Charles Colson, Festo Kivengere, Luis Palau, and Ravi Zacharias, among many others. There are also many boxes of materials on the planning of the program, the invitation process, and text or excepts from many of the speeches. Besides providing rich resources for anyone interested in evangelism, the collection provides a snapshot of the methods and theology of Protestant evangelism in 1983.


Back to Table of Contents

*****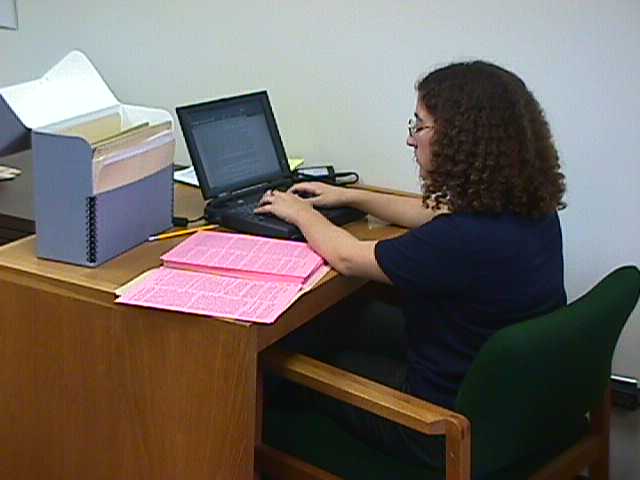 It is not in having organizational records or personal papers or oral histories that the Archives is defined. It is in the bringing together of document and user. Neither is it just in the going through the documents that researchers fulfill their task, but rather in discerning the bridge to the present which makes the retelling of the story worthwhile.
Among recent researchers was Allison Halpern, a doctoral candidate at the University of Wisconsin-Madison. Halpern is now in the early stages of investigating Youth For Christ's educational philosophy and methods between 1945 and 1968, and its relevance for current public action in education. "The dominant story of the 1950s is leftist activism or anticommunist activism," she said, "but YFC fell outside those boundaries. Looking back to this time period can inform current attempts to change education." Halpern was especially looking for official publications like press releases and manuals, and unpublished sources like correspondence, minutes and reports. Did she find enough documentation? "I'm amazed how much there is. I won't know what I've found until I get home and look through all I've copied." That doesn't mean she didn't find surprises. Halpern was struck by how self-conscious YFC was in addressing race, gender and class dynamics during this early period. While there was not a single straightforward position, she saw evidence at national and local levels of attempts to involve African Americans in leadership, and allow women latitude to develop their roles.
Above: Halpern at her laptop. Below: one of the documents she was using.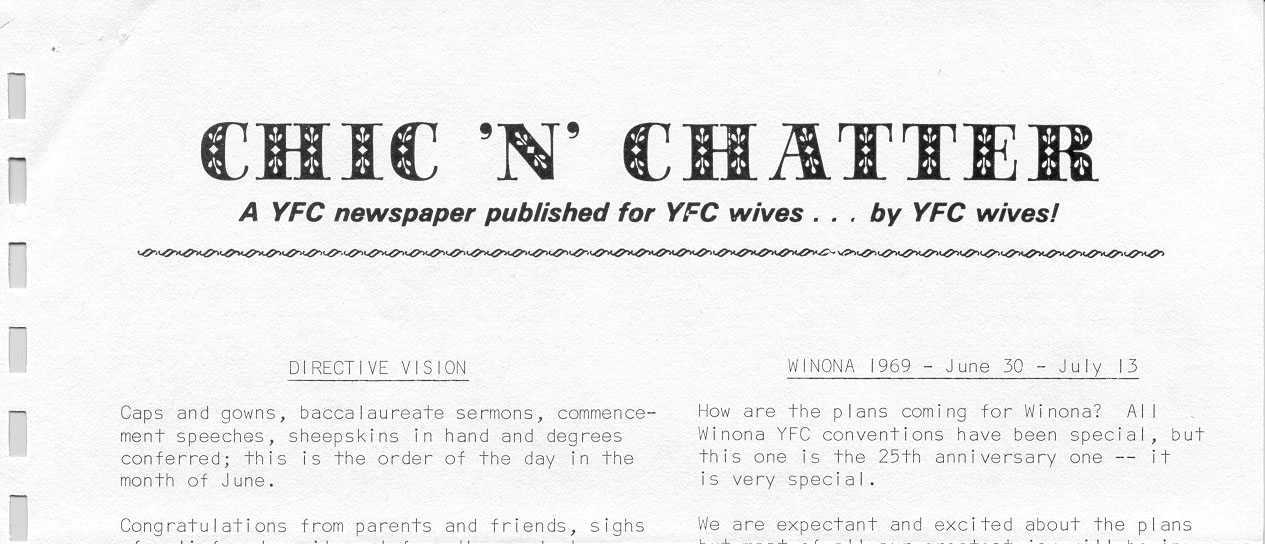 Daniel Sack of the Material History of American Religion Project, is studying "the importance of eating in mainline Protestant church life" as expressed in "communion elements, church socials, and soup kitchens." Sack came to the Archives to look at the Women's Christian Temperance Union records, of which the Archives has a microfilm edition. He found that the Union's advocacy "for the use of grape juice, rather than wine, at the communion table" included encouragement to "civil disobedience to resist participating in communion when wine was offered. These women overcame the resistance of tradition-minded clergy and wrought a change in Protestant sacramental life."

Dave Klope was studying the role of the U. S. president in the history of the National Prayer Breakfast. While Klope found less correspondence between American presidents and Fellowship House staff than he had hoped for, his "work with the material has provided some vision for a larger project than I am working on now: to my knowledge, there has been very little historical work done on the National Prayer Breakfast, and the Archives is a prime resource."


Back to Table of Contents

*****



Billy Graham graduated from Wheaton College with a degree in anthropology in 1943. When the fiftieth reunion of the class of '43 rolled around in 1993, the staffs of the BGC Archives and the Wheaton College Archives put together a joint project to tape interviews with several of the members of the class to capture their memories of life at the College during that time. The interviews turned up much information about Wheaton history, including stories about the revival on campus in that year.

One of the people interviewed was Helen Ruth Supplee Jongewaard (Collection 486). Here are her memories of the awakening on campus during her senior year

"Prayer meeting attendance [at Wheaton College] went from about fifty to several hundred then [during the years of World War II].... The revival was a very, very meaningful time. That was in my senior year...'43, and Rev. [Harold P.] Warren from [Flint,] Michigan was the speaker and I always went.... Whenever we had special meetings, I always went to all of them. In the...morning chapel, of course, and the evening services. He kept hammering away at this same need – for us to get straight with the Lord, and if there were any...he talked about grass-grown paths between friends and between us and the Lord. Were there things that needed to be straightened out? And I said to my roommate, 'I feel like I could scream if he doesn't change the topic.' Well, I don't know if it was a Thursday morning or a Friday morning that Dunc Stuart [the captain of the school's cross country track team] got up. Dr. [V. Raymond] Edman [the president of Wheaton College] said, 'Duncan Stuart has asked for time to speak to the student body.' And he got up and he confessed that he had taken the track team to track meets on Sunday and had used College vehicles, which, of course, was against the rules anyway.... And he confessed and asked for forgiveness. And Dr. Edman said, 'I urge everyone of you think of your own life. Don't be thinking about anyone else and let the Lord speak.' And it was quiet.

And then one by one students started getting up and asking forgiveness and confessing things that pertained to the whole body or class - cheating or conflict with another student or something and this kept on. And I...we lost all track of time. The first time I even glanced at my watch is was three-thirty in the afternoon. And nobody had gone for lunch or anything. And it kept on until just about supper time, and then Dr. Edman said, 'We want to continue this but we should break for supper....' Came back and were there until I don't know how late at night, eleven or midnight. And then went on the next day and I never felt so right, just the cleansing of the Holy Spirit. It was a beautiful time."

She also talked about many other topics, including Billy Graham as a student; memories of professors such as Carl Henry, William Nordin, Russell Mixter, Merrill Tenney, and V. Raymond Edman; and how World War II affected the campus.


*****



Guides to all the collections mentioned in this newsletter can be found on the World Wide Web at the Archives' home page.

The address (or URL) for a list of collection guides in collection number order is: http://www2.wheaton.edu/bgc/archives/guides/g1.htm

The address for a list of collection guides in alphabetical order, according to the name of the creator of the documents, is: http://www2.wheaton.edu/bgc/archives/guides/g2.htm
Back to Table of Contents

*****


Witness...
Volume 9, Number 1 January, 2000

The Archives of the Billy Graham Center is a department of Wheaton College which collects and makes available documents on the part nondenominational Protestants have played in the spread of the Christian gospel.

Robert Shuster, Director
Paul A. Ericksen, Associate Director
Janyce Nasgowitz, Reference Archivist
Wayne D. Weber, Archival Coordinator

To subscribe to the newsletter free, send your name and address to:
Archives of the Billy Graham Center
Wheaton College
Wheaton, IL 60187
or call (630) 752-5910
E-mail:
Home Page: http:/www2.wheaton.edu/bgc/archives/archhp1.html
Back to Table of Contents
---
Last Revised: 1/3/00
Expiration: indefinite


© Wheaton College 2005