Billy Graham Center

---

Archives
Papers of Sarah Alice (Troyer) Young; 1894-1900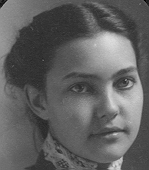 Brief description: Letters, diary and articles about the work in China of Sarah Alice, a worker with China Inland Mission. The materials in the collection document her preparation and her evangelism activites in Shanxi Province, China, where she worked from 1896 until 1900, when she and her husband John were killed during the Boxer Rebellion. Her papers contain many descriptions of missionary work, the lives and testimonies of individual Christians and Chinese society and culture.

Complete transcripts of all her letters and her diary are available on the World Wide Web, thanks to the her grandniece Carol Whiting, who transcribed them. Click here to go directly to the transcripts.


Click here to see the presentation ""Make This the Best Year of Our Lives": Scenes of Christian Ministry from the Year 1898.", which includes material from this collection.

*******


---


Collection 542
[June 9, 2016]
Young, Sarah Alice (Troyer); 1871-1900
Papers; 1894-1901
1 DC (.2 cubic feet), Photographs

Restrictions:

There are no restrictions on the use of this collection.

---

Biography

Full name: Sarah Alice (Troyer) Young

Birth date: April 3, 1871 in Goshen, Clinton Township, Elkhart County, Indiana, United States (Family moved to Milford, Nebraska when Sarah was in her teens.)
Family:
Parents: John D. and Catharine (Egli) Troyer of Milford, Nebraska
Siblings: Daniel, Marietta, Anna, Lydia, Joseph, Emanline, David, Ellen, Martha, John
Marital Status: Married Scottish CIM missionary John Young in Tien-tsui, China April 1, 1899
Children: none
Converted: 1886

Education:
Taught school for two years, possible 1891-1893
1894?-1895 Gospel Union Bible Institute, Abilene, Kansas
1895 China Inland Mission Training Home in Toronto, Canada, October 3-November 23. (Accepted by the CIM Council on November 19.)

Career: 1896-1900 Left for China from St. Paul, Minnesota on January 1, sailed from Tacoma, Washington on January 6, arrived in China on January 30. She was involved in evangelism and Bible teaching in Lugan Fu and Kih Cheo, Shanxi Province, China (spelled in the documents in the collection "Shansi")

Other significant information:
Sarah Alice was raised in the Amish Mennonite Church, although she also attended the Methodist church in her home town of Milford.

Young and her husband John were killed by Chinese militants during the Boxer uprising on July 16, 1900, in Shanxi Province

In writing to her family, she usually signed herself as "Alice" or "Sade."

---

Scope and Content

Arrangement: Articles, Correspondence (chronological), Diary
Date range: 1894-1900
Volume: 1 DC (.2 cubic feet)
Boxes: 1 (9 folders)
Geographic coverage: China, United States, Canada, Japan.
Type of documents: Personal letters, diary, published articles. Correspondnents: Sarah wrote most of the letters in the collection and usually signed them Alice or Sade. Almost all are to one or more of her sisters, or in some cases to nieces and nephews. There are no letters to Sarah Alice. There is a letter by her husband John (April 19, 1900) to their nieces and nephews, one by sister Marietta or Ett (labeled by the archivist as "probably 1895") to sister Anna, and a fund raising letter by a John C. Beach apparently sent to Sarah Alice's sister Anna (July 22, 1896).
Subjects: Missionary work in China, the China Inland Mission, Chinese life and culture at the turn of the century.



Notes: The bulk of this collection consists of letters written by Sarah to her sisters during her preparations for missionary service and her four years in Shanxi Province with China Inland Mission. She would often write one letter home which was circulated among her many sisters and family members. This collection does not contain all of her letters but only those kept by her sister Anna. Consequently, there are gaps of information. One considerable gap concerns her future husband, John Young, and their courtship. Several letters describe in detail photographs which were apparently enclosed with the letters, but were not with them when the letters were given to the Archives and therefore are not available in this collection. Along with the letters and diary, the Archives received a full-text transcript, prepared by Sarah Alice's grandniece, Carol Whiting.

The published articles in folder 1-1 include items apparently gathered by the family. There is a clipping of an article by Young about her work in China from the December 15, 1896 issue of an Indiana Mennonite newsletter or magazine; an incomplete clipping (probably from the fall of 1897) from a Goshen, Indiana, newspaper with an (edited) version of a portion of Young's August 6, 1897, letter in folder 1-5; a October 1898 issue of China's Millions, CIM's periodical; a photocopy of a very brief October 3, 1900, newspaper notice of reports of the deaths of the Youngs, and a brief article from China's Millions reporting the Youngs' demise.

Sarah Alice's letters, (folders 1-2 through 1-8), are all written to members of her family. They are all filled with comments about her own Christian faith, her voyage to China in 1896 (including a stop in Japan), her itinerant evangelism work among different groups, particularly women, and descriptions of Chinese culture and everyday scenes of Chinese life. The letter dated October 18, 1895, includes an interesting list of the items that a woman missionary was expected to take with her. Through her correspondence are many comments and descriptions of the requirements of foreign mission work, including descriptions of the work of her co-workers, such as Caroline Gates, Mary Huston, and her husband John. There are also many examples through the letters of capsule biographies and testimonies of various Chinese Christians. There is no direct reference to the so-called Boxer movement, although some documents, such as the letters for August 6, 1897, and December 12, 1898, and her diary, mention anti-foreign feelings or manifestations, as well as many mentions of friendliness and courtesy from neighbors and strangers. The disapproval of the traditional binding of women's feet was an important issue among missionaries and Chinese Christians, as indicated in several letters ( December 1896, February 22, 1897, May 5, 1897, August 19, 1899) and Sarah Alice's diary. Several letters ( August 17, 1896, August 6, 1897, March 28, 1898, December 12, 1898, August 19, 1899, December 2, 1899, March 20, 1900) as well as her diary contain references to the suffering caused by opium addiction among the population. In the letter dated by the archivist as "Probably Autumn, 1896", there is an interesting description of her visit to a Mohammedan village and other contacts with Muslim can be found in her diary.

The February 4, 1896, letter (folder 1-4) refers to the assistance a Mr. Drysdale, former CIM missionary, gave to Young. The letter refers to Drysdale's transfer to the Alliance mission, having been dismissed from CIM for breaking its rules about marrying a non-missionary.

Several letters were relocated in the collection based on internal evidence. Three letters were initially identified as undated when given to the Archives. The "Friday morning" letters to Anna and the "Dear Sister Anna" from Ett, have been subsequently included with the 1895 letters (folder 1-3). The letter begining "Feb. 14...Today is Mary's..." is included with the 1899 letters (folder 1-7). The handwritten "Ladies Outfit list" has been filed with the October 18, 1895, letter (folder 1-3) it belongs with and which refers to it. A second copy of the outfit list was returned to the donor. The letter dated "March 22, [1899?]," has been subsequently dated 1900 (folder 1-8) and moved to the appropriate folder.

Some letters appear in more than one version. For example, there are three versions of the letter dated December 12, 1898. One, which apparently was written by Sarah Alice, has a note one top "To Anna, Ella, Lydia, Mallie (letter A). There is another version of the same letter written in pencil on low quality paper (letter B). It appears to be in a different hand. Although some passages are identical, others are contracted from the first and much information is left out. There is a third letter (letter C) which is a typed version of letter B on plain white paper. Similarly, the 1897 clipping from the Goshen newspaper in folder 1-1 is an edited version of Young's letter of August 6, 1897.

There is one letter by Orr Ewing, written over a year after the Youngs deaths. He was the missionary who had come to take over their station. The letter was written to the Houngs' friends and family to describe the aftermath of their deahts and what steps had been taken to remember them.

Young several times in her letters refers to her "diary" which she is regularly sending back to be circulated among her siblings and perhaps to other interested parties. Apparently this was not a typical diary but a summary of daily events kept for her family and friends, rather than herself. The Archives has the segments for the time period between September 9, 1896, and May 20, 1897. By the evidence of her letters, there were other segments as well. The texts of letters are also included in the diary. Apparently Sarah Alice copied them into her diary because they would also be of interest. The diary is a record of her ministry and the spiritual progress of Chinese converts. It is especially valuable because it gives day-to-day information about Chinese converts and workers only briefly mentioned in Young's letters. Entries in the "diary" are sometimes out of chronological order.

Related collections: Collection 215, Records of United States Home Council of the Overseas Missionary Fellowship (China Inland Mission).

Hist. Mss. 1-428, the W.W. Oesch and Elva (Garber) Oesch Collection of the Historical Committee and Archives of the Mennonite Churchin Goshen Indiana includes a scrapbook compiled by Sarah's sister Mary Etta (Troyer) Graber which contains letters, clippings and articles by and about Sarah.

Hist. Mss. 4-327 SC, the W.W. Oesch and Elva (Garber) Oesch Photograph Collection of the Historical Committee and Archives of the Mennonite Church in Goshen Indiana contains 5 photogrpahs of Sarah.

Also see Martyred Missionaries of the China Inland Mission, Ed. Marshall Broomhall, London, 1901 and volume 5 of the Mennonite Encyclopedia (Scottdale, PA, 1990)


Provenance

The materials in this collection were given to the Archives of the Billy Graham Center by Mrs. Carol Whiting, granddaughter of Sarah's sister Anna Troyer, in September 1996 and September 1997.

Accession: 96-86, 97-70

July 1, 1997
Lori Ellison
P. Ericksen


Updated: 12/1/1997
Robert Shuster
M. Drobnick

---

LOCATION RECORD
Accession: 97-70, 16-16
Type of material: Photographs

The following items are located in the PHOTO FILE; request by Folder Titles (in bold) at the beginning of each entry below.

YOUNG, SARAH ALICE TROYER. Four b/w portrait photos of unknown date, three just of Sarah Troyer, one of Sarah and John Young.

One shows her seated at a table, Click here to see this photo.
another is from roughly the same time. Click here to see this photo.

Another is of her head only; it appears to be Sarah Alice and seems to be taken when she was younger than in the other photos. Click here to see this photo.

Thefourth picture shows Sarah and John Young in Chinese dress. Click here to see this photo.
---

.CONTAINER LIST


Box 1, Folder 1: Articles; 1896-1900. Click here to see facsimiles of some of the contents of this folder.
Box 1, Folder 2: Letters: 1894. Click here to see the contents of this folder.
Box 1, Folder 3: Letters: 1895. Click here to see the contents of this folder.
Box 1, Folder 4: Letters: 1896. Click here to see the contents of this folder.
Box 1, Folder 5: Letters: 1897. Click here to see the contents of this folder.
Box 1, Folder 6: Letters: 1898. Click here to see the contents of this folder.
Box 1, Folder 7: Letters: 1899. Click here to see the contents of this folder.
Box 1, Folder 8: Letters: 1900-1901. Click here to see the contents of this folder.
Box 1, Folder 9: Transcript (printed and computer disk); 1896-1900
Box 1, Folder 10: Diary; 1896-1897. Click here to see the contents of this folder.



---
Return to BGC Archives Home Page

Last Revised: 8/23/02
Expiration: indefinite

© Wheaton College 2005